Joel Dorcas | April 4th, 2019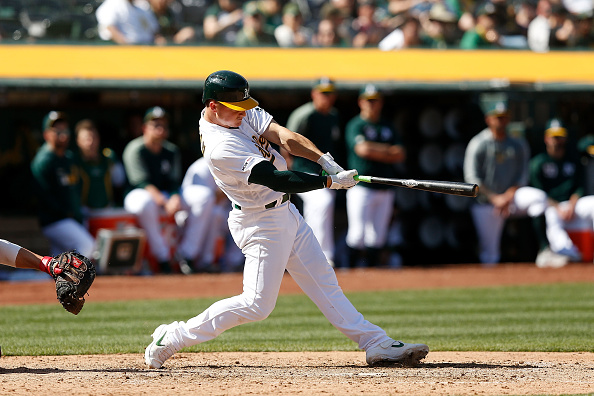 Selecting starting pitching may be easier to pinpoint for today's' slate, for at least your number one anyway. Only a handful of options to choose from so we can open up the wallet for some bats. Without further adieu, let's go Around the Horn!*note*this write up is for the all-day slate of games which begins at 1:05 eastern.
Pitcher
Trevor Bauer CLE $11,300
Let's pay up for a stud SP 1. Bauer looked very solid in his first outing giving up just one hit, one run, one walk striking out nine in seven innings of play against the Minnesota Twins. Today's opponent, the Toronto Blue Jays, have been very poor offensively pilling up the sixth-worst batting average to date at .202. We can plug Bauer in here and feel really good about it.
Infield
Matt Chapman OAK 3B $4,300
Three homers in nine games for the talented third basemen. A nice matchup against Boston lefty Eduardo Rodrigues is on the horizon for today. On Tuesday Chapman went deep versus fellow lefty Chris Sale. Chapman has a knock in seven of nine games so far this season.
Joey Votto CIN 1B $4,700
The Reds offense has been pretty sub-par in their five opening games scoring just 11 runs. They will look to right the ship versus righty Jordan Lyles in Pittsburgh Thursday. Joey Votto is off to a slow start, but that's nothing to worry about. Over his career, Votto is a very nice 7-14 with two bombs and two doubles.
Gary Sanchez NYY C $4,900
Sanchez appears to be in good form early on in the season, although yes, it's just five games. Sanchez and the Yanks get the Orioles and Alex Cobb at Camden Yards. Sanchez has a hit in four of five games, two for round-trippers.
Outfield
Yasiel Puig CIN OF $5,000
A bit of high salary here but Puig is in a good spot today. Puig is 5-13 with two extra-base hits versus Jordan Lyles over his career and is actually better when matched up against right-handed pitching compared to facing lefties. Versus R-career, .290, .858 OPS/ Versus L-career, .249, .755 OPS.
Starling Marte PIT OF $4,900
Marte is now the Pirates leader on offense and the team is counting on him to lead the charge. Marte will hit atop of the lineup and provides stats in all categories to some degree. Thursday's matchup draws Reds starter Tyler Mahle whom Marte has some success against, 6-12 with two doubles.
A.Almora CHC $3,600/ B.Zobrist CHC $3,600
The Cubs and Braves tangle at Sun Trust Park in Atlanta. Lefty Max Fried toes the rubber, the Cubs active roster has just 11 official at-bats versus the former reliever. Either Albert Almora or Ben Zobrist is a nice salary saver, hedge towards the one that hits higher in the order. Zobrist is averaging 8.3 DKpts, Almora averaging 5.0 so far.
Questions and comments?
Follow Us on Twitter @thescorecrow
Follow Us on Reddit at u/TheScorecrow
Follow Us on Facebook at The Scorecrow
Follow Us on Instagram at The Scorecrow
Follow Joel Dorcas on Twitter @Joel_Dorcas6
Main Image Credit:
Embed from Getty Images