Andrew Harbaugh | April 4th, 2019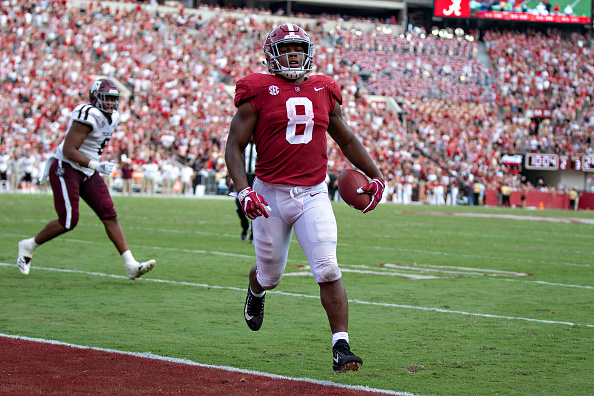 We are quickly approaching April 25th which means teams are finalizing grades and daft boards as they get ready for the chaos that is in store for them in Nashville.
In the past couple weeks I have sent out my tight end and wide receiver rankings and this week will have the running backs finding their way to your eyes.
I have 32 running backs that I have graded for you, some will be no surprise but some will have you double checking names and grades. Much like the other groups I have graded, this running back group is very top heavy in regards to names but I do think it has some solid talent top to bottom.
Rankings 1-10
Player Profile: Josh Jacobs
This may come as no surprise considering almost everyone is leaning towards Jacobs as the top runner in this year's class. He was in the first round discussion but after free agency and some trades that talk has cooled but that doesn't mean he doesn't have the first-round talent. Jacobs has a round one grade for me because of his low wear and tear in college, pass-catching ability, and physical running style when needed.
Jacobs only has 299 career touches while at Alabama which is pretty insane of a number considering how Alabama use to run down there runners. He split the backfield with three talented backs in Damien and Najee Harris which helped keep that number low. As I mentioned his running style and pass catching ability could make him a top runner and overall weapon in this league for years.
Rankings 11-20
Player Feature: Bruce Anderson
Jim Nagy talked about him this week when discussing late-round running backs who can make an impact and Anderson is exactly that. Being a division 1-FCS  runner has its benefits though for NFL teams because that means you usually fall to a more favorable landing spot, just ask David Johnson.
Anderson had a strong Senior Bowl week in front of all 32 NFL teams down in Mobile and he showed what people saw on tape just this time against top college talent. He can be a bruising runner between the tackles but he has the finesse and hands to become a reliable pass catcher as well. He will be a value day 3 pick come draft weekend.
Rankings 21-26
Player Feature: James Williams
A lot of people, especially ones in the fantasy community love Williams for his pass catching ability. Apart from that though, there isn't much else I like with his game. His vision is average at best and he doesn't use his size the way most runners with his metrics should.
Rankings 27-32
Questions and comments?
thescorecrowsports@gmail.com
Follow Us on Twitter @thescorecrow
Follow Us on Reddit at u/TheScorecrow
Follow Us on Facebook at The Scorecrow
Follow Us on Instagram at The Scorecrow
Follow Andrew Harbaugh on Twitter @MandrewNFLDraft
Main Credit Image: Embed from Getty Images