Joey Ricotta  | April 2nd, 2019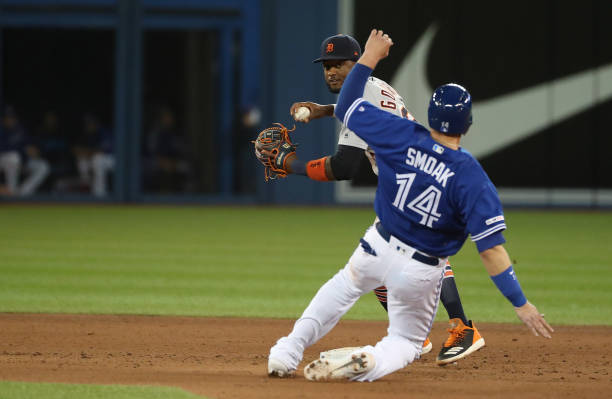 The big boys are on the bump. To name a few, Scherzer, Verlander, Sale, and Snell will all be on the hill today. Honestly, this is the kind of day you want to get exposure to a ton of pitching in tournaments. There are so many good ones on the board and it stresses me out way less than yesterday. Running the same exact lineup and switching the pitcher might be a good strategy today. Let's take a look at some options for tonight's 10-game main slate.
Pitching
I wanted to take the price discount and use Sale, but a couple of things scare me. Looking down the Oakland A's lineup they have some good right-handed bats that hit lefties well and guys like Davis and Semien are off to really good starts to the season. The other thing is Chris Sale's fastball velocity. According to FanGraphs, his velocity in the season opener was down 2.5 MPH from last season. That could be something he is willingly doing or it could be something to monitor going forward. I'm not outright fading him today, but I won't be using him in cash game contests. The lineup Max Scherzer will be facing is a tough one, but that's not what is keeping me off of him for cash, it's the weather. It looks like they will probably get the game in, especially because it is Bryce Harper's return to DC, but any sort of delays could remove Scherzer from the game quicker than normal. Like Sale, he's still in the picture for tournaments. That leads us to Justin Verlander.
Justin Verlander ($11.5K on DK and $11.3K on FD)
Verlander has had success against the hitters in the Rangers lineup. He has held them to a .216 average combined. There's always strikeout upside with Verlander and even more so with this Rangers team. They struck out at a 24.4% rate last year and walked only 4.4% of the time. The ballpark is not in his favor and the Rangers power hitters always have a chance to run into one, but I don't expect many guys to be on-base if they do. The thing that keeps jumping out to me is the noticeable line movement. When I looked last night, I saw that Houston was a -185 favorite to win. As of writing this, they are -210 favorites to win. The money is on Houston and so is mine.
Dumpster Dive
Jason Vargas @ MIA ($5.6K on DK and $6.5K on FD)
This is a salary saver. By no means do I trust Vargas, but I think he can pay off his price tag against the lowly Marlins. 5 or 6 innings, 4 or 5 strikeouts, and 2 or 3 runs? Worth it for the price.
Other Targets: Marcus Stroman, Jose Berrios, Zack Greinke, Brad Keller, and Hyun-Jin Ryu
Batters
1B Justin Smoak ($4.2K on DK and $3.6K on FD)
If you read the article from yesterday my apologies. I disrespected the future Cy Young Award winner David Hess. Yesterday wasn't the day Smoak was supposed to go off, today is! Cashner can struggle against left-handed batters and all of those stats from last year about Smoak are still relevant. He still had a .257 ISO and .370 wOBA against righties. The best part is now we have the benefit of other DFS players being down on him, because of his slow start to the season. If ownership levels are down and today is the day he explodes, sit back, smile, and watch the cash pile.
2B Enrique Hernandez ($3.9K on DK and $3.5K on FD)
Kike Hernandez has started the season nicely, hitting .375 with 2 HRs. He has a nice matchup from a platoon splits standpoint, facing off against Mad Bum. For Kike's career, he has a .361 wOBA and 224 ISO versus lefties. Bumgarner is not the same pitcher he once was and can struggle against right-handed batters. Hernandez also has the BvP stats advantage. In 39 AB's against Bumgarner, Hernandez has a 487/500/923 slash line with 19 hits and 4 home runs.
3B Justin Turner ($4.1K on DK and $4.1K on FD)
The same as Kike, Turner has BvP advantage against Bumgarner. Mad Bum gave up hard contact to right-handed hitters at a 43.6% clip last year. Turner had a 53.1% hard contact rate and a .433 wOBA against lefties. He also has 4 home runs against Bumgarner.
3B/SS Alex Bregman ($5K on DK and $4.2K on FD)
Fangraphs has him projected to hit 10.44 DraftKings points tonight. One of the highest SaberSim projections of the day. Shelby Miller has a big bullseye on his back tonight in a hitter-friendly park. Bregman had a .390 wOBA, .243 ISO, and 153 wRC+ versus right-handers last year. This matchup absolutely favors him and I'll be using him mostly at the shortstop position on DraftKings.
OF Adam Jones ($3.8K on DK and $3.4K on FD)
Jones is off to a red hot start with his new team. He's already hit 3 home runs and has 9 hits in 24 at-bats. Jones actually has hit right-handed pitchers better than lefties in his career, but he still has hit lefties. Eric Lauer is a lefty that has allowed 40.2% HC against batters of the same side as Jones. The rest of the numbers aren't all that favorable, but Jones is inexpensive and I'm trusting my gut.
BvP Dart
Odubel Herrera vs Max Scherzer
Not many people can say they hit Max Scherzer well. Herrera is 14 for 41 lifetime against him with a .341 AVG and 2 HRs. Not a safe bet by any means, but maybe a nice spot to get leverage in tournaments. I'll throw at least one dart by using Herrera as a one-off. At $3.5K on DraftKings, he's too cheap not to give it a shot.
Stacks
HOU vs Shelby Miller
Shelby Miller is returning from injury and this is not the lineup you want to return against, especially in this ballpark. Houston might be popular tonight, but it's for good reason.
LAD vs Madison Bumgarner
A very hot offense facing a pitcher that looks to be declining. He escaped the last game with minimal damage compared to what it could've been. The BvP stats and platoon splits say this will be a rough night for Mad Bum.
TOR vs Andrew Cashner
This stack has yet to explode. They tallied runs late in the game last night after David Hess exited the game. Hess might've pitched a little out of his mind last night. I think they finally come through for us in a big way.
TB vs Kyle Freeland
Not many people will be on this one and they are cheap enough where you can fit in a stud pitcher and still have enough salary for another top-notch stack. The top 5 in their order is the direction to look.
BOS vs Mike Fiers
Mike Fiers is not very good and Boston is. Not much more needed to be said. J.D. Martinez is my favorite cash game play, but they are all viable options.
Questions and comments?
thescorecrowsports@gmail.com
Follow Us on Twitter @thescorecrow
Follow Us on Reddit at u/TheScorecrow
Follow Us on Facebook at The Scorecrow
Follow Us on Instagram at The Scorecrow
Follow Joey Ricotta on Twitter @theriot326
Main Image Credit: Embed from Getty Images