Joey Ricotta |April 1st, 2019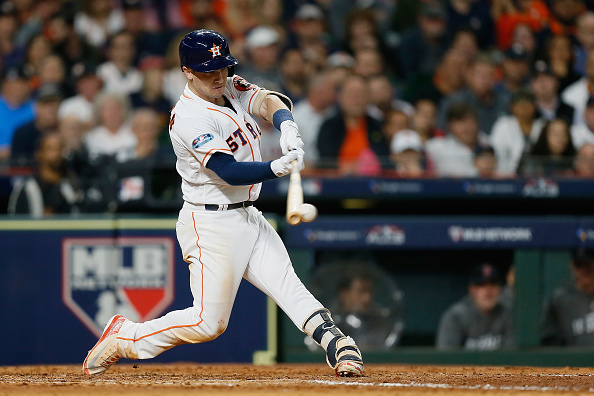 As always, I will have more money invested in cash game lineups than GPP's or tournaments. However, the pitching options are scary tonight. Mixing it up in tournaments is always a wise decision. Let's take a look at some core options for tonight and see if we can win some money.
Cash Games/H2H's
Steven Matz @ MIA ( $8.3K on DK and $8.2K on FD)
Finding pitching for this slate has my brain about to explode. As always, nothing is guaranteed and even more so if you don't know how many innings a pitcher will get or what kind of pitch limit they will be held to. That mentality took me off of the heavily favored Julio Urias and onto Steven Matz. I believe he can limit the damage against a poor Miami offense, get through 6 innings or more of work, and strikeout a batter per inning. The Marlins struck out 22.9% last year and Matz struck out 24.3% of right-handed batters. Miami is littered with righties. Matz held right-handers to a .227 AVG, but they had a .319 wOBA. It's risky, but with his workload not really being in jeopardy, I'll roll the dice with Matz against a bad offense in Miami.
1B Justin Smoak ($4.2K on DK and $3.6K on FD)
Justin Smoak regressed a little bit last season. After hitting 38 home runs in 2017, he came back down to 25 home runs last year. But he still had a .216 ISO and .349 wOBA and tore up right-handed pitchers. 20 of those home runs came against righties and he had a 40.1% hard contact rate. Smoak also had a .257 ISO, 370 wOBA, and 136 wRC+ against them. The pitcher Smoak will be facing is David Hess. Hess didn't pitch well at all last year. He had a 4.88 ERA in 21 games pitched, a 5.80 FIP and 5.51 xFIP. That was overall. His numbers against left-handed bats were even worse. Hess had a 6.82 FIP and 34.5% hard contact rate, while allowing 2.55 home runs per 9. All of this, plus the fact that Smoak will be hitting 3rd of 4th in the lineup, makes him a great play.
3B/SS Alex Bregman ($5K on DK and $4.3K on FD)
Alex Bregman is one of the best hitters in the game and probably doesn't need an extended introduction. He will be facing Drew Smyly who has dealt with Tommy John and will be returning to a big league mound for the first time since 2016. There's bound to be some hiccups in his first big league real game action since then. As most lefties do, Smyly has struggled with righties in the past. Bregman torches lefties. He had a .406 wOBA, .253 ISO, and 166 wRC+ against them last year. The Astros as a whole will probably give Smyly fits playing in a good hitters park in Texas. Look for Bregman to play a big part in that.
OF Billy McKinney ($3.8K on DK and $2.6K on FD)
It's real simple, McKinney is a cheap option that has the potential to have a good night. This will allow me to spend up for the big bats and also play the odds. Facing off against David Hess, I'm doubling down in cash games. There is a very high chance that one of either Smoak or McKinney will have a good night because they are left-handed batters facing Hess. If either one of them lay a goose egg, the other one will make up for it.
GPP Pitcher
P Matt Strahm ($9.2K on DK and $6.4K on FD)
Matt Strahm would be a cash game play for me if it weren't for his high price tag and unknown pitch count limit. He also shouldn't be as highly owned as Urias. He has high strikeout upside and is facing the Diamondbacks with a low implied run total that struck out 24.1% of the time last year. Pitching in San Diego is never a bad thing for pitchers as well.
Stacks
HOU vs Drew Smyly
We can attack with this entire Astros lineup with it being Smyly's first action since 2016. He's a southpaw facing a very good right-handed heavy lineup. The batters also have the hitter-friendly ballpark edge working in their favor. The best plays are Bregman, Altuve, Correa, and Springer. Anyone of the Astros is an option for tournaments. You can even get creative using an 8-2 batting order stack.
TOR vs David Hess
I love this stack for all of the reasons listed throughout the article. Adding in a powerful Randal Grichuk and/or Brandon Drury to the mix and you could have a very good night if the stars align. Rowdy Tellez is also an option.
MIA vs Steven Matz
Not a whole lot gets you excited about the Marlins offense or team for that matter, but they do have a lot of right-handed bats in their lineup. A strategy that I often use in tournaments is directly stacking against the pitcher I'm using most in my cash games. Why would I do that? Wouldn't that limit your potential profits for the night? Yes, in some sense it would, but if I'm playing more cash game lineups and throwing in a few low dollar GPP lineups, it makes all the sense in the world. The guy that I'm using for cash games is probably going to be used by other DFS players. If he implodes, having a couple of lineups stacked against him that exclude him will cover my butt. Also in tournaments, there is always the potential to hit for big money. Playing an offense that won't be heavily owned against a pitcher that will could shoot you straight to the top if they go off that night. It's not sexy or a move that I love, but I will have some exposure to the Marlins for that reason alone.
Joe Ricotta has been playing fantasy sports for a little over 10 years. Ricotta began playing daily fantasy shortly after its inception. He has taken down a few large field tournaments and regularly cashes in his head to head matchups. This is not to say that he always will, but he always has a reason behind his lineup constructions. Fanduel pricing has been included but for all intents and purposes, the article was based on DraftKings research. The main slate of games beginning at 7:07 EST were the ones addressed.
Questions and comments?
thescorecrowsports@gmail.com
Follow Us on Twitter @thescorecrow
Follow Us on Reddit at u/TheScorecrow
Follow Us on Facebook at The Scorecrow
Follow Us on Instagram at The Scorecrow
Follow Joey Ricotta on Twitter @theriot326
Main Image Credit:
Embed from Getty Images