Kody Clawson | March 31st, 2019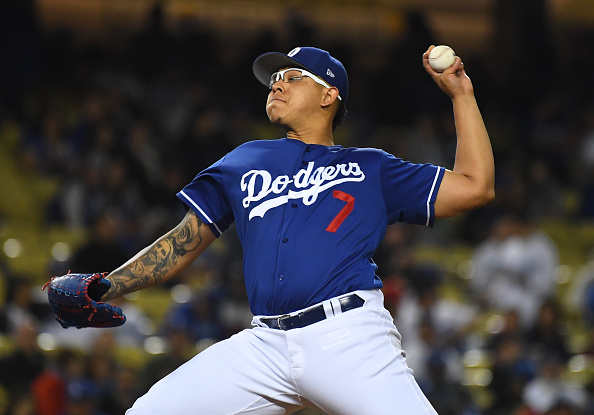 In my Saves and Streams article, I explained how to draft a team centered on streaming pitchers. But that was just the draft. Now, the fun begins. If you're playing in a 10-team ESPN roto league, there are so many quality pitchers to choose from on the waiver wire. Some of them you'll use once and dump, while others you might want to keep a hold of to see how they perform. Regardless, it's important to attack the waiver wire for your pitchers (and your hitters too). Even if you don't use the Saves and Streams philosophy, streaming starting pitching is a viable tool for success. Here are the best options, along with some extra credit players, you need to consider picking up for early streaming success.
Julio Urias, LAD vs SF (29% Rostered)
No prospect pitcher tantalized more during his minor league tenure, in my memory at least than Julio Urias. He had an electric fastball that he could control well, and a plus curve and an above-average changeup to go with it. He destroyed every minor league level he went to, all while being one of the youngest players at those levels. He got called up to the majors in 2016 at age 19, playing in 18 games and starting 15, pitching 77 innings and going 5-2 with a 3.39 ERA. Then, in 2017, he had a shoulder injury which ended up requiring surgery on the anterior capsule of his left shoulder, ending his season only five games in. After a stint in the bullpen last year, he looks to have recovered nicely, with the fastball sitting at 94 mph, being able to push it to 97 mph when needed. He looks every bit the part of the dominant pitching prospect he was before, but no one has drafted him as such, probably because of whispers of innings limits. This is the perfect opportunity to pick him up and find out if he still has a major league future. Not only should you stream him, but this is the kind of streamer that, if he performs well, you should probably consider keeping a hold of him. He could be a solid top-30 starter the rest of the way, innings be damned.
Others receiving votes:
Matt Strahm, SD vs ARI (30.8% Rostered)
Steven Matz, NYM @ MIA (33.6% Rostered)
Kyle Gibson, MIN @ KC (38.6% Rostered)
Kyle Gibson had a breakout year of sorts last year, going 10-13 with 179 strikeouts and a 3.62 ERA. The problem is, no one has drafted him as such, and he's currently non-rostered in half of ESPN leagues. While I doubt he's going to be that good again, he can still be a useful matchup option, and he gets a great one here, playing against the so-so Royals lineup (the ghost of Alex Gordon batted third for them last week at least once, which, gross) in their spacious home ballpark. This is about as great a matchup opportunity as you get, so I imagine Gibson should have little problem dispatching the Royals here.
Others receiving votes:
Jason Vargas, NYM @ MIA (0.4% Rostered)
Trevor Cahill, LAA @ SEA (5.4% Rostered)
The Yankees' rotation was in a bit of disarray before the injury to Luis Severino complicated things. Fortunately, the Yankees have some solid depth in the upper levels of the minors, and Jonathan Loaisiga has been one of those who has proven himself capable in a spot start or in a short term rotation stint, though his ERA doesn't necessarily represent this (5.11 ERA vs 3.53 FIP). He has three potentially plus offerings and decent command of each, showing the potential to be a solid pitcher in the future. That future is looking to be nearer and nearer, with Severino out until sometime in May and CC Sabathia recovering from surgeries and nearing retirement. Even if this is a spot start, I wouldn't hesitate to use Loaisiga against the lowly Tigers, even in New York. Depending on the Yankees' pitching situation, you might consider using him further down the road as well.
Others receiving votes:
Matt Shoemaker, TOR vs BAL (7.1% Rostered)
Brad Keller, KC vs MIN (11.7% Rostered)
Regardless of your strategy, streaming pitchers IS the way to win. The shallower the league, the more important it becomes. I'll be back Thursday with a weekend edition of streamers. Until then, keep following the stream.
Questions and comments?
thescorecrowsports@gmail.com
Follow Us on Twitter @thescorecrow
Follow Us on Reddit at u/TheScorecrow
Follow Us on Facebook at The Scorecrow
Follow Us on Instagram at The Scorecrow
Follow Kody Clawson on Twitter @kodyclawson
Main Credit Image: Embed from Getty Images