Joey Ricotta | March 31st, 2019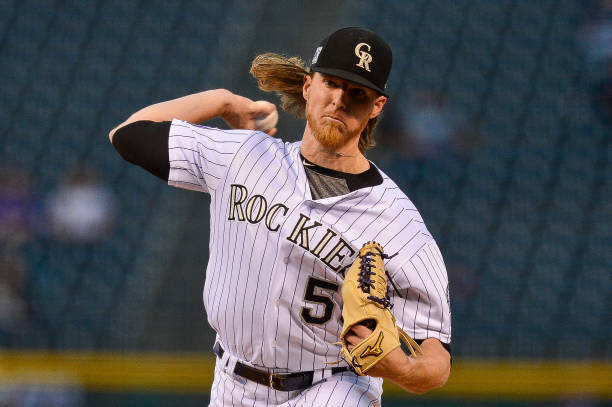 The season is just getting started and it is my favorite one out of all the major sports. Especially, when it comes to daily fantasy sports. The picks below will be directed mainly towards DraftKings, but feel free to use them wherever you see fit. I may have a good idea about what I'm doing, but I'm not psychic. Play these picks at your own risk or reward.
Locks
P Jon Gray @ MIA ($9.4K on DK and $7.9K on FD)
If you're looking for a starting pitcher that is most expected to get you the win, JA Happ is your guy. As of writing this, the Yankees are -340 Vegas favorites over the Orioles. The problem is Happ doesn't have the strikeout upside other pitchers do. Without that upside, his price tag of $10,100 on DraftKings is too steep for me. My lock of the day is Jon Gray, which feels so weird to say. Usually, he's someone I don't play. Okay, I'll quit rhyming even though I have impeccable timing. The Marlins lineup is one of the weaker ones in all of baseball. As a whole, the Marlins struck out at a 22.9% rate last season. While Gray had a 24.6% strikeout rate last year. Both of those numbers are in favor of Gray and when you factor in the ballpark upgrade he will receive by pitching in Miami, I really like him to limit the damage and strikeout some batters in this matchup. It doesn't hurt that he had a 12.3% SwStr rate last year. He's decently priced between the two big sites. So, fire away with Jon Gray.
1B Luke Voit ($4.4K on Dk and $4.2K on FD)
With the Yankees being heavy favorites, I have to get one of their big power bats in my lineup. The cheapest variety to my liking is Voit. When it comes to him, I'm just going to keep riding this wave. He hit 14 bombs in 39 games last season and tore up the ball in Spring Training. So far that momentum has carried into the regular season. We know that Dylan Bundy can be susceptible to the long ball as he gave up a league-leading 41 home runs last year. Voit is projected to hit 4th in the lineup again and if that's the case, I love his chances of producing behind the other big bats in the Yankees lineup. For those of you that love BvP stats, on an extremely small sample, Voit hit a home run off of Bundy in his only at-bat against him.
OF Christian Yelich ($5.5K on Dk and $5K on FD)
The same thing as Voit, just keep riding the wave. Yelich just became the first Brewers player ever to hit a home run in each of the team's first three games of the season. I'll be the first to admit, I was a little skeptical about his future outlook when it came to his power. I thought he was certainly capable of replicating what he did last year but didn't think it was likely. It's still very early, but so far Yelich looks like he's well on his way. Yelich will be going up against Michael Wacha and the St. Louis Cardinals. Wacha is one of those weird reverse splits guys, he has a career .260 batting average against and .322 wOBA versus right-handed batters. His numbers against left-handed batters are a .229 average against and .282 wOBA. I say all of that to say this, sometimes the numbers don't matter. My gut is telling me Yelich is a good play today. When a guy is in a groove, a guy is in a groove. He might not hit a home run for the fourth consecutive game, but he could still smack the ball around the yard.
Steals
2B/SS Lourdes Gurriel Jr. ($3.7K on DK and $2.6K on FD)
Gurriel raked during Spring Training, but he has started the season slow going 0 for 7 with two punch outs. That worries me none. After receiving the day off yesterday, I think he's ready to start making his mark on the 2019 regular season. Gurriel Jr. was 33rd among Statcast's Hard Hit rate last season. He also had a .351 wOBA and 123 wRC+ against lefties. Matt Moore isn't a fearsome pitcher by any means. In 82.1 innings last year, he gave up 15 home runs to right-handed batters and they had a .390 wOBA against him. If he's back in the lineup, look for Gurriel Jr. to make the most out of it.
3B J.D. Davis ($3.4K on DK and $2K on FD)
Love the price tag under $4,000 of someone hitting cleanup in a potent Mets offense. He hit .309 with two bombs in the Spring and Mickey Callaway loves his versatility and ability to hit left-handers well. Most of his professional success has come in the minors, but he could just be a late bloomer. Patrick Corbin isn't a bad pitcher by any means, but I'm thinking Davis could be a solid cheap option in this spot.
Stacks
NYY vs Dylan Bundy 
I love it. It will be a core stack of mine today, although I expect it to be very popular. To be contrarian mix up the stacks and the guys you are using from it to differentiate yourself from the pack.
CIN vs Trevor Williams
Joey Votto and Scott Schebler in Great American Smallpark against a guy with a 4.40 FIP and 5.16 xFIP against lefties last year? Sign me up.
TOR vs Matt Moore
Many people will overlook this one because it's a game featuring two badly projected teams. Bad teams have absolutely nothing to do with fantasy. In fact, sometimes that's what makes the bad teams great to me. Anything in this lineup or even the Tigers lineup is an option for tournaments. The Blue Jays are sending out a rookie pitcher Trent Thornton to make his first big league start and you never know what will happen with that.
Joe Ricotta has been playing fantasy sports for a little over 10 years. Ricotta began playing daily fantasy shortly after its inception. He has taken down a few large field tournaments and regularly cashes in his head to head matchups. This is not to say that he always will, but he always has a reason behind his lineup constructions. Fanduel pricing has been included but for all intents and purposes, the article was based on DraftKings research. The main slate of games were the ones addressed, excluding the late afternoon slate and the night game between Atlanta and Philadelphia. 
Questions and comments?
thescorecrowsports@gmail.com
Follow Us on Twitter @thescorecrow
Follow Us on Reddit at u/TheScorecrow
Follow Us on Facebook at The Scorecrow
Follow Us on Instagram at The Scorecrow
Follow Joey Ricotta on Twitter @theriot326
Main Image Credit:Embed from Getty Images