John Lepore | March 23th, 2019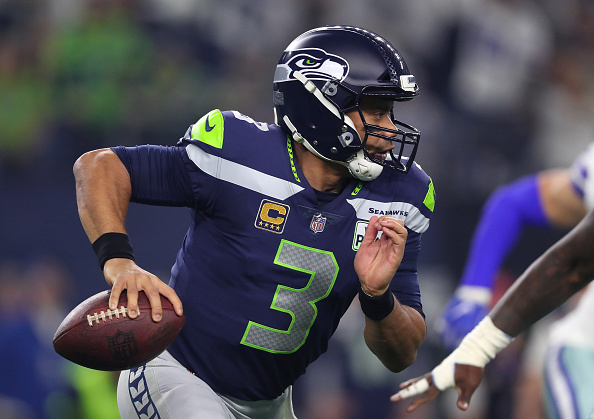 The Seattle Seahawks finished the season at 10-6 and got themselves to a Wild Card berth. They wound up losing to the Dallas Cowboys 24-22 but for a team that wasn't supposed to do much, they had a nice season. What can they do to topple the Rams this year in the NFC West?
The Offense
Russell Wilson makes this team go. There is no question about that. He may not have the gaudy numbers of Mahomes or Luck but he was nearly mistake-free and seems to have been gaining a better understanding of the game as he has progressed. For a QB whose size was a question, he hasn't missed a game in seven seasons despite being sacked more than 40 times in each of the past six years. Chris Carson established himself as the future RB behind the line with 1,151 yards in only 14 games. Once the Seahawks moved on from Rashaad Penny and Mike Davis, Carson showed his ability. Wilson was forced to spread the ball around as six different receivers caught more than 20 balls but no one on the team had more than 60. Doug Baldwin was hurt the last three weeks of the season but made it back for the playoff game against the Cowboys. His health is key to what the Seahawks can do on offense. He had 75-991-8 in 2017 but battled injuries last year and finished with only 50 catches. Tyler Lockett has been solid for the Seahawks and is locked up for the next three years to play the other side of Baldwin. He came into his own last season with 57-965-10. He also chipped in 636 yards on returning punts and kicks. Will Dissly and Nick Vannett will be returning and hopefully, stay healthy as they looked like a promising duo. The offensive line, which was supposed to be a weakness, actually became a strength. The Seahawks led the league in yards rushing with 2,560. Part of that was attributed to Duane Brown who they acquired as part of a trade with the Houston Texans in 2017. Although Brown will be 34 when the season starts, he will be there for the next three seasons after signing an extension. D.J. Fluker and Mike Iupati, who replaces the recently departed J.R. Sweezy, join Germain Ifedi to give the Seahawks four first-round picks on the line. While their run blocking was excellent, Russell Wilson had a 10.7% sack percentage which was the highest of his career.
The Defense
After Earl Thomas went down, Bobby Wagner was left as the lone throwback to the Legion of Boom. He kept the legacy alive with 138 tackles along with a career-high 11 passes defended and was a first-team All-Pro. Jarran Reed and Frank Clark contributed 23.5 sacks and 51 QB hits, but they were the only ones worth mentioning on the defensive line and although they only gave up nine rushing TDs, they also surrendered 4.9 YPC which was third-worst in the league. Bradley McDougald was a bright spot in the secondary and second on the team in tackles (78). He also had three picks, three sacks, and nine passes defended. Tre Flowers and Shaquill Griffin played well at the corners combining for 128 tackles and 14 passes defended. Overall the defense missed Earl Thomas. In the four games, he played he was tied for the team lead in INTs (3) and had 22 tackles.
Special Teams
Tyler Lockett was the only one who returned a punt and he brought back 19 kickoffs. Rashaad Penny also chipped in eight returns for 140 yards, but overall it was a weak point on the team as their opponents had over 400 yards more than the Seahawks. The 40-year-old Sebastian Janikowski missed five FGs on only 27 attempts and he even missed three extra points. Michael Dickson was an All-Pro punter with 78 punts for over 3,700 yards as a rookie. He should be pinning opponents back for a long time.
Looking Forward
The Seahawks only have four picks in the 2019 draft. Their first pick is #21 overall. The main needs for the team are on the defensive side of the ball. They need secondary help at corner and especially at safety to replace the departed Earl Thomas who got his payday with the Baltimore Ravens for four years at $55 million ($35 million guaranteed). Frank Clark was tagged and is due around $17 million so a pass rusher may not be a must-have right now at least in the first round. Seattle could also use an offensive lineman especially to help in pass protection along with the aging Duane Brown. They would love to add another weapon for Wilson at WR but that may be done with a fifth-round pick or in free agency. Here are a few guys the Seahawks may target in the first round.
Chris Lindstrom, OL, Boston College
Our own guys mocked him to the Seahawks at #21. He is solid in both the run game and pass protection and may fall to them down here as he is being overlooked a bit despite starting out as a projected late second round pick. He is 6'4 and 310 lbs and played 49 games in a row. He also ran a sub-5.00 40-yard dash which is impressive even if it is a bit unneeded when evaluating offensive linemen.
Byron Murphy, CB, Washington
At 5'11 and 190 lbs. he doesn't fit the mold of a Pete Carroll DB. One thing that the Seahawks will like is his football IQ and instincts. He also hits bigger than he is and loves to support the run defense. He has only played in 20 games at the college level though and is a bit undersized but this could be a great value if he falls as some people have him going possibly in the top 15 picks.
Greedy Williams, CB, LSU
Now, do I think he will fall to pick #21? No. The Seahawks could trade up to possibly #12 with the Packers and grab the best corner in the draft. Greedy is 6'2 so he has the height but weighed in at 185 lbs. which may be a bit light. It shouldn't be a problem since he will likely add a few pounds and will need it to be able to play the physical style Carroll likes from his corners. He is long and athletic and disrupts passes well.
Check out our other Team Reviews: Atlanta Falcons | Minnesota Vikings | Washington Redskins | Miami Dolphins | Cincinnati Bengals | San Francisco 49ers | New York Jets | Denver Broncos | Indianapolis Colts | Oakland Raiders | Baltimore Ravens | Green Bay Packers | Tampa Bay Buccaneers | Detroit Lions | New York Giants | Cleveland Browns | Buffalo Bills | Pittsburgh Steelers| Arizona Cardinals | Los Angeles Rams | New England Patriots | Chicago Bears | Dallas Cowboys | Kansas City Chiefs | Carolina Panthers | Los Angeles Chargers | Houston Texans | Tennessee Titans | New Orleans Saints
Questions and comments?
thescorecrowsports@gmail.com
Follow Us on Twitter @thescorecrow
Follow Us on Reddit at u/TheScorecrow
Follow Us on Facebook at The Scorecrow
Follow Us on Instagram at The Scorecrow
Follow John Lepore on Twitter @jball0202
Main Credit Image: Embed from Getty Images