Givanni Damico & Mike Fanelli | March 23rd, 2019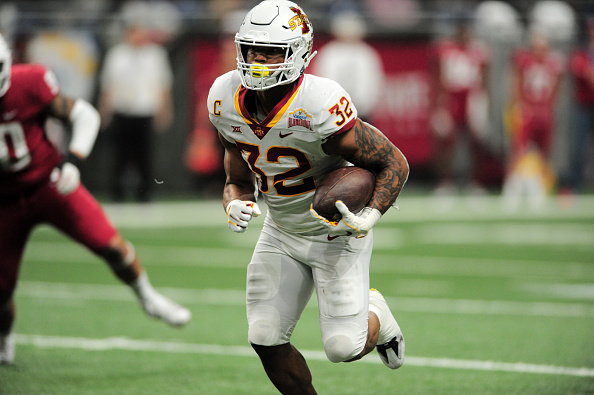 The 2019 NFL draft is just under six weeks away and with free agency mostly over, NFL teams can focus on upcoming pro days and the draft. With some teams filling their top needs and others having new needs to fill, mock drafts are starting to undergo serious changes.
In part three of a three-part series, Gio and myself split up the 32 teams and made picks for 16 each. There are hypothetical trades in this mock draft because what fun would it be without them. Make sure you check out the first round and the second round of this mock draft as well. Please remember two things; we are not professional NFL general managers and we do hate your favorite team.
65) New England Patriots (via Cardinals)- Jaylon Ferguson, EDGE, LA Tech
The run on defensive players continues for the Patriots. To replace Trey Flowers, the Patriots traded for Michael Bennett. However, he is 33 years old and had no guaranteed money left on his deal. Bringing in Ferguson to learn under Bennett for a year before taking over as the starter is a Patriots move. – Mike
66) Pittsburgh Steelers (via Raiders)- Kaleb McGary, OT, Washington
The Steelers traded Marcus Gilbert earlier in this offseason so McGary would be able to jump in and replace him at right tackle. McGary was one of the best offensive linemen on the board at this time and he does a great job anchoring in the passing game. – Gio
67) San Francisco 49ers- Kris Boyd, CB, Texas
Boyd would probably be a better safety than cornerback because of his lack of long speed and athleticism. It's hard for Boyd to keep up with fast receivers, but he is a great open-field tackler making him an even better candidate to play safety. – Gio
68) New York Jets- Anthony Johnson, WR, Buffalo
Adding Jamison Crowder in free agency was a nice move for the Jets, but they still need to add weapons around Sam Darnold. Quincy Enunwa is injury prone, while Robby Anderson has off the field concerns and is under contract for just one year. Adding Johnson will give Darnold another young weapon to grow with. – Mike
69) Jacksonville Jaguars- Jerry Tillery, DL, Notre Dame
One of the players the Jaguars had to release in order to sign Nick Foles was Malik Jackson. While 2018 first round pick Taven Bryan is expected to take on a bigger role, the team needs to add depth at the defensive tackle position. Tillery has gotten some top 50 hype recently so to grab him at pick 69 is a steal. – Mike
** Buccaneers trade pick #70 to the Panthers for picks #77, #115 **
70) Carolina Panthers (via Buccaneers)- Deionte Thompson, SAF, Alabama
Originally a first-round prospect, Thompson dropped down draft boards because of his lack of consistency in 2018. Thompson really struggled during the back-half of the season and in the playoffs. Nevertheless, Thompson is still a very athletic player who plays well in zone coverage. While he is a liability in man coverage and struggles with recovery speed, he is a steal at this point for the Panthers. – Gio
71) Denver Broncos- Michael Jordan, IOL, Ohio State
Adding Ja'Wuan James in free agency was a good start to improving their offensive line but the Broncos need to add at least one more piece. Starting left guard Ronald Leary is coming off a torn Achilles injury and may not be ready for the start of the season. Adding Jordan would provide an insurance policy and an eventual replacement for Leary. – Mike
72) Cincinnati Bengals- Terry McLaurin, WR, Ohio State
The Ohio State connection is back with Dwayne Haskins and McLaurin! McLaurin is very fast, running a 4.35 at the combine. He is a great route runner thanks to his relatively large route tree at Ohio State. However, McLaurin is a project player but he is better than John Ross and more durable. He could be a good number three or four wide receiver as a rookie. – Gio
73) New England Patriots (via Lions)- Jace Sternberger, TE, Texas A&M
Rob Gronkowski hasn't made a public announcement if he will return next season or not but even if he does, the Patriots need to add a tight end semi-early in the draft. There have been rumors that Martellus Bennett wants to come out of retirement to play with his brother. However, he is 32 years and isn't a long term solution. – Mike
74) Buffalo Bills- Oshane Ximines, EDGE, Old Dominion
Ximines is an extremely quick and athletic pass rusher, although he struggles to make an impact in the run game. The best thing about Ximines is that he is very consistent. He doesn't stat pad all his stats into two or three games. His sacks and tackles for loss are spread out over the season. – Gio
75) Green Bay Packers- Chase Winovich, EDGE, Michigan
After adding Preston Smith and Za'Darius Smith in free agency, the Packers released Nick Perry and aren't expected to re-sign Clay Matthews. Kyler Fackrell is a nice third pass rusher but he is a free agent after the 2019 season and likely won't be re-signed. Adding Winovich gives the Packers a good quick pass rusher on a cheap rookie deal. – Mike
76) Washington Redskins- Michael Deiter, OL, Wisconsin
When healthy the Redskins have one of the best offensive lines in the league. However, the starting left guard isn't currently on the roster. Dieter was a four-year starter and has experience at left tackle, left guard and center. Versatility on the offensive line is important for the Redskins because of all the injury history and Dieter would start from day one at left guard. – Mike
77) Tampa Bay Buccaneers (via Panthers)- Isaiah Prince, OT, Ohio State
The Buccaneers did a good job re-signing Donovan Smith but need to bring in someone to challenge Demar Dotson on the other side. Dotson will turn 34 years old during the 2019 season and is entering the last year of his deal. Prince was a three-year starter at right tackle for Ohio State and has a similar build to Dotson. – Mike
78) Miami Dolphins- Beau Benzschawel, IOL, Wisconsin
Benzschawel has a decent amount of raw strength and he is a great pull blocker. His footwork is phenomenal as well. He does not give up on a block and plays with an extremely high motor. He played against some of the best pass-rushers in the nation and held his ground. He is a bit inconsistent at times but is still an excellent pick here. – Gio
79) Atlanta Falcons- Dre'Mont Jones, DL, Ohio State
Jones is one of the most athletic defensive tackles in this draft. His play speed is incredible and he has a nonstop motor. Jones will need to pack some more muscle in because his frame but he is a three-down player who will make an impact immediately no matter where he goes. – Gio
80) Cleveland Browns- Isaiah Johnson, CB, Houston
On paper, the Browns don't have a lot of holes to fill outside of box safety. However, in a division with JuJu Smith-Schuster, A.J. Green and Tyler Boyd, you can never have too many good cornerbacks. Last year's first-round pick Denzel Ward has one starting spot locked down but the other spot is an open competition. Adding Johnson to the mix will only help. – Mike
81) Minnesota Vikings- Emanuel Hall, WR, Missouri
The Stefon Diggs trade rumors turned out to be false but the Vikings still need help at wide receiver. Former first-round pick Laquon Treadwell has been a bust so far and Aldrick Robinson was third on the team with five receiving touchdowns. Robinson is currently a free agent and the Vikings would be better off replacing his role with the speedy Hall. – Mike
82) Tennessee Titans- Nate Davis, IOL, Charlotte
Davis is a very smooth blocker who is very quick and agile, as well as strong enough to be used as an anchor in the run game. Davis is a little undersized and lacks proper hand placement from time to time. He is inconsistent in pass protection at times but is an excellent run blocker. – Gio
83) Pittsburgh Steelers- Kendall Sheffield, CB, Ohio State
Sheffield's ball skills are very weak and he lets big-bodied wide receivers bully him around. His instincts are quite below average as well. Despite all of that, Sheffield is a freak of nature athletically. He is extremely fast and fluid. Sheffield has all of the raw tools needed but will need time to develop before being able to make an impact. – Gio
84) Seattle Seahawks- Preston Williams, WR, Colorado State
Despite off the field concerns, Williams is a very good prospect on the field. He has great long speed and is very quick off of the line. He makes some amazing catches, but will also drop easily catchable passes. Despite his struggles, the Seahawks' system would be a great fit for Williams to grow and polish his skills. – Gio
85) Baltimore Ravens- Anthony Nelson, EDGE, Iowa
The Ravens have a history of taking defensive linemen in the middle rounds and turning them into impact players. With Nelson, they will have to do similarly. Nelson's game is raw at this point but he has a great frame and is athletic for his size. Nelson will need some time before he establishes himself as a starter in the NFL but the Ravens are a perfect fit for that. – Gio
86) Houston Texans- D'Andre Walker, EDGE, Georgia
J.J. Watt, Jadeveon Clowney, and Whitney Mercilus might be the best pass rush trio in the league. However, all three have an injury history and Clowney was slapped with the franchise tag and is under contract for just one year. Adding Walker would give the Texans some cheap depth behind those guys to protect the team from the injury bug. – Mike
87) Chicago Bears- Saivion Smith, CB, Alabama
A boom-or-bust prospect, Smith has a low ceiling and a high floor. He was very average at Alabama which suggests there isn't too much room for improvement. However, he possesses good size and is very experienced with different coverages. Returning to Alabama for his senior year would have been a good move for Smith as he needs more time to develop. – Gio
88) Detroit Lions (via Eagles)- David Montgomery, RB, Iowa State
Many dynasty fantasy players won't like this selection but it makes a lot of sense for the Lions. Kerryon Johnson struggled to stay healthy as a rookie, missing six games. While the Lions did re-sign Zach Zenner, LeGarrette Blount is currently still a free agent. The Lions need to bring in a bigger back to lighten Johnson's workload and Montgomery would be an excellent fit. – Mike
** Colts trade pick #89 to the Panthers for pick #100 and a 2020 third round pick **
89) Carolina Panthers (via Colts)- Tyree Jackson, QB, Buffalo
Jackson possesses an interesting combination of great size (6'7") and good mobility. He has a huge arm, but the mechanics have room for improvement. The Panthers need someone who fits their scheme to back up Cam Newton and Jackson would fit this role perfectly. He is capable of developing into a starter and that might be needed given Newton's injury history. – Gio
90) Dallas Cowboys- Charles Omenihu, EDGE, Texas
Between Randy Gregory's suspension and the ongoing contract negotiations with Demarcus Lawrence, the Cowboys should look to take a defensive end in the middle rounds. Some believe Omenihu could bulk up and move inside to defensive tackle as well. Omenihu grew up about half an hour from Dallas and would likely welcome playing for his hometown team. – Mike
91) Los Angles Chargers- Riley Ridley, WR, Georgia
Keenan Allen and Mike Williams make up one of the best wide receiver duos in the league but the depth behind them took a hit this offseason. Tyrell Williams signed with the Bills, while Travis Benjamin is mostly just a deep threat. Ridley didn't have a great combine performance but he would be a very nice number three receiver in the Chargers' offense. – Mike
92) Miami Dolphins (via Chiefs)- David Sills, WR, WVU
The Dolphins finally go wide receiver, improving their below-average group. Sills has great size and is an excellent red zone threat. Coming from the West Virginia spread offense might scare some off and for good reason. However, Sills works well in space and his overall game has room to grow. – Gio
93) New York Jets (via Saints)- L.J. Collier, EDGE, TCU
Even after taking Brian Burns in the first round, the Jets double down and take another pass rusher here in the late third round. Some may have concerns about Collier playing 3-4 OLB at 283 lbs. However, he can either shed some weight or bulk up and move to the defensive line. At the end of the day, the Jets need guys who can get to the quarterback and Collier had 14.5 career sacks at TCU. – Mike
94) Los Angeles Rams- Iosua Opeta, IOL, Weber State
NFL teams took notice at the combine as Opeta benched 39 reps of 225 lbs while running a 5.02 40-yard dash. He obviously has insane upper body strength, but he will need to add muscle mass to withstand NFL competition. Opeta was highly decorated in college but playing at Weber State makes scouts wonder if his talent will translate to the NFL level. – Gio
95) New York Giants (via Browns, Patriots)- J.J. Arcega-Whiteside, WR, Stanford
Arcega-Whiteside has impressive size and is a threat in the red zone. He has very soft hands and can come down with contested catches. After trading away Odell Beckham Jr., the Giants will need another outside receiver and Arcega-Whiteside isn't a bad option late in the third round. – Gio
** Redskins trade pick #96, 2020 third and fourth-round picks to the Cardinals for Josh Rosen **
96) Arizona Cardinals (via Redskins)- Penny Hart, WR, Georgia State
If the Cardinals do take Kyler Murray first overall, they will trade Rosen. The rumors on the potential compensation are all over the place. The Redskins have been linked to him for some time and are viewed as the favorites to land him. For the Cardinals, they need to give Murray some weapons. The team has high hopes for Christian Kirk and they can count on Larry Fitzgerald for the 2019 season, but after that is there much to like on the roster at wide receiver. – Mike
97) New England Patriots- Jarrett Stidham, QB, Auburn
Tom Brady can't play forever, can he? Since 1994 the Patriots have drafted 12 quarterbacks and only one (Jimmy Garoppolo, 62nd overall in 2014) was picked before the third round. Following that trend the Patriots will likely pick a quarterback in the third round, if at all. Stidham is a raw project and needs time to develop but with Brady around, he will get all the time he needs. – Mike
98) Jacksonville Jaguars (via Rams)- Darrell Henderson, RB, Memphis
After a disappointing 2018 season, Leonard Fournette hopefully will bounce back in 2019. However, T.J. Yeldon is a free agent and Fournette's back up is currently projected to be Thomas Rawls. Since Fournette has missed 11 games over the first two years of his career because of injuries, the Jaguars need to have a capable back up. Henderson had 25 total touchdowns his last year at Memphis and would be an excellent back up for Fournette. – Mike
99) Los Angeles Rams- Kendall Joseph, LB, Clemson
Despite not getting much hype, Joseph is very reliable and consistent. He does very well at anticipating plays before they happen and has an impressive football I.Q. However, he isn't physically gifted like some of the other linebackers in this class, but overall Joseph is very solid. – Gio
100) Indianapolis Colts (via Panthers)- Lonnie Johnson, CB, Kentucky
Even after re-signing Pierre Desir, the Colts should look to add another cornerback in the middle rounds. They have a couple of nice young cornerbacks who played well last year but when you face DeAndre Hopkins twice a year, you can never have too many good cornerbacks. – Mike
** Patriots trade pick #101 to the Buccaneers for pick #145 and a 2020 third round pick **
101) Tampa Bay Buccaneers (via Patriots)- Zach Allen, EDGE, Boston College
The Patriots always make at least one trade every draft where they flip a pick in the current draft for one in next year's draft. The Buccaneers could use another pass rusher opposite of Jason Pierre-Paul. When you face Drew Brees, Matt Ryan and Cam Newton six times a year, you need to be able to get after the quarterback. The Buccaneers ranked in the bottom half of the league in sacks last year and that needs to improve. – Mike
102) Baltimore Ravens- Tre Lamar, LB, Clemson
Like his teammate Joseph, Lamar lacks athleticism and isn't very good in coverage. However, he has a great frame and is an extremely good tackler. Worse case scenario, Lamar becomes a core special teams player but could develop into a very good run stopper on early downs. – Gio
Questions and comments?
thescorecrowsports@gmail.com
Follow Us on Twitter @thescorecrow
Follow Us on Reddit at u/TheScorecrow
Follow Us on Facebook at The Scorecrow
Follow Us on Instagram at The Scorecrow
Follow Givanni Damico on Twitter @giodamico15
Follow Mike Fanelli on Twitter @mikesports22
Main Credit Image: Embed from Getty Images