Joe Hines | March 23rd, 2019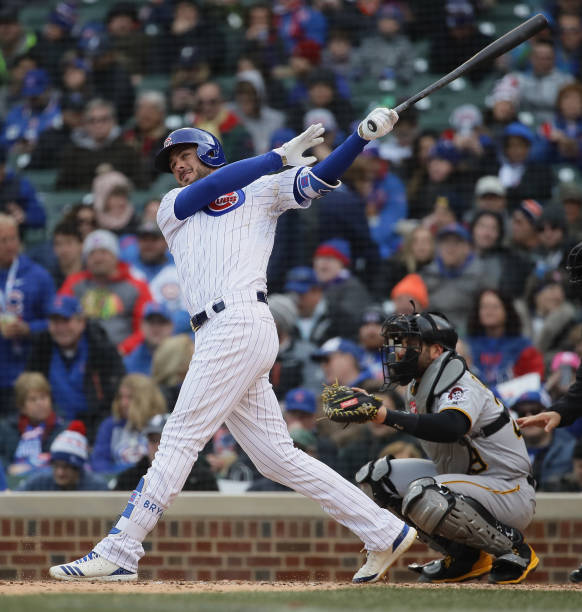 It's a mere 5 days until the real opening day, with apologies to the Mariners and Athletics. For those of you under the age of 50, MLB at one time had a traditional opening day and game, featuring the Cincinnati Reds. I miss those days. I also think the designated hitter is an abomination, to paraphrase Crash Davis. So you can surmise my feelings on the impending implementation of the DH in the National League. I offer my own solution to the imbalance between leagues, abolish the DH altogether.
But I digress. My intention is to celebrate opening day and preview early NL Central matchups.
I should begin by saying unapologetically that I am a die-hard, unabashed Cubs fan. So much so that I wore number 14 all during my own, unillustrious baseball career in honor of my favorite player, Ernie Banks. I also could do without the silly Go Cubs Go which is played at Wrigley Field after Cubs victories, and the increasingly ridiculous "celebrity" versions of Take me out to the  Ballgame, originally meant to honor Harry Caray, but which has long since his death, run its course. I also hate the term Cubbies, they are not the Cubbies. They are the Cubs and stop insulting me as if I'm 10 years old.
The Cubs open the season with an interleague matchup vs. the Texas Rangers. Not exactly the type of matchup that begs us to throw out the record book, but the two teams do have a bit of history in the trade market. Starting pitchers Cole Hamels and Kyle Hendricks were poached from the Rangers. So at the very least, the General Managers get along.
In other openers, division rivals Reds and Pirates face each other, along with mortal enemies Cardinals and Brewers. I expect they will be formidable division opponents, the NL Central figures to be the toughest in baseball this year. The Reds have overhauled over the offseason, adding the likes of Yasiel Puig and Matt Kemp, both of whom should thrive in the cozy confines of Cincinnati's Great American Ballpark. Pittsburgh remained largely unchanged from last seasons 82 win team.
The Cardinals added stud 1st baseman Paul Goldschmidt from the Diamondbacks and signed reliever Andrew Miller as a free agent.  Goldschmidt just signed a 5-year extension, and in my view immediately becomes a quintessential Cardinal. He just seems to have that boring St. Louis demeanor, but he's a Cubs killer in his career, slashing .353/.471/.699 for his career.
Much was made when Pecota came out with their annual projections in February and had the Cubs winning only 79 games and finishing last in the Central. This for a team that has averaged 97 wins the last 4 years, including 95 last year. I'm going to go out on a limb, going on record as saying this; if the Cubs win 79 games OR finish last in the division, I'll eat my hat. This is a good team, last year winning all those games in spite of the offense forgetting how to hit the second half of the season, 3rd baseman Kris Bryant missing 60 games, and being sub-par for many of the games in which he did play due to a strained shoulder suffered early in the season on a headfirst slide into 3rd base. Note to Kris, please stop sliding headfirst.
The Cubs starting rotation, though a bit long in the tooth, is solid and sometimes spectacular. Cole Hamels, acquired at the trade deadline last year, signed on for 2 more years with the Cubs, Jon Lester always seems to figure out how to get hitters out, Kyle Hendricks is criminally underrated and Jose Quintana is very good as a fourth starter.
Which brings us to Yu Darvish. Who signed a rich free-agent deal last year, and for that money, the Cubs got one win. He was hurt and had something called a debridement in September, an arthroscopic procedure to clean out debris in his elbow. So as Cub fans, we are hopeful that his 2019 season will be more representative of the contract he signed. My opinion: he is weak mentally and we just talked about him physically. So I'm not terribly optimistic about his ability to be the ace that they hoped for when they signed him. But as a fan, I'm hopeful. All signs this spring have been good, though he did have a blister on a finger in his last spring start. Those things tend to be chronic.
Offensively, you can expect, like death and taxes, that 1st baseman Anthony Rizzo will hit close to .300, slug 30 homers and have 100 RBI. If Bryant stays healthy, he will be much closer to his 2016 MVP form than last years injured version. Catcher Willson Contreras had a terrible 2nd half, though he was the starting catcher for the National League in the All-Star game. Javier Baez finished 2nd to Christian Yelich in the MVP voting last season, and even if he doesn't approach his prodigious offensive output, his defensive wizardry, and tremendous baseball IQ  make up for any fall off that might be in the offing. And manager Joe Maddon has said since he arrived in Chicago in 2015 that Baez is a perennial MVP candidate if he lays off the slider in the opposite batters box. Ben Zobrist, in the last year of his free-agent deal, will provide "professional" AB's all season.
In the outfield, Kyle Schwarber will be in the lineup most of the time in left field, though he will sit out against tough left-handers. Lots of writers and fans continue to clamor to trade Schwarber to an American League team, where he could be a full-time DH. But the funny quote I saw from a writer last year is that team President Theo Epstein would rather trade his children than Kyle Schwarber. So as much talk as there continues to be about a trade, don't get too amped up over the possibility. In centerfield, my hope is that most of the time, Albert Almora plays. He is, for my money, the elite defensive outfielder in baseball, and with perennial Gold-Glover Jason Heyward in right, they can cover a multitude of sins from whoever is in left.
The bench and bullpen will be works in progress over the course of the season, as they are for all teams. Except maybe the Yankees. Much gnashing of teeth occurs every year over the state of bullpens; the truth is they tend to run hot and cold. The Cubs were generally thought of as having a poor bullpen last year, the truth is they wound up the season with the best bullpen ERA in the league with a 3.35.
I'm getting long-winded, so here is my predicted order of finish in the Central.
Cubs
Cardinals
Reds
Brewers
Pirates
5 days until the opener, I hope you've enjoyed this and look forward to the season as much as I do.
Play Ball!
Questions and comments?
thescorecrowsports@gmail.com
Follow Us on Twitter @thescorecrow
Follow Us on Reddit at u/TheScorecrow
Follow Us on Facebook at The Scorecrow
Follow Us on Instagram at The Scorecrow
Main Image Credit: Embed from Getty Images