Dale Money | March 21st, 2019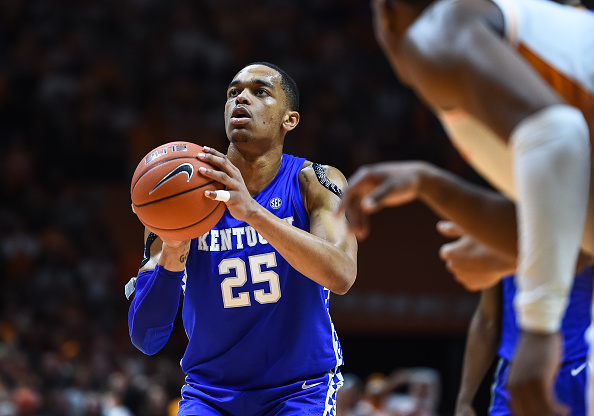 North Carolina and Kentucky are the top seeds for the Midwest bracket. Which teams will advance and which teams will fall to a double-digit seed?
1 North Carolina vs 16 Iona
North Carolina, – After last years monumental upset where the first seed in Virginia was blown out by the 16th seed UMBC, a feat that had never been accomplished in the history of March Madness, I'm sure many might wonder if some other team can make lightning strike twice, sorry guys, no disrespect to Iona, but the Tar Heels will just be too much to handle in this one. This is a very deep Team coming in and will be the true dark horse to knock Duke off its perch, top-10 nationally in efficiency on both ends of the floor. They'll be led by three very talented players in Coby White, Cameron Johnson, and Luke Maye. Maye will be leaned upon quite a bit on the glass, a true rebounding threat, he leads the team with 10.5 rebounds a game.
Iona, – Under Tim Cluess, Iona has become a bit accustomed to the NCAA Tournament, having been invited four years in a row, although they've been eliminated in the first round, the previous three occasions. The Gaels punched their ticket, having won the MAAC Tournament after a first-place finish in the league's regular season. They are led by guard E.J. Crawford, who averages 18.0 points and 5.1 rebounds a game.
8 Utah State vs 9 Washington
Washington, – Washington is excellent at taking the ball away from opposing teams, and Utah State happens to be a team, that coughs it up on almost 18 percent of its possessions, which ranks 126th. The Huskies are led by Pac-12 Player of the Year Jaylen Nowell and the league's Defensive Player of the Year, Matisse Thybulle. Nowell averages 16.2 points on 50-percent shooting but had eight points on 2-of-7 shooting in the tournament title game, while Thybulle contributes a league-high 3.4 steals per game.
Utah State, – The Aggies overcame Nevada and San Diego State to capture the Mountain West regular season and tournament title. The team is 6th nationally in assists per field goal made. They will be led by a trio of guard Sam Merrill, Neemias Queta, and Quinn Taylor. Merrill led the Aggies with over 21 points a game, and 4.2 assists. Queta, the young center out of Portugal, won both Freshman of the Year and Defensive Player of the Year. He contributed 11.9 points, 8.9 rebounds, and 2.4 blocks.
5 Auburn vs 12 New Mexico State 
Auburn, – What should be an intriguing 5-12 matchup, SEC tournament champion Auburn show up just having put a 20-point throttling on one of the deadliest teams heading into the tournament in Tennessee. They will have the luxury of elite guard play, as both Jared Harper and Bryce Brown show up in the big games. Backup point guard J'Von McCormick, who had been bashed at different times for underperforming, was the spark plug in the SEC final. McCormick played 23 minutes and contributed five points, four assists and one steal with just one turnover. Will he carry some of that magic over to this opening match?
New Mexico State, – The New Mexico State Aggies successfully repeated as WAC tournament champions in addition to winning the regular-season title. The Aggies score 77.5 points per game, led by guard Terrell Brown who averages in double figures at 11.3 points on 42.2 percent field goal shooting. That deep bench also allows them to show off a bit on the glass, forwards Eli Chuha and Ivan Aurrecoechea lead the team in rebounds with over 5 each per game.
4 Kansas vs 13 Northeastern
Kansas, – Making its 48th NCAA Tournament appearance, the Jayhawks coached by legend Bill Self, will be looking to power forward Dedric Lawson, Lawson who should be able to overpower perimeter-oriented Northeastern leads the team in scoring with 19.1 points on average, along with 10.3 boards, 1.3 steals and 1.1 blocks per game. Along with Lawson, names such as Lagerald Vick, Udoka Azubuike, and Devon Dotson have each contributed an average of over 12 points per game. In total, there are seven players, that put up over seven points on average.
Northeastern, – The Northeastern Huskies, the little team out of the Colonial Conference that many people will no doubt be overlooked, will be led by head coach Bill Coen and senior guard Vasa Pusica. Coen led the Huskies to a 23-10 record. They'll be coming into the tournament sizzling hot, having won 7 games straight, and 12 of their last 13. A very talented shooting team, they will no doubt need to be sharpshooters from the 3-point arc if they are going to be expected to have a true chance against the Jayhawks.
6 Iowa State vs 11 Ohio State
Ohio State, – Ohio State has really stumbled in the second half, after a roller-coaster season that saw them barely get into the NCAA Tournament. They will now look to forget all that and focus on the task at hand. Center Kaleb Wesson undoubtedly Ohio States key player will be crucial down in the post, averaging over 14 points and 6 rebounds. Establishing Wesson early and often has worked well this year and Ohio State needs to stick with that formula. Both point guard C.J. Jackson and Keyshawn Woods will be entering this matchup with not much time left in their Collegiate careers, and I expect they will be ready to play.
Iowa State, – Coming into March Madness on a high note, the Cyclones are playing some of their best ball of the year. Having underachieved most of the year, they, however, were able to rev up the intensity in an impressive Big 12 Championship run, winning the final in pretty convincing fashion over Kansas 78-66. The Cyclones have four players that average double figures, and three guards that can shoot the ball from the perimeter. Marial Shayok a player out of Canada, was critical in their win against Kansas, hitting on a pair of 3-pointers in the final two minutes. He'll look to make his presence felt.
3 Houston vs 14 Georgia State
Houston, – The Cougars enter this tournament with a very rock solid defense that stayed strong through the season. They were ranked 8th in the country allowing just over 61 points per game. We should expect they will undoubtedly create a lot of difficulties for this Panthers squad that is outside of the top 100 on both ends of the floor. They will be led by senior guard Corey Davis Jr., who is averaging 16.7 points on 42.5% shooting, on 182 field goals.
Georgia State, – Georgia State heads into the NCAA Tournament riding a five-game winning streak and finishing on top of the Sun Belt Conference. They are a very strong shooting team led by D'Marcus Simonds. The junior guard finished the season with an average of 18.7 points and 4.9 rebounds per game. Malik Benlevi finished the year with 12 points per game and 5.7 rebounds.
7 Wofford vs 10 Seton Hall
Wofford, – A team that you may need to look out for, the Terriers of Wofford have shot at a clip of 41.6 percent from 3-point range, which ranks second in the country. Seton Hall ranks 129th in 3-point defense. America will know Fletcher Magee's name by the end of this one. He averages 20.5 points, 2.6 rebounds and 1.6 assists on 44.4 FG%.
Seton Hall, – This is Seton Hall's 13th appearance overall and fourth straight under Kevin Willard. The Pirates are 7-4 in first-round games, including a victory last year over N.C. State. Myles Powell Jr., Guard has averaged 22.9 ppg, 4.0 rebounds, and 3.0 assists, Forward Sandro Mamukelashvili is putting it all together at the right time, averaging 8.9 points and 7.8 rebounds a game.
2 Kentucky vs 15 Abilene Christian
Kentucky, – The Wildcats will be the big obstacle for North Carolina's road out of the midwest bracket, and could very likely end up butting heads. The two teams met already this season, with Kentucky topping the Heels 80-72. P.J. Washington has emerged as a star for the Wildcats, and Reid Travis is back and healthy. Washington leads Kentucky in points and rebounds, he'll be wearing a walking boot for precautionary reasons, they may decide to rest him in this opening contest. Along with Washington, Tyler Herro, and Keldon Johnson are as good a core of players as you're gonna find in College hoops.
Abilene Christian, – The small school out of West Texas, Abilene Christian has only been eligible for the tournament for the last two years when the Wildcats made the jump to Division I. Led by eighth-year head coach Joe Golding, who played at Abilene Christian as a guard during the years of 94-98, the Wildcats had a Conference record of 14-4 which was good for second in the Southland. They have very balanced scoring, including three players in Jaren Lewis, Jalone Friday, and Payten Ricks, and they'll need to be hitting on all cylinders.
Check out our other bracket breakdowns: East | West | South
Questions and comments?
thescorecrowsports@gmail.com
Follow Us on Twitter @thescorecrow
Follow Us on Reddit at u/TheScorecrow
Follow Us on Facebook at The Scorecrow
Follow Us on Instagram at The Scorecrow
Follow Dale Money on Twitter @packerd_00
Main Credit Image: Embed from Getty Images