Pranav Ramasubramanian | March 17th, 2019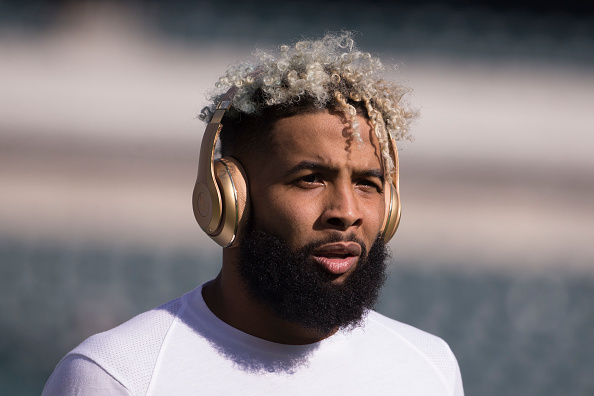 The Cleveland Browns finished the 2018-2019 season with a 7-8-1 record barely missing the playoffs and John Dorsey knew it was time to make a splash to help the Browns acquire that piece that could put them over the top. It was rumored that he was working towards making a big move and that's when it was first rumored by many that Odell Beckham Jr. could be a possibility.
The New York Giants tried to trade Odell Beckham Jr. last year, but once they found out their SuperBowl archrival the New England Patriots were the most aggressive in pursuing a deal they backed out because they didn't want the Patriots to become unstoppable. There even seemed to be a mutual interest as Odell Beckham Jr. told Kyrie Irving of the Boston Celtics at the All-Star game last year that he wanted to go to New England after Irving went to the Celtics in 2017.
After another season with the Giants Odell was on the trade market yet again until they found the perfect suitor. Odell Beckham Jr. had just signed a huge 5 year, 95 million dollar extension last August so it seemed like he was stuck in New York, but New York had other plans.
Jay Glazer's prediction/aftermath
Jay Glazer is an NFL insider that works for Fox NFL Sunday and The Athletic and he made a bold prediction that Odell Beckham Jr. would be moved in his offseason mailbag article last month. Glazer faced threats from New York Giants fans that went after not just him, but his kid, his wife, and his mom because his prediction angered the sentiments of the Giants fanbase. Glazer responded to those who threatened him in a rather explicit manner and told them to save their insults for things that actually matter in life.
After the trade went down Glazer went on the show "The Herd with Colin Cowherd" on FS1 to explain why he knew his prediction was right because of some of the inside information he knew about the direction of the Giants franchise. Glazer also told Colin that the Giants felt as if they were a team competing for a Super Bowl last season, but they didn't have the swagger or players needed to do it.
Glazer wants to be accurate in everything he puts out and even though this was a crazy claim at the time it seems like he hit the bullseye with this one.
Trade(what each team receives)
New York Giants                                                                              Cleveland Browns
2019 first round pick(No.17 overall)                                              Odell Beckham Jr.
2019 third round pick(No.95 overall)
"Giant" frustrations
Even though the New York Giants had a good 2016-2017 season it was the season when Odell Beckham Jr. was starting to have emotional outbursts on the sideline when things went wrong. He was fighting a kicking net at one point due to his passion for wanting to win, but it was getting out of hand.
The Giants made the playoffs that year as a No.5 seed, but in the Wild Card they ran into Aaron Rodgers and the Green Bay Packers and got blown out because of Eli and the receivers not being on the same page, which may have been because of the receivers partying on a boat in Miami rather than practicing. The loss made Odell Beckham Jr. mad and he punched a hole in the wall unable to yet again control his emotions. Odell Beckham Jr. only played four games in the following season because of an ankle injury that he suffered in the Giants loss to the Chargers in Week 5 of that year when he twisted his foot underneath his leg when trying to land after attempting to catch a ball that was uncatchable because Eli threw it a little too high and early.
Odell Beckham Jr. returned in the 2018-2019 season and did have an incident with a cooling fan headbutting and punching it, but other than that seemed to stay out of trouble on the sidelines only to run his mouth to the media about the Giants inability to get him the ball or why he felt the team had low energy so despite Odell Beckham Jr.'s productive year the Giants went 5-11 sitting yet again at the bottom of the league pushing him to peak frustration. The Giants internally decided after the season on February 7th, 2019 in a team meeting that they were gonna go full rebuild and try and trade Odell Beckham Jr. and they didn't want to make fans upset so they kept it inside the organization while Odell Beckham Jr. just needed a scenery change to get back to full form so it looked like both sides had decided it was time to move on.
How the legend of Baker grew and can keep growing
Baker Mayfield didn't even get to start the year as they wanted him to learn his ways so the Browns started the season with Tyrod Taylor as the quarterback, but after Taylor suffered a concussion against the Jets in Week 3 Mayfield was forced to play and he played well enough to win the game and earn the starter job for the rest of the year. Mayfield broke the record for most passing touchdowns as a rookie with 27 in just 14 games and nearly led the Browns into the playoffs.
Mayfield needed that one consistent target alongside Jarvis Landry to take his offense and his game to the next level to help the Browns win the AFC North and possibly compete for a Super Bowl. Mayfield and Odell Beckham Jr. already know each other well through Jarvis Landry and all three of them worked out on the USC practice field last summer building some chemistry. Mayfield's ability to run and throw the ball with extreme poise will benefit Odell Beckham Jr. as he will have more chances to get the ball if he just continues to use his speed and agility to get open and could even make some great catches like his iconic one-hander vs the Cowboys. Mayfield has to take the exact same leadership role he did last season and keep Odell and Landry's emotions under control so he can maximize their potential together as great receivers.
Draft implications
The Cleveland Browns traded away two of their draft picks to acquire Odell Beckham Jr. from the Giants. The first pick they gave up was their only first-round draft pick in this year's draft, which is 17th overall. It's a defensive draft and the Browns already made the necessary moves to bolster their defense by trading for defensive end Olivier Vernon and then signing defensive tackle Sheldon Richardson. However, the Browns missed out on a good defensive piece after Earl Thomas signed with the Baltimore Ravens Wednesday and now must look to the draft to bolster their secondary.
The Giants now have the option of possibly passing on a quarterback at the sixth pick for defense and waiting until the 17th because they may want a potential starter to learn under Eli first and the quarterback class isn't great except for a few big names.
The second draft pick that the Browns gave up was a third rounder, which is 95th overall and could be a good place for the Giants to look for more wide receiver depth as they did just lose Odell so getting another young receiver could help build the offense for the future. The Giants have a shot at getting a supreme offensive and defensive talent in this draft now thanks to this trade, but not getting at least two first rounders for Odell Beckham Jr. was a disappointment despite Jabrill Peppers being a solid player. Dave Gettleman should have moved negotiations toward that or considered the San Francisco 49ers offer for Odell even though they were unwilling to part with the No.2 pick.
It's hard to judge who won the trade because when draft picks are involved you can really only judge the trade after you see how the draft picks pan out in the NFL. The Giants did sign Golden Tate on Thursday to lessen the damage of losing an elite receiver like Odell Beckham Jr. The Giants offensive attack will be centered around Saquon Barkley next season and Pat Shurmur will remodel the offense to fit that mold. The Browns are two years removed from 0-16 and it seems they finally have a direction with this move reuniting former LSU receivers Jarvis Landry and Odell Beckham Jr. to help them compete with the NFL's elite.
Questions and comments?
thescorecrowsports@gmail.com
Follow Us on Twitter @thescorecrow
Follow Us on Reddit at u/TheScorecrow
Follow Us on Facebook at The Scorecrow
Follow Us on Instagram at The Scorecrow
Follow Pranav on Twitter @PranavRama1
Main Credit Image: Embed from Getty Images