Joel Dorcas | March 16th, 2019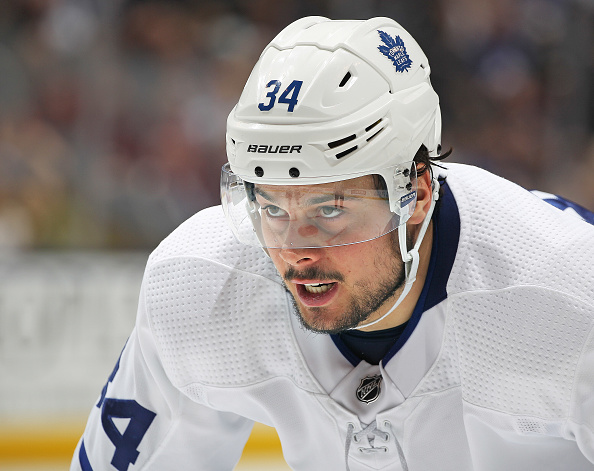 A number of great options to target for Saturday's NHL slate. Narrowing down this slate was somewhat difficult but there is no denying the value in the following contests. Calgary Flames at Winnipeg Jets, Washington Capitals at Tampa Bay Lightning and finally, the battle of Ontario-Leafs at Senators. Let's get to it!
At the Core
Jacob Trouba D WPG $5,400
Really like for the Flames/Jets tilt to provide lots of offense. As a default, siding with the home team is where I lean, of course, this one evens out somewhat given the fact that the Flames have an explosive offense as well(they are in my core as well, more on that in a bit). With Trouba we get a bit of everything, blocks, shots, point production and heavy minutes. His last five games: four points, 10 blocks, 12 shots, 24.45 minutes per game. Honorable mention, Patrik Laine. Five assists in the last five, his confidence seems to be getting better, coach Paul Maurice has him on the first line, fireworks could be on the horizon.
Johnny Gaudreau W CGY $6,900
Johnny hockey is back? He never really left but before the Flames 9-4 spanking of the New Jersey Devils, Gaudreau had 0 goals in nine contest. The price tag is really nice for a player that is fourth in league scoring with 90 points in 70 games. Calgary has won two straight after a four-game losing streak. Goals were plentiful in the two victories, nine against Jersey and six against Vegas. The Jets are a middle of the pack defense(14th in the league;209 goals against), they have given up 32 in there last 10.
Nikita Kucherov W TB $7,600
No sense in getting cute here. Tampa is obviously very deep but nine times out of ten going with Kucherov has paid off this season. Somewhat curious, DraftKings has his price tagged at $7,600, his lowest price going back 10 games. Washington has tightened up defensively, only allowing 26 goals over there last 10, but Kucherov and the Lightning at home? Sounds good to me.
Auston Matthews C TOR $7,700
Toronto draws the Ottawa Senators in the second of a back-to-back(last night was a doozy, they somehow managed to squeak out a 7-6 win at home against the Flyers). The Leafs best way to play/win games is to open things up with highly skilled, slick moving forwards and defensemen and hope that goalie Freddie Andersen stands on his head. One of there key offensive contributors, Auston Matthews can run hot and cold, he has five points in his last five games but does lead the team in shots over that period with 23. Floodgates might open up in this one even with Anders Nilsson coming off a spectacular performance in a home 2-0 victory over the St.Louis Blues Thursday night.
Value Plays
Ben Chiarot D WPG $3,500
Defensemen Josh Morrisey and Dustin Byfuglien continue to sit out with injuries which opens the door for players such as Ben Chiarot. Chiarot, since the Jets have been short on the back-end, has seen an increase in ice time, and as a result, his DK pts per game production has increased almost a full point over the last 10 games(3.0). Season-long his average is 2.2 in 66 games played. Another fine option, for $300 more, is Tyler Myers.
Tyler Johnson W TB $4,500
Washington and Tampa are bound to put on a show at Amalie Arena Saturday night. These are two of the league's hottest teams, both having gone 8-2 over there last 10 games. Johnson, who has quietly scored 25 goals to date, plays on an exceptionally talented line with Brayden Point and the league's top scorer, Nikita Kucherov. Johnson can go for prolonged stretches without registering points, but his last five games have been fairly steady notching three goals and 12 shots on net.
William Nylander W $3,900
Nylander is slowly but surely coming around to the player we saw last year. As a result, coach Mike Babcock has rewarded the talented forward by giving him a spot on the Leafs second line where he gets to play with Auston Matthews and Andreas Johnsson. Nylander is bound to "crack the code" so to speak and increase his goal totals as his shooting percentage on the season is quite low at 5.7. Nylander is getting points lately, he has 5 assists in his last five games and is coming off  6.5 and 6.0 DK point performances.
Stacks
Winnipeg Jets-Laine(W), Schiefele(C), Wheeler(W), Chiarot/Myers(D)
Tampa Bay Lightning-Johnson(W), Kucherov(W), Point(C), Hedman(D)
Toronto Maple Leafs-Johnsson(W), Matthews(C), Nylander(W), Muzzin(D)
Questions and comments?
Follow Us on Twitter @thescorecrow
Follow Us on Reddit at u/TheScorecrow
Follow Us on Facebook at The Scorecrow
Follow Us on Instagram at The Scorecrow
Follow Joel Dorcas on Twitter @Joel_Dorcas6
Main Image Credit:
Embed from Getty Images