John Supowitz | March 16th, 2019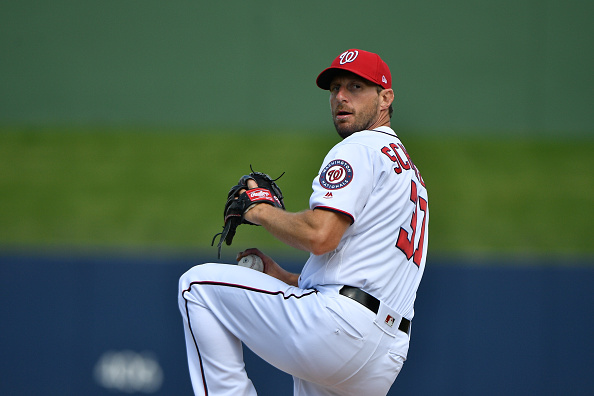 The NL East will be one of the exciting divisions to watch. Besides the Marlins, everyone in the division has made improvements to their rosters. It was one of busiest divisions when it came to transactions.
Even with the loss of Harper, the Nationals did make some move by signing second baseman Brian Dozier and starter Patrick Corbin.
The Mets in 2018 ranked 29th in hits (1,282), and batting average (.234) made improvements to their lineup by adding Robinson Cano, Jed Lowrie, and Wilson Ramos. If their best players can stay healthy, they could make a run for the division.
The Atlanta Braves are the division champs. With the mixture of veterans like Freddie Freeman and Nick Markakis and a group of young players including Sean Newcomb and NL rookie of year Ronald Acuna Jr., and the additions of Brian McCann and former MVP Josh Donaldson, they are a very balanced team on all sides and are poised for a second consecutive division title.
With the loss of their superstar, can the Nationals contend in the division?
Outfield
NL Rookie Of The Year runner-up Juan Soto looks to be the new star in D.C. The 20-year-old posted .292 average, and a .406 on-base percentage, which was best among all rookies. He's dependable in the field with a .991 fielding percentage and only committed two errors in 213 defensive chances.
Veteran Adam Eaton will likely be the one to replace Harper in right field. In only 95 games last season, he posted an excellent slash line of .301/.394/.411 and in the final year of his deal at age 30, and although the Nationals have team options, Eaton will want to have an impressive season possibly going into free agency.
There is a competition in spring training to be the starter in center field. Although Michael Taylor has been a regular at that position, his struggles offensively last year, batting just .227, forced the team to move Harper to center. The Nationals are excited about top prospect Victor Robles and he could very well be the starter come opening day.
Infield
The Nats signed Brian Dozier in the offseason to bring a quality bat and glove to second base. They also have Wilmer Difo, who played the majority at second after Daniel Murphy got hurt, followed by Howie Kendrick. Prospect Carter Kieboom could also play a factor at some point later in the season.
The Longest tenured National, Ryan Zimmerman, will play first base. The 34-year-old is entering his 15th season in Washington and in the final year of an 11-year/$135 million contract (Team Option for 2020). With various injuries sidelining him over the past few years, they re-signed Matt Adams as an insurance policy.
Anthony Rendon will continue to command the hot corner. The third baseman will be a free agent at the end of this year, with 49 home runs, 192 RBI and .305 average over the last two seasons, he's an essential bat in the middle of that lineup.
Trea Turner is a secure lock at shortstop. He played all 162 games last season and led the league in steals with 43.
Yan Gomes will come in and replace Matt Wieters behind the plate. The former Cleveland catcher is coming off his first all-star appearance. They also brought over Kurt Suzuki from the NL East rivals Atlanta Braves.
Starting Rotation
The Nationals came out of nowhere and signed hot free agent pitcher Patrick Corbin to pitch in the front end of the rotation. He's coming off his first 200 inning season with a strikeout-per-9 of 11.1. He only has one career start at Nationals' Park pitching 6.2IP/7H/3ER, he also gave up two home runs in that game.
When Stephen Strasburg is healthy, he's one of the best in the game, but the emphasis is on "when.' In nine seasons, Strasburg has made 30 starts only twice, last time being 2014. When he's on the mound, he gives the team a chance to win, as he has a 63% career quality start percentage (MLB average is 50%).
Anibal Sanchez comes over from the NL East rivals where he posted 2.83 ERA; this is the first time he was under 3.00 since 2013 when he led the AL with a 2.57 ERA and finished fourth in the AL Cy Young voting.
Jeremy Hellickson wants to prove this year that he's better than a back-end rotation pitcher. He had a productive 2018, posting 3.45 and a bWAR of 1.4. He was one of the players that felt the effects of the frustrating offseason. He comes back to Washington on another one-year deal.
"It doesn't feel good," Hellickson says according to an NBC Sports Washington article. "I really wasn't expecting this offseason to be like last, but it got to that point in the middle of January that I started feeling like I did two offseasons ago. It just sucks. It's not a good feeling. You know you can help a lot of teams and a lot of rotations out there… I wanted to be back here"
With a chip on his shoulder, he has something to prove.
Then there's a guy named Max Scherzer. You might have heard of him. He's pretty good.
Bullpen
Sean Doolittle will be the closer. He has a 1.92 ERA and 46 saves since being acquired from Oakland in 2017.
After that, the roles in the bullpen are up in the air.
Trevor Rothsenal missed all of 2018 due to Tommy John surgery. The former closer Cardinal has 121 career saves, including two 40+ save seasons.
General Manager Mike Rizzo likes the fact he has two experienced closers in the bullpen and could see Rosenthal filling in for Doolittle on occasion.
They can both pitch the ninth inning," Rizzo said according to an article in SB Nation. "They've both shown that they can in the past, and that's a good thing to have because there will be days that Doolittle is going to be unavailable if he pitches several days in a row and Rosenthal. So we're going to take care of Doolittle like we did last year. Unfortunately, the foot set him back, but everything else was good with him, and [Rosenthal], we're going to have to be careful with him, coming off Tommy John, so we're going to have to be careful with him."
Kyle Barraclough comes over via trade from the Marlins. He has an impressive 11.5 career strikeouts-per-9 innings. His 2018 was a tale of two halves: The first half he posted a 1.28 ERA with nine saves, then in the second, a 13.50 ERA in 13.1 innings before going on the Disabled List with a right shoulder injury.
Matt Grace will be a reliable lefty coming out of the bullpen.
There's also Koda Glover. The hard-throwing righty, unfortunately, has been injury prone throughout his career and is already experienced some right elbow stiffness in spring training. He had Tommy John on his right arm before being drafted.
Strength
If the pitching staff can stay healthy, it has the opportunity to be a top-rank staff. Having Scherzer as your ace is an excellent catalyst, it also takes pressure off Corbin to have to be the guy.
There are multiple pitchers in the bullpen with closer experience. It's Doolittle's role, but Rosenthal and Barraclough can fill that role on occasion.
Weakness
It's not necessarily one aspect of the team, but it's the team as a whole. For years this was Bryce Harper's team, now who comes forward as the everyday face of the franchise? Anthony Rendon and Juan Soto have the opportunity to step up and be the guy. If they can continue the trajectory they've been on, you 're looking at the newest superstars in D.C. These middle of the order guys will put up the numbers, bolster that lineup and hopefully keep the Nationals in contention in a tough NL East.
Prediction
81-81
3rd in the NL East
Check out our other Team Previews | Colorado Rockies | Toronto Blue Jays | Minnesota Twins | Atlanta Braves | Chicago Cubs | Tampa Bay Rays | Arizona Diamondbacks | Miami Marlins | Cincinnati Reds | Seattle Mariners | Texas Rangers |Los Angeles Dodgers | New York Yankees | Milwaukee Brewers | San Diego Padres | Detroit Tigers | Kansas City Royals | Cleveland Indians | Oakland A's | Philadelphia Phillies | Boston Red Sox | New York Mets | St. Louis Cardinals | Pittsburgh Pirates
Questions and comments?
thescorecrowsports@gmail.com
Follow Us on Twitter @thescorecrow
Follow Us on Reddit at u/TheScorecrow
Follow Us on Facebook at The Scorecrow
Follow Us on Instagram at The Scorecrow
Follow John Supowitz on Twitter @Imthatsupi85
Main Credit Image: Embed from Getty Images