Kody Clawson | March 15th, 2019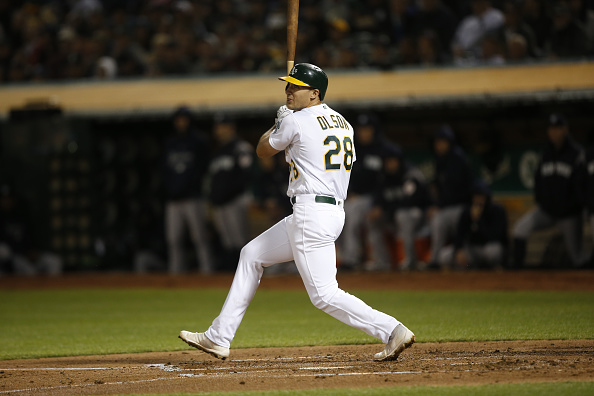 Sleepers are dead. Long live sleepers! In the information age that we live in, there's just no such thing as sleepers. However, if you dig around long enough, you can find some players that people might not be paying as much attention to as they should. Enticing, no? Let's dig around the mid-to-late round hitters and see if we can turn over some overlooked guys that may have underachieved last year.
Matt Olson didn't have that bad of a season. It's just that if you looked at 2017, you saw the 24 home runs in 216 plate appearances and thought, "Surely he could hit forty in a full season, right?" Well, in that area he disappointed. But in some ways, he did improve on his 2017 campaign. His hard-hit rate went up from 40.3% to 47.3%, while his swinging strike rate and O-Swing rate both went down. So he improved as a hitter skills-wise, even if the home run rate didn't show it. I think .250/80/30/90 is a reasonable floor for him, and you could possibly dream on more.
He's not a bargain as much as he is a wide-awake sleeper. After struggling for the first half of the season, something happened where he suddenly cut his IFFB% in half AND increased his hard-hit rate by almost 11%. Call it confidence, call it getting the groove back, or call it whatever you will, Odor's suddenly back to hitting the ball out of the park and adding some speed to it, too. He's a streaky player and a potential batting average hazard (head-to-head players beware), but if you can stomach all that, he's a fine mid-round talent that can return potentially top-100 value in the middle infield.
I'm probably not the most level-headed guy to be talking about Moustakas. He's a favorite of mine, getting to watch a ton of him while he was in Kansas City. He was traded by the Royals to the Brewers and he remained mostly the same, a little better with the batting average while being a little worse with the power, weirdly. Still, I feel like, with a full season in Milwaukee, his power could really show out, and with that lineup around him, suddenly .260/70/30/90 doesn't sound at all crazy for him and it could be even better than that. Hopefully, any positional shenanigans don't mess with his head at all, but I'm pretty confident that wherever the Brewers throw him around the diamond, he'll perform at the plate.
Yes, his initials are the same. Yes, he is a fellow ginger. Yes, he may be a late round version of fantasy kryptonite for me. But he hit the ball insanely hard last year (44.5% hard-hit rate, according to Fangraphs), and he started putting the ball in the air more in the second half. The adjustments he made before his return from injury in June really paid off, and I'm wondering if the .242/.328/.472 line from June 18 on isn't something close to his actual self. Remember, he's now leading off for the almost-not-sucky Angels lineup, so it isn't out of bounds to consider him able to put up 80+ runs for a full season. A .240/80/20/60/5 line from a guy who's basically free? Yeah, I'll take that.
What if I told you there was a player who last year had 600+ plate appearances, an 11.6% walk rate, a 15.7% strikeout rate, a .184 ISO and you can get him after ADP 200? You would probably say I'm crazy, and you might not be wrong, but all those things I just stated are facts. There may not be a worse luck BABIP than what Max Kepler had last year, and it dragged his batting average down to .224 for the season. I will go out on a limb and say that, even if he's had traditionally low BABIPs throughout his brief minor league career, he will have a better than .236 BABIP this season. You can copy and paste the line from Calhoun here and that's probably Kepler's floor. He's got plenty of room to grow, as he's a late-to-baseball type of prospect with tons of potential.
I want to reiterate that these aren't guys you vault up your draft boards. These are guys that, when they come up on your list, you queue them up and, if they fit your team needs, you go ahead and draft them with absolute confidence in what they can give you. With any luck, they can possibly give you even more than what you bargain for.
Questions and comments?
thescorecrowsports@gmail.com
Follow Us on Twitter @thescorecrow
Follow Us on Reddit at u/TheScorecrow
Follow Us on Facebook at The Scorecrow
Follow Us on Instagram at The Scorecrow
Follow Kody Clawson on Twitter @kodyclawson
Main Credit Image: Embed from Getty Images