Zach Gotlieb | March 15th, 2019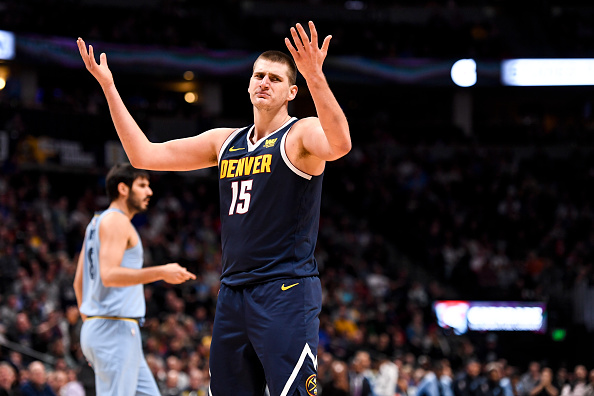 Michael Malone, during his post-game press conference after Tuesday night's win against Minnesota, came right out and said, "I made the decision to shorten the rotation, only play 8 guys in the first quarter, and I'm going to continue to do that for the time being." That rotation included the regular starters in Murray, Harris, Barton, Millsap, Jokic, and the 3 most crucial bench pieces with Morris, Beasley, and Plumlee.
No More Isaiah Thomas
Notice Isaiah Thomas is not a part of that rotation which is I thought was the right move. During that same press conference, he also said, "You definitely talk to him, and I will keep that conversation between myself and IT. Not an easy conversation, but that's my job. It's never about Isaiah or any individual. It's about what's best for our team." While it is about the team to shorten the rotation for the playoffs, several statistics show why Isaiah Thomas was not a part of that shortened rotation.
Let's get this out there: Isaiah Thomas is not a bad player. Two years ago, he was an MVP candidate that guided the Boston Celtics to the Eastern Conference Finals. He can be lethal from anywhere on the court and finds ways to score despite being 5'9.
First, as for this season, he isn't actually scoring. He's shooting a career-low 46.2% in true shooting percentage and has made 1 of his last 13 3-point field goal attempts. His value is in scoring, and he hasn't done that.
Second, his score-first mentality does not fit the playing style of the team and specifically the bench unit. It's been shown all year, and the guys on TNT's "Players Only" broadcast would not stop talking about how unselfish the team is and how much the ball moves around. The team averages around 310 passes per game, but when IT was active, they averaged 285 passes per game. That's a huge decrease, and that's proven to be a huge problem as it has completely disrupted the flow of the offense.
Third, Thomas had been on a minutes restriction for all 9 games he'd been active in, never playing more than 16 minutes in all, but one game, yet somehow had a higher usage rate than the team's best player Nikola Jokic. Nikola averages over double the number of minutes per game. That most certainly will not do.
Finally, he's just getting back into things. He was out of basketball for 11 months, and obviously, that is going to come with rust and time to get his legs back. It was evident that he wasn't all the way back. The trouble is, there is no more time for him to get his legs back. It's playoff time now. There is no more time to trifle with a rotation that has worked all season.
The Rest of the Bench
As for the shortened rotation, this is what you expect in the playoffs. The starters and the best 3-4 bench players. In going with Malik Beasley, Monte Morris, and Mason Plumlee, Coach Malone went with the 3 players that have been x-factors for the team.
Malik Beasley is the top 3-point shooter on the team. He's shooting almost 43% from beyond the arc which is 13th in the league. His huge jump in scoring output and the fact that he's been consistent with it and not just having a few spurts of big games has been the reason for several wins this season.
Monte Morris has been the reason for the resurgence of the bench unit from last year to this year. He's among the top in the league in assist: turnover ratio and has provided a huge lift shooting the basketball-which was a concern for him coming out of college- ranking 14th in 3-point shooting percentage. He's been the energy spark plug off the bench that has put the team over the top on so many occasions this year.
Mason Plumlee may very well own the title of the second-best passing big man in the NBA, second to his teammate, Nikola Jokic. On a team that doesn't have too many top singular defenders and relies on team defense, having a rim protector that can anchor the second unit has really added to his value. He can lead the break, bring the ball up the floor, pass, finish strong at the basket, and be a defender at all levels. That is a huge and important piece to have on your bench, and not many teams can say that they have a backup center like Mason Plumlee.
There's room in the rotation for one other guy, but that spot is going to be filled on a night-to-night/situational basis. It could include, Torrey Craig for defensive help, Juancho Hernangomez for sharpshooting, Trey Lyles for extra size and offensive versatility, or even Isaiah Thomas to bring in a versatile scorer that has shown the ability in the past to take over and win games. That's 4 guys deep for the last spot in the rotation. The amount of depth this team has is incredible and so versatile, opponents just can't possibly know what they're gonna get each night.
With the playoffs coming up fast, the race for Western Conference playoff seeding is on, and it's going to be tight 1-8. It's time for Denver to roll out the best guys and go win. Big players make big plays in big situations. Now's the time to see what these guys are made of down the stretch and into the playoffs.
Questions and comments?
thescorecrowsports@gmail.com
Follow Us on Twitter @thescorecrow
Follow Us on Reddit at u/TheScorecrow
Follow Us on Facebook at The Scorecrow
Follow Us on Instagram at The Scorecrow
Follow Zach Gotlieb on Twitter @zachgotlieb
Main Credit Image: Embed from Getty Images