Joel Dorcas | March 14th, 2019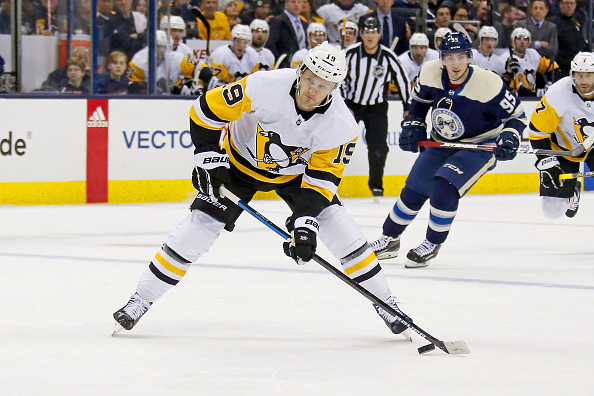 We hit on a number of plays on Tuesday, let's see if we can continue with some more selections for Thursday's version of Ice Picks. Pittsburgh and Washington are on my radar(surprise, surprise) as well as Tampa Bay and SanJose(more of the usual suspects). Here are the games in order preference: Penguins at Sabres, Lightning at Red Wings, Panthers at Sharks and Capitals at Flyers. Here we go!
At the Core
Sidney Crosby C PIT $7,900
Virtually nothing can stop the Pittsburgh Penguins captain right now. His Pens are surging and within range of catching the Washington Capitals. Tonight they draw the reeling Buffalo Sabres who have lost five straight giving up 19 goals in the process. The Penguins, on the other hand, are 5-1 in there last five scoring 21 times. Crosby has 10 goals, 28 points, and nine multi-point performances in his last 15 games.
Victor Hedman D TB $6,300
The last time these two teams tangled March 9th in Tampa the Wings actually made things interesting losing 3-2. Well that's fine and dandy but the Wings are brutal, 1-9, 42 goals against in there last 10, whereas the Bolts have just 2 loses in there last 10 and are coming off waxing the Leafs 6-2. Multiple options to choose from on Tampa, look no further than the steady Victor Hedman. He has at least 4 DKpts in four out of his last five games.
Tomas Hertl C SJ $6,300
Hertl is rolling right along right now notching points in eight of his last 10 games and is riding a six-game point streak during the Sharks recent surge of six straight victories. The Sharks have notched 25 goals during the win streak and are getting production from multiple sources. Hertl is looked upon as one of the key contributors especially with star players Erik Karlsson and Evander Kane out of the lineup.
John Carlson D WAS $6,100
Washington and Philly has the potential to be a fired up contest with the potential of plenty of goals. The Caps have just two losses in there last 10 games potting 38 goals. The Flyers have won two straight and are 6-4 over there last 10 scoring 36 and allowing 31. Carlson much like Hedman gives us a steady option with a high floor without much risk. Against Philadelphia in two games this season Carlson has three assists and is averaging 4.3 DKpts per game.
Value Plays
Gustav Nyquist W SJ $5,100
As stated earlier, the Sharks are getting production from multiple places, Nyqvist may be a bit high to be considered value as you can also go with other Sharks, Marcus Sorenson, Kevin LaBanc, Joe Thornton, Tim Heed, Marc-Eduourd Vlassic. Nyquist is coming off a two-goal performance against the Jets and has points in three of his last four games.
Mikhail Sergachev D TB $3,700
Sergachev's price tag has plummeted somewhat as it was just recently listed at $4,300 March 5th against Winnipeg. He hasn't done anything spectacular for certain but a nice matchup against the Wings and the fact that Sergachev seems to be a mainstay in the lineup warrants selecting him. Sergachev is averaging just over 19 minutes of ice over the last five games.
Jared McCann W PIT $4,700
Apparently playing with the best players in the world(arguably) will do wonders for your offensive production. McCann is now fully entrenched on the first line with Crosby and Jake Guentzel. This price is sure to rise so make him an automatic add until that time comes. Over the last 10 games, McCann has six goals and four assists and is averaging 4.5 DKpts per game, well above his season-long average of 2.5.
Dmitry Orlov D WAS $3,900
Orlov is definitely not someone known for filling the stat sheet(just 24 points in 70 games this season) so the seven assists over the last eight contests is a bit of a surprise. Taking a flyer on Orlov against an inconsistent Flyers team isn't a bad idea. Orlov has at least three DKpts in three of his last four games.
Stacks
Pittsburgh Penguins-Crosby(C), Guentzel(W), McCann(W), Schultz(D)
Tampa Bay Lightning-Hedman(D), Kucherov(W), Cirelli(W), Sergachev(D)
San Jose Shark-Hertl(C), Nyqvist(C), LaBanc(W), Meir(W)
Questions and comments?
Follow Us on Twitter @thescorecrow
Follow Us on Reddit at u/TheScorecrow
Follow Us on Facebook at The Scorecrow
Follow Us on Instagram at The Scorecrow
Follow Joel Dorcas on Twitter @Joel_Dorcas6
Main Image Credit:
Embed from Getty Images