John Supowitz | March 14th, 2019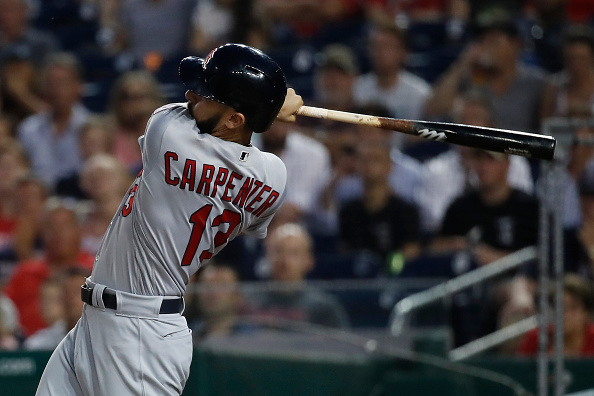 The NL Central has the potential to be one of the most competitive divisions in baseball. Its division winner, the Brewers, made it to the NLCS, the Cubs made it to the Wild Card Game, up until the last week of the season, the Cardinals were competing, and Pirates also finished above . 500. The Reds were the only team not to have a winning record and are looking to change that by adding Yasiel Puig, Matt Kemp, and Sonny Gray to their roster.
The key catalyst is the acquisition over the winter by the Cardinals trading for all-star Paul Goldschmidt. Bringing in this power hitting all-star has excited the fans and put the team right in contention for a division title and possible World Series run. Although he will be a free agent at the end of the season, the Cardinals have expressed their hope he falls in love with St. Louis and would consider staying after this season. The Cardinals have missed the playoffs three consecutive seasons. The last time that happened was 1997-1999.
Key Additions
1B Paul Goldschmidt (via trade with Diamondbacks)
LHP Andrew Miller ( FA, signed 2yr-$25 mil)
Mike Shildt (interim manager in 2018, retained as manager for 2019 season)
Key Departures
C Carson Kelly
RHP Luke Weaver
(Involved players in Paul Goldschmidt trade)
Manager Mike Matheny (fired on July 14, 2018)
The Starting Infield
C – Yadier Molina (R)
1B – Paul Goldschmidt (R)
2B – Kolten Wong (L)
3B – Matt Carpenter (L)
SS – Paul DeJong (R)
Matt Carpenter will remain at third. His range hurts the team defensively, but as long as he is a consistent bat, which last year included six consecutive games with a home run, the Cardinals will live with it. Let's hope there' is a jar of salsa in his locker at all times.
Paul DeJong is getting ready for his sophomore year as the full-time shortstop. Last year he posted 14 Defensive Runs Saved, which tied for third among Major League Shortstops, he has exceptional range and an arm to match.
Kolten Wong is a gold-glove caliber second baseman. His most significant completion in the NL for that position was D.J. Lemaethiu, but he's in the Bronx playing for the AL Yankees. Wong could bring home some hardware for that position. He's a hitter that gets on base and strikeouts are low, last year he posted 5.9 at-bats per strikeout.
Yadier Molina, although he's approaching the later years of his career is still the definite leader of that team, and looking to bring home his tenth Gold Glove, which would tie him with Johnny Bench and Ivan Rodriguez for the most all-time by a catcher. With the trade of Carson Kelly to Diamondbacks and the recent signing of Matt Welters, prospect Andrew Knizner will take on the back-up catching duties.
Then there's Paul Goldschmidt. Six-time all-star and three-time gold glove winner will bring a big bat into the middle of the lineup and a significant upgrade to the first base position.
The Outfield
LF – Marcell Ozuna (R)
RF – Dexter Fowler (S)
CF – Harrison Bader (R)
Dexter Fowler's only all-star season earned him a 5yr/$82.5 million deal with the Cardinals. His 2017 season was exceptional, but in 2018 he struggled. With nagging injuries throughout the season, he only managed a .180 average with a .278 OBP. A broken foot in a result of a foul bat shortened his season to just 90 games.
Harrison Bader has come into his own. The speedy center fielder has exceptional range on the field, and it translates to the bases as he stole 15 bases out of 18 tries in 2018. He seems to ready to have a breakout season and have a lot of fans knowing his name.
Marcell Ozuna took a bit of a slide in his first season with Cardinals but still managed to hit .280 with 23 HR and 88 RBI. It's been reported he was dealing with a shoulder injury throughout last season and has since rehabbed over the winter. The Cardinals are taking it slow with him in spring training, but he is expected to play on opening day.
The Cardinals gave a two-year contract extension to Jose Martinez recently. Last season, Martinez led the Cardinals in hits with 163 and average by batting .305. It 's going to be very difficult to keep him off the field, and he could replace one of the previous three mentioned if they struggle.
The Starting Rotation
The starting rotation has potential, but there are still some questions. You can pencil in Michael Wacha, Miles Mikolas, and Jack Flaherty for they lost one of their best young pitching prospects in Luke Weaver as part of the Goldschmidt trade. Hopefully, this means their current number one prospect, Alex Reyes, is ready to take that role.
Reyes has had a tough time staying healthy over the last couple of year, missing the entire 2017 season due to Tommy John surgery, then missed most of the 2018 campaign with a pulled lat muscle.
Carlos Martinez has been groomed to be the ace of this pitching staff, but it has been a rocky ride towards that path. His inconsistency last year got him put into the bullpen, but the organization knows he has the potential to be an elite starter.
Adam Wainwright is nowhere near the pitcher he once was. He only has one 30-start year since 2015. At 37, he could very well get extra rest throughout the season. Austin Gomber, Daniel Ponce de Leon, and Dakota Hudson all have experience as starters and could fill in for Wainwright on occasion.
The Bullpen
The bullpen added some strength, signing 2016 Indian's playoff hero Andrew Miller. Last year was tough for the lefty as various injuries kept him off the field, but when healthy, he's as dangerous late in games as anyone. He has experience coming in the middle of the game, or closing one. Jordan Hicks will also be another piece in the bullpen,
With the starting rotation up in the air, it's not certain Martinez, Gomber, Ponce de Leon, and Hudson with be a fixture in the rotation or bullpen. Ryan Helsley and Genesis Cabrera are guys in their farm system the team likes a lot. If they perform well, they could get a call up to strengthen the bullpen.
Strength
The team has pop. They had the fourth most home runs in the NL with 205 in 2018, and now they add Goldschmidt who has hit 30+ home runs in three of last four seasons.
Weakness
The defense was a significant issue last for the Cardinals in 2018. The team committed the most errors (123) and were the worst in fielding percentage (.978). The addition of three-time Gold Glove winner Goldschmidt will hopefully help at the first base position, where the Cardinals were tied with Detroit for the most errors at that position with twenty and second to last in fielding percentage with .986.
Prediction
98-64
1st in the NL Central
Check out our other Team Previews | Colorado Rockies | Toronto Blue Jays | Minnesota Twins | Atlanta Braves | Chicago Cubs | Tampa Bay Rays | Arizona Diamondbacks | Miami Marlins | Cincinnati Reds | Seattle Mariners | Texas Rangers |Los Angeles Dodgers | New York Yankees | Milwaukee Brewers | San Diego Padres | Detroit Tigers | Kansas City Royals | Cleveland Indians | Oakland A's | Philadelphia Phillies | Boston Red Sox | New York Mets
Questions and comments?
thescorecrowsports@gmail.com
Follow Us on Twitter @thescorecrow
Follow Us on Reddit at u/TheScorecrow
Follow Us on Facebook at The Scorecrow
Follow Us on Instagram at The Scorecrow
Follow John Supowitz on Twitter @Imthatsupi85
Main Credit Image: Embed from Getty Images