Andrew Harbaugh | March 12th, 2019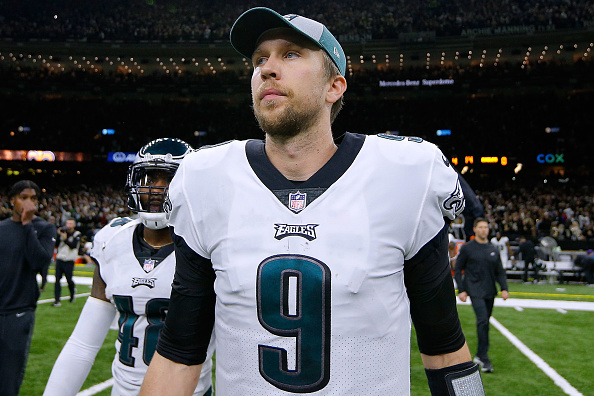 While we do not have any contracts similar to the type that Manny Machado or Bryce Harper have enjoyed we do have a large amount of money being spent by NFL teams to kickstart free agency.
As of writing this some big names such as Justin Houston, Mark Ingram, Ndamukong Suh, and Le'Veon Bell have not signed but rumors are of course swirling about all the players I mentioned.
Of the signings that have happened we have had some big names ink some deals for some big money, maybe a little too much money in some cases.
Now I always wanted to be a teacher and I will live that dream now giving you some gut reaction grades to some of the big signings of the day.
Trent Brown to the Raiders: C+
I love Trent Brown as a player but I do not love this contract for the Raiders. I love when a player gets paid but for a team that just invested so much in Antonio Brown to turn around and do this type of deal doesn't leave them with a lot of wiggle room for the rest of free agency. They still have their top draft picks so impact players can still be acquired. This has me thinking though they might try and unload Derek Carr and all his money he is due this year to give them some flexibility back.
Kwon Alexander to the 49ers: A+
One of my favorite free agents this offseason found a new home in the bay, thankfully not in Oakland. He will be pairing up with Fred Warner to form a solid linebacking core for the 49ers and when you play Todd Gurley and David Johnson twice a year each you have to be able to contain them. Alexander is coming off an ACL injury but he is only 24 years old which means he has a long career ahead of him. Love this signing, my favorite of the day.
Landon Collins to the Redskins: B+
Landon Collins reset the safety market with his megadeal of 6 years and 84 million in the deal with 45 million guaranteed. If this is the deal he wanted it makes sense that the Giants let him walk because he wasn't going to get that from them. Now he gets to play the Giants twice a year and wreak all sorts of havoc against them. The only reason this isn't an A grade for me is the ghost of the Albert Haynesworth contract looming in my mind with the Redskins and big contracts.
Malik Jackson to the Eagles: D+
Malik Jackson got a big deal coming off his Super Bowl performances back in 2016 when he was supposed to get 85.5 million over 6 years but Jacksonville but him before that deal was done. He quickly signed with the Eagles for another massive deal of 3 years and 30 million dollars. Jackson is a great overall interior defensive lineman but for that much money, I do not like this signing at all for the Eagles. On talent alone and his potential with him still being 29 though this is worth at least a D+ grade from me.
Trey Flowers to the Lions: B
Another who got paid was Trey Flowers who got a massive 5 year deal worth around 17 million dollars from the Detroit Patriots I mean Lions. Flowers is back with his force defensive coordinator Matt Patricia in Detroit where he will quickly become a staple for that quickly developing and young defense.
Terrell Suggs to the Cardinals: B
Despite Suggs saying he is from "Ball So Hard U" it must be another term for Arizona State University. The Sun Devil leaves the home of the crab cakes to go back home where his legend first began in Arizona. He will be a solid complement opposite Chandler Jones on the Cardinals defense that still has so many holes to fill. This also means that they will most likely not retain the talent of Markus Golden which means as one talented pass rusher comes off the market another one enters it.
Nick Foles to the Jaguars: B+
The Brinks truck has entered Jacksonville as Foles reportedly has agreed to a tremendous 4-year deal worth 88 million dollars, he will now be paid more annually than players such as Ben Roethlisberger and Tom Brady. The Jaguars knew that Bortles was never going to be the answer after the horrendous play they got out of him despite extending him last year, they had to overpay slightly to lock down a franchise quarterback. My only worry is as we have seen in spots like St. Louis for Foles he can be scheme dependent in terms if his success but he will be reunited with former coach John DeFilippo as his new coordinator in Jacksonville.
Jesse James to the Lions: C
I live in a Pittsburgh market and I learned two things over the past year watching Steeler games, they need better defensive back play and they criminally underused Jesse James. I love him as a player and think he has so much potential but I do not love what Detroit has done for tight ends in years past. We saw what Ebron could be once he broke free from them, just hoping they don't hold back James the same way.
Jamison Crowder to the Jets: B-
I might be alone here but I'm both excited to see finally see Quincy Enunwa permanently on the outside receiving and I'm also excited to see what Crowder can do in the slot. We know that Gase loves his slot receivers after seeing the production he was able to get out of Jarvis Landry down in South Beach. Is Crowder as talented as Landry? No. He is, however, a solid slot receiver who as I mentioned allows Enunwa to become a full time outside receiver.
Mitch Morse to the Bills: A+
My second favorite signing of the day has to belong to the Bills now after signing Mitch Morse. He was a tremendous center and severely underrated at his position and with only being 26 years old he will be a staple on that line protecting the franchise Josh Allen. He also will be instrumental in opening up the running lanes and second level gaps for LeSean McCoy and newly signed Frank Gore. Fantastic signing for the Buffalo Bills can't praise this enough.
Tyrann Mathieu to the Chiefs: B+
The only thing stopping me from giving this an A grade is that they had one already semi-healthy safety in Eric Berry and now they signed another in the Honey Badger. If he is healthy they have a playmaker on the defensive side the ball they haven't had since Justin Houston was healthy. Great signing for a top contender even with the health risk being there, lots of upside with this signing.
Anthony Barr to the Jets: B+
The Jets have a solid linebacker in Darron Lee who is finally coming into his own but the Jets decided they needed a little extra, welcome to Jersey Anthony Barr. He played a crucial part in the success of the Minnesota defense in the past couple years and should do that again in an aggressive Gregg Williams defense.
Lamarcus Joyner to the Raiders: B
All year we heard how the Raiders wanted to get rid of safety Karl Joseph and that wasn't successful. They play the team got out of there safeties this past year was atrocious. Adding Joyner gives the team the bet safety it has had since Charles Woodson retired from them. Even at his worst, he is a significant upgrade for the team at safety. Solid move for the Raiders in an offseason full of them up to this point.
Ja'Wuan James to the Broncos: A+
Denver takes a big step protecting whoever will be taking snaps next year in beyond when they locked up James with a 4 year 52 million dollar deal. James was rumored to be up in the air in regards in going back to Miami but for Denver to steal him is a tremendous gain for them. They drafted Garret Bolles in the first round in 2017 but they have not got the results they would have hoped for in a first round pick. They will get that type of talent and play from James.
It has been a crazy day and we still have so many big names still on the market. The madness is not even 24 hours old and so far a lot of NFL teams have either stayed stagnant or taken the next step toward success, the only sad part is we have to wait 6 months for those results to play out.
Questions and comments?
thescorecrowsports@gmail.com
Follow Us on Twitter @thescorecrow
Follow Us on Reddit at u/TheScorecrow
Follow Us on Facebook at The Scorecrow
Follow Us on Instagram at The Scorecrow
Follow Andrew Harbaugh on Twitter @MandrewNFLDraft
Main Credit Image: Embed from Getty Images