Josh Elias | March 12th, 2019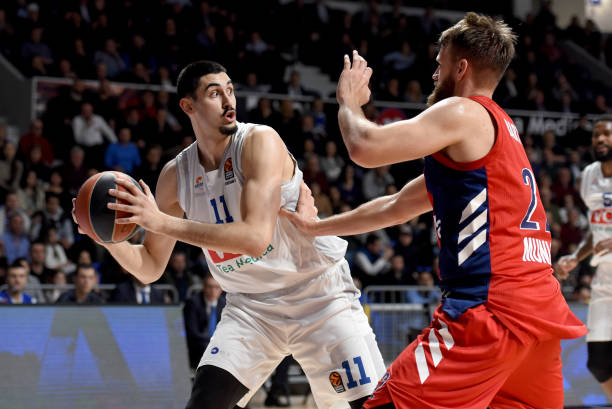 As we get closer to March, we begin to near the end of the college careers of many of the best players across the country. Bol Bol has already declared for the draft, Zion Williamson may have played his last game before his NBA journey begins, and Ja Morant is all but guaranteed to become the first top-five pick the Ohio Valley Conference has produced since Jim Baechtold, all the way back in 1952, in a few months' time. But I'm not interested in talking about those players, at least not in this segment.
Here I'm focusing on some of the prospects that are harder to evaluate in comparison to the Zions and Bols of the world. I'm planning on analyzing foreign prospects, lesser-known mid-major stars, and some odd cases where a player who should be in the spotlight at a Power Five school is instead opting (or forced) to take a much less traveled path to the league.
Today we meet Goga Bitadze.
Bitadze is one of the least well-known players projected to be selected in the first round this year, and that's a shame when his game fits the ways the NBA has changed as well as it does.
The Georgian center has spent the majority of this season with Buducnost, a Montenegran team that is competing in the EuroLeague for the first time this season since 2002-03.
While it's true that they may get the least attention out of the 16 teams competing in the EuroLeague, Buducnost is a great place for him to get experience playing top-level European basketball before making the move over to the NBA.
Playing alongside former NBA players Norris Cole, Earl Clark, and Coty Clarke, Bitadze is arguably the second-best player on the team behind only Norris Cole.
Granted, Buducnost isn't a great team in EuroLeague play, with a record of 6-19, tied for second-worst in the league. Since adding Bitadze though, their record has been 3-6, compared to 3-13 before then.
He's averaging 11.0 points per game, 5.5 rebounds per game, and 2.0 blocks per game in the 18 games he's played since joining the team. As of today, he is fifth in the EuroLeague in rebounds and easily leads the league in blocks, with his 2.7 blocks per game in his nine EuroLeague appearances nearly doubling that of the second-leading blocker, former Cavalier Edy Tavares.
No other player eligible for the draft in the EuroLeague even averages 15 minutes per game or more, and Bitadze is playing a key role for his team. I've mentioned before how hard it is for young players to gain playing time on the top European teams and that when you do, it means you're special. That remains true.
The last time a draft-eligible prospect topped Bitadze's rebounding averages in the EuroLeague was 2010-11, when both Leon Radosevic and Jonas Valanciunas did so. No prospect has even come near his block rate in at least the last twenty years (we don't have comprehensive data easily available before then).
But that's not all. He also happens to be an increasingly capable stretch-five over in Europe, posing a major threat from the mid-range and shooting 35.7% this season (although that has dipped to a less respectable 27.8% since joining Buducnost from his previous team).
His biggest weakness is foul trouble. Defenders can have a laughably easy time getting him to bite on pump fakes, and that's something that will keep him from earning too much playing time in the NBA early in his career. He commits a foul just about every six minutes, on average, which would project him among the worst foulers in the league – just about equal with Richaun Holmes, Nerlens Noel and his fellow countryman Zaza Pachulia.
He also needs to work on expanding his post game and finishing through traffic. At this point, the only offense he can be expected to effectively play a role in would be one based around the pick-and-roll/pick-and-pop.
He tends to panic easily in certain situations, leading to unnecessary turnovers and unnecessary fouls. He's certainly raw. There's no arguing that.
Jonah Bolden, Ante Zizic, Jusuf Nurkic, and Nikola Jokic are some NBA big men who played on similar levels of teams before they entered the draft. They all also played in the ABA Liga, the same domestic league as Bitadze, and all four outplayed him on offense. None had proven themselves as rim protectors the way Bitadze has though. Considering Nurkic now averages 1.5 blocks per game, that's telling.
Will Bitadze make a huge impact in the NBA right away? Probably not. Will he ever be much more than a role player? It's looking unlikely unless he expands every facet of his offensive game.
Will he be a first-round pick? It's very likely. For a team looking for a center to come off the bench who can block shots and add an extra shooter in pick-and-pop situations, he'd be a great choice, as long as they don't expect too much more than that from him. Expect a contender or wannabe contender to make his name the second European name called this June.
Goga Bitadze is currently projected to go 24th in the first round to the Oklahoma City Thunder.
For more about the global game of basketball, check out Josh's 3 part article : 
Questions and comments?
thescorecrowsports@gmail.com
Follow Us on Twitter @thescorecrow
Follow Us on Reddit at u/TheScorecrow
Follow Us on Facebook at The Scorecrow
Follow Us on Instagram at The Scorecrow
Follow Josh Elias on Twitter @_SunsofThunder_
Main Credit Image:Embed from Getty Images