Mike Fanelli | March 7th, 2019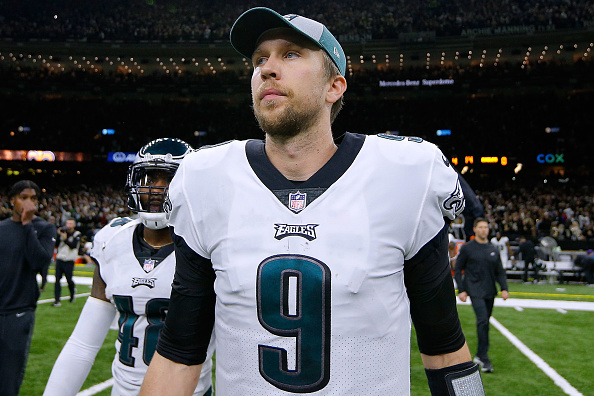 Now that the 2019 NFL combine is behind us, free agency is just around the corner. Every fan base will be excited or will be disappointed based on what kind of moves their team makes. Meanwhile, fantasy football players are keeping a close eye on where the top free agents land. This year's free agency class isn't very good offensively so there will be plenty of competition for the top players' services. I determined the top 12 free agents (offensive guys only, no IDP names here) and picked out the best landing spot for their 2019 redraft fantasy value.
Note: these players are not ranked but just ordered by position.
QB Nick Foles → Jacksonville Jaguars
Reportedly the Jaguars are the favorites to land Foles and may already have a deal in place. Unless it's a two-quarterback or super flex league, Foles joining the Jaguars doesn't increase his value enough to get him drafted. However, in two-quarterback or super flex league, Foles could be a real solid number two quarterback for an owner that likes to wait on the position. If Foles does end up in Jacksonville, he will be reunited with his old quarterback's coach John DeFilippo.
DeFilippo was Foles' quarterback coach for the 2017 season. During that season, Foles started three games but had drastic fantasy production. In his first start, he scored 25.5 fantasy points but scored a total of just 8.1 in the final two games of the season combined. However, in the playoffs, Foles found his rhythm. He scored less than 10 fantasy points in the divisional round but then scored 26.1 and 32 fantasy points in the NFC championship game and Super Bowl 52.
QB Teddy Bridgewater → Miami Dolphins
Bridgewater hasn't played meaningful minutes in a regular season game since 2015. Obviously, the terrible knee injury he suffered during the 2016 training camp is the reason why. However, Bridgewater might get a shot at a starting role this offseason. Outside of Miami or Washington, there isn't a clear cut starting spot available for him this offseason. With the Redskins reportedly the front runner for Josh Rosen, it might be Miami or bust for Bridgewater.
For his 2019 redraft value, starting in Miami would be better than being the back up in New Orleans. However, for his dynasty value, I rather see Bridgewater stay with the Saints and potentially be Drew Brees' replacement in a few years. If Bridgewater signs with the Dolphins, he will lack elite weapons and should be drafted in the 27-32 range for quarterbacks.
RB Le'Veon Bell → Indianapolis Colts
It's no secret that Bell held out last season because he wanted more money and it is widely believed that he will sign with whatever team offers him the most money. That team will NOT be the Colts and I don't blame them for not wanting to spend big bucks on a running back with a lot of baggage. However, it would be the best spot for his fantasy value.
Imagine an offense built around Andrew Luck with T.Y. Hilton outside, Eric Ebron and Jack Doyle in the middle of the field, a rookie at the other outside receiver spot and Bell in the backfield. The Kansas City Chiefs scored 35.3 points per game this year with Patrick Mahomes and if the Colts could put that team together they could easily score more. However, Bell isn't going to Indianapolis but if you are curious who they might sign, you can take a look at the Colts season review.
RB Mark Ingram → Baltimore Ravens
Many New Orleans Saint fans are hopeful Ingram re-signs with the team in the coming weeks but I expect him to get a better offer elsewhere. If he landed with the Ravens, Ingram would take over as the starting back in a run-first offense. Even if Lamar Jackson can turn into a half decent thrower this season, the Ravens will still use his running ability a lot. That means plenty of read option handoffs for Ingram.
Despite being 29 years old, Ingram has plenty left in the tank. Ingram has just one season with more than 255 touches in his career. Over his eight-year career, Ingram has less than 1,550 touches and should be a good running back for another two or three seasons. Ingram's 4.5 yards per carry for his career is pretty good and he should produce similarly as the lead back in Baltimore.
RB Tevin Coleman → New York Jets
Reportedly the Jets are the favorites to land Bell and if that fails, Coleman is their back up plan. If Bell lands with the Jets it would be a nice spot but not the best. If the Jets swing and miss on Bell, Coleman would be a nice second option. Coleman never got a chance to be the starter in Atlanta till last season when Devonta Freeman missed 14 games with injuries. Coleman finished as the RB18 in PPR scoring, averaging 12.1 fantasy points per game and 193.6 total fantasy points.
Meanwhile, the Jets trio of Isaiah Crowell, Elijah McGuire and Bilal Powell combined for 286.9 fantasy points. If Coleman was signed he would take over as the feature back and see the majority of the workload, meaning he would be a lock for at least 240 fantasy points next season. The 240 total fantasy points would have ranked as the RB10 in 2018. For more on what the Jets might do this offseason, take a look at the Jets season review.
RB Jay Ajayi → Buffalo Bills
There is a real chance the Philadelphia Eagles re-sign Ajayi but since he is coming off a torn ACL and has a history of knee issues, the team could let him walk if the offer gets out of their price range. Combined with limited cap space, I think the odds are Ajayi will be playing somewhere else in 2019. The Bills would be a good spot for him. LeSean McCoy will turn 31 in July and had career lows across the board in 2018.
Releasing McCoy will save the Bills about $6.4 million dollars in cap space. If they go that route, adding Ajayi with a rookie would be a nice replacement. Ajayi averaged 5.1 yards per carry during his time in Philadelphia and if the Bills can improve their offensive line in free agency and the draft, he should be able to come close to that in 2019. Ajayi's best shot to be a low-end RB2 is if he can get a feature role somewhere and the Bills is the best spot for that to happen.
RB Latavius Murray → Jacksonville Jaguars
Last year the Jaguars traded a fifth-round pick for Carlos Hyde. He finished the season with just 58 rushes for 189 yards and no touchdowns. Reportedly, the team is planning on releasing Hyde if they can't trade him. However, the Jaguars need to add a veteran in free agency and draft a running back on day three of the draft because Leonard Fournette can't stay on the field. During his first two years in the league, Fournette has missed 34% of his career games and the Jaguars can't count on him to play 16 games in 2019.
Murray had a solid 2018 season, starting five games for an injured Dalvin Cook. Murray averaged 16.3 fantasy points per game PPR scoring in those starts. He also averaged just under five yards per carry in those games behind a horrible offensive line. If Murray ends up in Jacksonville, the only way I would consider drafting Fournette is if I can grab Murray as well.
WR Golden Tate → New England Patriots
At the 2018 NFL trade deadline, Tate was traded from the Detroit Lions to the Philadelphia Eagles and fantasy owners were excited. However, Tate averaged 16.8 fantasy points per game in PPR scoring with Detroit, compared to just 8.4 with Philadelphia. Between his major drop off in production and the Eagles' tight cap situation, Tate is expected to leave in free agency. While many teams will inquire for his services, the Patriots would be the best spot.
The Patriots almost acquired him at the trade deadline last year and reportedly Tate would like to play in New England. If the money can be worked out, I expect this will be his landing spot. If that is the case, fantasy owners should be happy as the Patriots had just one wide receiver (Julian Edelman), finish in the top 45 wide receivers in PPR scoring this year, despite Tom Brady finishing ninth in passing attempts. For more on what the Patriots might do this offseason, take a look at the Patriots season review.
WR Tyrell Williams → Buffalo Bills
During his breakout season in 2016, Williams finished as the WR18 in PPR scoring with over 1,000 receiving yards and seven touchdowns. In the two seasons since Williams has totaled just under 1,400 receiving yards and nine touchdowns. His production took a huge hit because Kennan Allen was able to stay healthy and Mike Williams' emergence. However, if Williams is given the chance to be a starter elsewhere, his fantasy value will skyrocket.
Last season, Williams was the WR48 in PPR scoring despite being the fourth option in the passing game. Zay Jones led all Bills' receivers with 165.2 fantasy points last season, good for the WR35 and while Robert Foster had a great end to the season, he isn't a starting caliber wide receiver. If Williams comes in as the number one option, combined with Josh Allen's huge arm, he has a shot at a top 24 finish.
WR Adam Humphries → Green Bay Packers
Aaron Rodgers' need more weapons; plain and simple. Last season Davante Adams finished as the WR2 in PPR scoring with 329.6 fantasy points. However, no other Packer wide receiver scored more than 111 fantasy points. Randall Cobb isn't expected to be re-signed and last year's rookies had more bad moments than good ones. Meanwhile, Humphries had a career year across the board last season.
Humphries, had 76 catches on 105 targets for 816 receiving yards and five touchdowns last season. By comparison, the trio of Cobb, Marquez Valdes-Scantling and Geronimo Allison combined for 96 catches on 163 targets for 1,267 receiving yards and six touchdowns. The Buccaneers are tight for cap space and won't be able to re-sign him. If Humphries can put up those kinds of numbers in Tampa Bay, imagine what he could do replacing Cobb in the slot, catching passes from Rodgers.
WR John Brown → Pittsburgh Steelers
What can Brown do for you? With Antonio Brown on his way out the door, the Steelers will need to bring in a veteran downfield threat to pair with rising star JuJu Smith-Schuster. Brown is coming off a polarizing season with the Baltimore Ravens. His splits with Joe Flacco at quarterback verse Lamar Jackson is like night and day. With Flacco under center, Brown averaged 13.2 PPR fantasy points per game compared to just 3.6 with Jackson and finished the season with 143.9 fantasy points; the WR45.
The reason why is simple; Brown plays better with a big arm quarterback who can actually throw the ball. Ben Roethlisberger had more pass attempts than any other quarterback last season and his 5,129 passing yards were also first in the league. Obviously, John Brown isn't the same kind of player Antonio Brown is, but if you adjust his stats from last season to match 75% of Antonio Brown's 168 targets, John Brown would have finished 2018 with 186.9 fantasy points; the WR25.
TE Jared Cook → New Orleans Saints
Last season Cook posted career highs across the board with 68 catches on 101 targets for 896 yards and six touchdowns. Part of that was because the Oakland Raiders traded away the one good piece on their offense mid-season for a first round pick. Cook is the top tight end on the market this year and he will have plenty of suitors. The Saints are projected to have just over $10 million dollars in cap space and likely can't afford to sign Cook.
However, if the Saints can find the cap space, adding Cook would be the perfect spot for fantasy owners. Drew Brees had his best seasons with Jimmy Graham on the team. Obviously, Cook isn't the same level player Graham was in New Orleans, but he would be an upgrade over Josh Hill and Dan Arnold. Cook scored 193.6 fantasy points last season in PPR scoring, while other than Alvin Kamara and Michael Thomas, no Saints' flex player scored more than 142.5 fantasy points. The Saints' offense needs to add one more piece and Cook would be the perfect addition.
Questions and comments?
thescorecrowsports@gmail.com
Follow Us on Twitter @thescorecrow
Follow Us on Reddit at u/TheScorecrow
Follow Us on Facebook at The Scorecrow
Follow Us on Instagram at The Scorecrow
Follow Mike Fanelli on Twitter @mikesports22
Main Credit Image: Embed from Getty Images