Daniel Corrigan | March 7th, 2019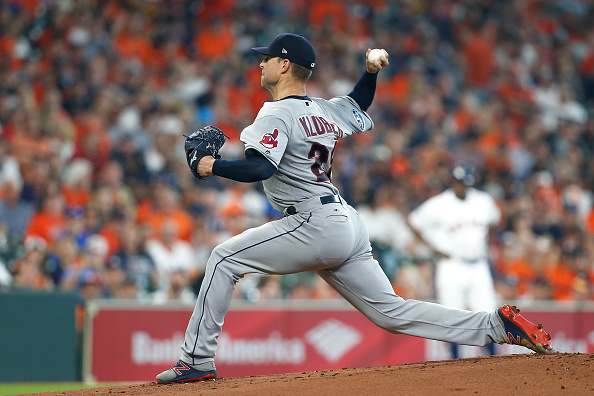 2018 was the first year that the sense of urgency for the Indians to win a World Series was present. They were now two years removed from their World Series loss to the Cubs and were coming off a 102-win season that included a historic 21-game winning streak. The rest of the AL was getting better while the Indians were just staying put. They won 91 games and their 3rd straight AL Central crown. They were swept (destroyed) by the Astros in the ALDS. In an offseason where the rumor was that Corey Kluber or Trevor Bauer were going to be traded, and where they let key players like Andrew Miller, Cody Allen, and Michael Brantley walk, they are in a weird spot. Let's look at what the 2019 Cleveland Indians will look like.
Key Losses
Additions
The Indians let a lot of their key players walk. Brantley has been a fan favorite and was finally back to playing full-time. Diaz was showing promise and key players like Chisenhall and Alonso were serviceable. Donaldson was a great addition at first but was terrible in the postseason. Encarnacion was still a 30 HR and 100 RBI guy, but his average just wasn't there. Miller was not anywhere close to what he was in 2016/2017. He was constantly hurt. Allen became the Indians all-time leader in saves but was very inconsistent. Gomes saw a resurgence and was put into the all-star game. This is a lot to lose for a World Series contending team.
Let's look at the positives. Santana (Slamtana) was a fan-favorite and a huge part of the Indians 2016/2017 postseason. He is not a hit-for-average guy but has a great OBP (.365 in his time with Cleveland.) Clippard is not too far off from his 2014 all-star season. He has fallen on some rough times becoming a journeyman since then. Rameriz was a late signing and will be the alternate first-basemen and I believe will be the main DH. Bauers is only 23 and has shown some good power numbers but needs to improve his .201 AVG from last season. Joyce will see time in a bad outfield and his power numbers will be relied upon.
Infield
The Indians have arguably the best combo of infielders with Jose Ramirez and Lindor. Both are young super-stars and have proved to be MVP players. The power numbers between the pair have been very impressive since they reached the Indians. Lindor already has 98 HRs in 576 games played. Ramirez has 87 including 39 last season. They have both players under club control for a little while. Lindor will most likely start the season on the IL with a calf strain. This will open the door for Ramirez to go to short and a player like Ryan Flaherty to play third. Behind the plate has big question marks. Perez was the catcher during the World Series run but does not have a good bat. The Indians have really relied on their catchers being defensive oriented. Plawecki is much like Perez. He is solid defensively but is below-average with the bat. Kipnis has really fallen off since his impressive 2015 and 2016 seasons. He really turned it on down the stretch last year. The most important part is that he was healthy. He has had a hard time being healthy. If he can stay healthy and worry about contact rather than power, the Indians will be set with Kipnis at second base. First-base is wide open. Santana will be the starter but the Indians have been known to have multiple guys play at first. Santana has a good glove and will be very important to the Tribe's success. Bauers could see some time here but it is reported that the Indians want him to play more outfield. He will always be an option but I think its more of an emergency option. Hanley Ramirez will most likely be the DH and back-up first-basemen for days which Santana is at DH or is resting. Ramirez will need to bring his power. The Indians need those home runs that left with Encarnacion.
Outfield
Probably the weakest part of the Indians roster. The outfield lacks identity with no Michael Brantley. Naquin burst on to the scene with his 2016 rookie year. Just ignore his game six error in the World Series. He was hurt for most of 2017 and the latter part of 2018. He played well with the limited time in 2018. Zimmer will most likely miss the start of the year. He, like Naquin, can't stay healthy. He needs to work on his bat. He strikes out way too much for a contact hitter. His speed and defense are going to be huge for the Indians this year. Allen is much like Zimmer. He is fast and has a good glove. He just is way too inconsistent at the plate. He has no real identity. He doesn't have power, not a real threat with contact. Just overall….meh. Martin played well in the few games he played with the Indians last year before his life-threatening disease. Joyce isn't guaranteed to be on the 25-man roster, but I think the Indians need him for his bat. they need some power in their lineup.
Rotation
This is the identity of the Indians. Kluber is a two-time CY Young winner, Bauer had a real good shot of being the CY Young before his injury, Carrasco has CY Young potential, Clevinger burst on to the scene last year, and Bieber had a great rookie year. Kluber, Bauer, and Carrasco will be great. The question is will Clevinger and Bieber continue from their great 2018. Another arm to watch to make some starts is Adam Plutko. Last season, Plutko went 4-5 with a 5.28 ERA. Not great, but there were times when Plutko pitched really well. One moment, in particular, was a game against the Cubs in Wrigley. He had a no-hitter going into the 6th but gave up back-to-back hits and was pulled. There was a lot of chatter that the Indians would trade Kluber or Bauer to get some depth in the outfield and prospects.
Bullpen
If we ignore Hand, this bullpen is absolutely horrible. Hand, Cimber, Perez, and maybe Clippard. Those are the only ones who I can bring myself to trust. Otero had so much promise when he came to Cleveland in 2016. He put up some solid number. But last years 5.22 ERA, 10.6 H9, 1.8 HR9, and 84 ERA+, I just can't trust him anymore. We talked about Plutko earlier, but I'm not willing to trust him just yet. I think he will be good, but he needs more work. Olson got rocked after a solid 2017 and Wittgren had some decent years in Miami. On paper, this is a horrible, terrible, and disgusting group. I do think, that there is some promise here. All-star Hand was great in his time with Cleveland last year. Cimber came to Cleveland with Hand and had some good, but some bad times. Oliver Perez was a surprise last season. I'm hoping that Clippard can be half the player he once was.
Prediction
Listen, The Indians lost a lot this winter. I get that. But if you think the Twins, White Sox, Tigers, or Royals have any shot of winning this division. You are La-La land. The Indians will win this division by 10 games (probably more,) and I think they improve their win total from last year. I believe they will go 93-69, win the division, and have a major individual player trophy this year. Bauer is my favorite to win the Cy Young this year and I believe that he gets it. The World Series is a long-shot. The Astros, Yankees, and Red Sox are all juggernauts. But can this team win the World Series?………….. Yes.
Check out our other Team Previews | Colorado Rockies | Toronto Blue Jays | Minnesota Twins | Atlanta Braves | Chicago Cubs | Tampa Bay Rays | Arizona Diamondbacks | Miami Marlins | Cincinnati Reds | Seattle Mariners | Texas Rangers |Los Angeles Dodgers | New York Yankees | Milwaukee Brewers | San Diego Padres | Detroit Tigers | Kansas City Royals
Questions and comments?
thescorecrowsports@gmail.com
Follow Us on Twitter @thescorecrow
Follow Us on Reddit at u/TheScorecrow
Follow Us on Facebook at The Scorecrow
Follow Us on Instagram at The Scorecrow
Follow Daniel Corrigan on Twitter @Corrigan_Tweets
Main Credit Image: Embed from Getty Images