Troy Pierce | March 6th, 2019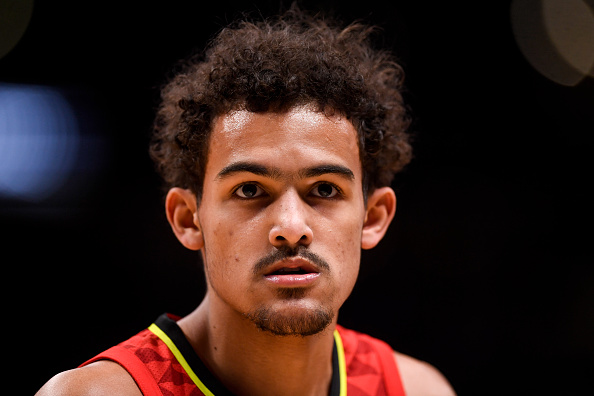 In part one of this weeks' Rookie Report we took a look at Marvin Bagley III and the impressive work he did against two of the most imposing teams in the Western Conference.
For more on those games and Bagley III's impressive showings, click here.
In part two we'll head over to the Eastern Conference where Trae Young had two very impressive overtime performances.
TRAE YOUNG vs MINNESOTA TIMBERWOLVES
Trae Young looks like he is on a mission to make sure that Luka Doncic doesn't run uncontested for the 2019 NBA's Rookie of the Year award, and what a race Young is making it.
On February 27th against the Minnesota Timberwolves Trae Young put on a show going for 36 points, 8 rebounds, and 1 assist. The rookie point guard would do most of is damage from the free-throw line going 16-of-17 on the night and tying his career-high in points. Trae Young's performance would also make him the first rookie since Michael Jordan to have at least 35 points, 10 assists, and 15 free-throw attempts in a game.
This performance would also mark Young's 23rd game with at least 20 points. It would also be his 5th performance with at least 30 points tying Dominique Wilkins for most 30-point games by an Atlanta Hawks rookie.
Despite his small stature, Young plays with a fire and resiliency of a much bigger player. He continuously found his way into the lane and at the free-throw line. While he does struggle at times fighting through contact, it is not something he avoids, but rather, welcomes as evidenced by the number of attempts he received at the charity stripe. Young's speed and ability to manipulate that speed make him very difficult to guard and allow him to take advantage of the defensive players' momentum no matter where he is on the floor. there was one play in particular where fellow rookie Josh Okogie blocked a layup attempt by Young and turned to the rookie point guard saying, "..too small, you're too small…"
Trae Young would ignore the trash talk and blow by Okogie for a game-tying basket with 20 seconds left that would send the game into overtime.
In the overtime period, Young would go 2-of-3 from the free-throw line in the final 15 seconds and help seal the victory for Atlanta.
TRAE YOUNG vs CHICAGO BULLS
Trae Young continued to display the poise with which he commands the NBA's second-fastest offense in terms of pace.
Young's quick first-step and knack for getting to the basket allowed him to control the offensive flow once again in this game. The way Young drives through and under the basket looking to get his teammates' open shots reminds me of Steve Nash but Young has made it his own. Young's court vision and passing expertise lead to a game-high 16 assists, one shy of his career high. Trae Young continues his reign as the leading rookie assister (6th overall).
Trae's shooting ability was on display right from the start as well. He would make. Deep three with his heels on the Atlanta Hawks halfcourt logo. At the end of regulation, Young would make a clutch three with 2.2 seconds left giving his squad a 124-121 lead over the Bulls. Unfortunately, a costly foul by Otto Porter Jr on Chicago's final possession would send the game into overtime. The fifth overall pick would continue his shooting display with another deep three at the start of the first overtime. Young also drew a foul on the shot but would miss the free throw.
Young would total 52 minutes (56 total) of court time by the end of the third overtime and would sit to start the fourth overtime. After being unable to come up with the victory to end the previous overtime, Young was trying to will his team back and would cut the Chicago lead to 3 with 90 seconds remaining. Tired legs, turnovers, and poor defense would prevent the Hawks rookie from leading his team to a full comeback effort.
Trae Young's 49 points and 16 assists also place him second behind Michael Jordan and Steph Curry for most games with at least 30 points and 10 assists; Young has four such performances while Jordan and Curry each have five.
In Sunday's meeting between Chicago and Atlanta, Trae Young would score 18 points, 2 rebounds, and 5 assists in 18 minutes. He would be ejected after receiving a second technical for taunting Bulls point guard Kris Dunn.
ROY???
Trae Young continues to make his case for rookie of the year and his hot streak since the All-Star break has thrust him into the forefront of the conversation. It's not about how you start but, rather, how you finish and Young is certainly finishing out his rookie year strong. Will his place in history be enough to make him this years ROY winner?
Questions and comments?
thescorecrowsports@gmail.com
Follow Us on Twitter @thescorecrow
Follow Us on Reddit at u/TheScorecrow
Follow Us on Facebook at The Scorecrow
Follow Us on Instagram at The Scorecrow
Follow Troy on Twitter @HoopHead_prod
Main Credit Image: https://media.gettyimages.com/photos/trae-young-of-the-atlanta-hawks-prepares-for-an-inbound-pass-by-the-picture-id1062114332?k=6&m=1062114332&s=594×594&w=0&h=oa-qlJ41ueVEP4UUV-xu8RSAW8IIT-hisABosOb2SRY=