Andrew Harbaugh | March 5th, 2019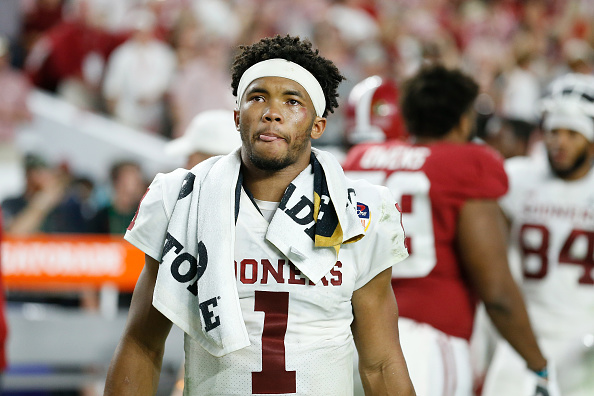 All year we have heard the narrative that this class offensively lacked much top-level talent, I think it's safe to say a handful of players changed that this week. All week players were subject to tough on-field scrutiny, one on one interviews, and of course measurements that are oh so crucial.
While they did have a lot of players who proved doubters wrong there were also, unfortunately, players who proved some doubters right, including proving people who believed in them they were wrong. Even if they did have a poor Combine it is important to remember that these players still have Pro Days to perform at where they will be in a more familiar environment and will have teams present where they can change their perspective outlooks with each team.
Winner: Kyler Murray, QB, Oklahoma
Oklahoma quarterback Kyler Murray had one concern across the Twitterverse and with many draft analysts, his size. Well, he pretty much shut everyone up when he came in and was measured at 5'10 ⅛". With many people concerned he would be even smaller than 5'9" potentially this went a long way with everyone including NFL teams to squash the stigma surrounding Murray. While he didn't throw or do any on-field drills he did do the interview which from reports went well. Also while I was in Indy I had a couple of people say the bigger question isn't whether Kyler goes number one, it's what team is trading for Josh Rosen.
Loser: Elijah Holyfield, RB, Georgia
This past week Elijah Holyfield has okay results with off-field measurements and testing but when it came to on fieldwork it got ugly quick. Holyfield started his workout running an underwhelming 4.79 and 4.81 in his 40-yard dash. Things got worse when he was doing on-field drills dropping balls and losing his footing when making cuts. Needless to say, Holyfield needs to make sure he can answer the bell at the Georgia pro day or will be dropping on draft boards rapidly.
Winner: D.K. Metcalf, WR, Ole Miss
I was at Two Deep Brewing for the Stick to Football event when Metcalf lined up for his 40-yard dash, everyone watched in the bar and as he ran and the time of 4.33 popped up everyone lost it. No one expected that out of Metcalf with his size and weight but he made it happen which is incredible. In my eyes, he has solidified himself as the top receiver in this class above the like of N'Keal Harry and A.J. Brown.
Loser: Isaac Nauta, TE, Georgia
This is an insanely deep tight end class and coming into the combine the combine Nauta was in the discussion of being a   tight end in the group. Then when he ran his forty and he could only record a time of 4.91 it became a big scare for people including myself. When you have tight ends like Noah Fant, T.J. Hockenson and Irv Smith Jr. all having A+ performances this was something Nauta could not afford to have happened. He turns his eyes to the Georgia Pro Day where he will be looking to have a bounce-back performance, similar to Holyfield.
Winner: Jonah Williams, OT, Alabama
Williams was another player who, like Murray, won with his measurables this weekend. He came in with a lot of talk of being moved to center or guard as an interior lineman in the NFL but after having his arms measured at 33' ⅝ ". While some skeptics still have their doubts about Williams playing tackle in the NFL people in the industry such as Matt Miller who tweeted out that he has similar measurables to Joe Staley of the 49ers. With that in mind as a comp, I think he is more than capable of being a great tackle in the NFL.
Loser: Cancer Thanks to Rich Eisen
I remember when Rich Eisen running the 40-yard dash was a joke, just a way to see a guy get burned by super athletes when running, well this year the joke is officially over. In years past he has started doing the Run Rich Run program where they raise money for St. Judes Children's Hospital to help the families and the kids who suffer there. This year thanks to outstanding gestures by fans and coaches alike they raised over a million dollars to fight cancer.
As I write this I am getting emotional because I remember being at Children's Hospital when my son was there and going down to the car and holding the elevator for this couple and they had this little girl who you could tell had been so sick but was smiling ear to ear. She looked up at me and said "I'm going home cause I kicked cancers butt" its moments like that you never remember. So thank you Rich for doing this for girls like her and the countless other kids that are affected by this horrible disease. You make the world a better place.
Questions and comments?
thescorecrowsports@gmail.com
Follow Us on Twitter @thescorecrow
Follow Us on Reddit at u/TheScorecrow
Follow Us on Facebook at The Scorecrow
Follow Us on Instagram at The Scorecrow
Follow Andrew Harbaugh on Twitter @MandrewNFLDraft
Main Credit Image: Embed from Getty Images