Givanni Damico | March 5th, 2019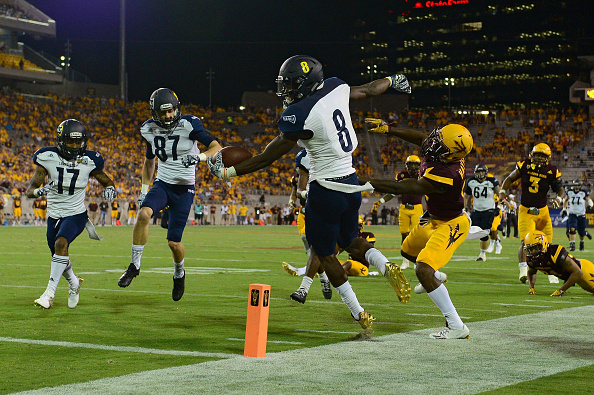 Emmanuel Butler was a stand-out at the University of Northern Arizona. Butler had an impressive resume during his college career. In his freshman year, he led all Northern Arizona freshmen in catches and receiving yards with 13 catches for 235 yards. These numbers showed promise for Butler's future as a Lumberjack.
Butler came on strong in his sophomore season, bringing in 64 catches for 1,208 yards and 15 touchdowns. He broke the NAU record for receiving yards in a season which had stood strong for 16 years. He started his sophomore year strong with his first catch being a 57-yard touchdown and simply took off from there. Butler's best game of his sophomore year came against Stephen F. Austin University when he had 216 receiving yards, but in my opinion, his most impressive game was against nationally ranked, FBS Arizona. Butler came down with five catches for 119 yards in this game, showing that he can play with the FBS guys with ease. He ended the season with AP All-American honors as well as being a part of the All-Big Sky First Team. He also was tied for second in receiving yards in the FCS. This was an eye-opening season for football fans and for scouts.
Butler carried his momentum from 2015 into 2016. In his junior year, Butler recorded 69 receptions for 1,003 yards and nine receiving touchdowns. His most impressive game of 2016 was undoubtedly when the Lumberjacks took on New Mexico Highlands. In this game, he tied the Northern Arizona record for touchdown receptions in a game with five. He finished that game with 99 receiving yards. He ended the season with three straight 100+ yard games. He earned First Team All-Big Sky honors once again. He was rising up the Northern Arizona record books for receiving yards and receiving touchdowns with his senior season left to play.
In the second game of his senior season, Emmanuel Butler injured his shoulder against Western Illinois. He would miss the rest of the season. On the bright side, this gave the Lumberjacks the ability to redshirt him, which they did. It was frustrating for Butler, but he didn't let this injury drag him down.
In his redshirt senior year, Butler's numbers were down from his sophomore and junior years. This was mainly due to the team's star quarterback, Case Cookus, going out with an injury in the second game of the year. Daniel Bridge-Gadd took over at quarterback, but unfortunately, he wasn't as productive as Cookus. The team's passing efficiency as a whole was down from prior seasons. Butler came down with 35 catches for 676 yards and seven touchdowns in his redshirt senior season. Butler's best game was against Idaho State when he came down with eight catches for 187 yards. He also had a good game against the University of Texas-El Paso when he came down with two touchdowns including an 84-yard touchdown pass from Case Cookus.
Emmanuel Butler now holds the NAU records for receiving yards in a career as well as touchdown receptions in a career.
Now that you've seen the accolades, I am going to give my scouting report on Mr. Butler.
What to like about the Butler
I see a lot of Mike Evans in Emmanuel Butler. Butler wasn't burning cornerbacks in college, instead coming down with contested catches and making them work. Some may view this as a con because he doesn't create enough separation, but I assure you, this is most certainly a strength. Butler has good body control and is able to come up with jump balls when well-covered. His ability to leverage corners into the open field is impressive because it allows him to get open on the sideline for an easy catch. Butler also has soft hands, as we saw at the combine when he caught every ball thrown his way. His route-running was impressive as well, especially considering his route tree wasn't all that big at Northern Arizona. For how big he is, Butler is very light on his feet. He is quick but tends to lack explosiveness off of the line of scrimmage.
One of the biggest criticisms when it comes to Emmanuel Butler is that he didn't play against top-notch cornerback competition. Is this true? Yes and no. He did play against some weaker FCS competition, but he also dominated when he played FBS Arizona and Arizona State. He didn't look any weaker in those games, in fact, he may have been even more impressive. I always thought that this was a poor argument because you will never truly know someone's potential if you don't draft him just because of the level of competition he played in college. My biggest issue with Butler is his lack of hip fluidity. Hip fluidity is one of the most important attributes when it comes to scouting wide receivers, in my opinion, but I think Butler improved on this at the combine. Butler struggles most against press coverage so this will be something that he absolutely needs to improve on to become a starter in the NFL.
Overall, Butler is definitely one of the most underrated prospects in this draft. He gets knocked because of his lack of speed, but I wouldn't be shocked if he ran sub-4.5 at his Pro Day later this month. Butler looks relatively pro-ready, but he will probably end up being a developmental player that a team works on for a year or two before throwing him on the field as a starter. He graded out at 81/100 for me, which according to my grading scale, is a late second-round pick. Unfortunately, because of the lack of recognition he gets, I doubt he will go this high. He definitely improved his stock at the combine, but I'd expect Butler to be a fourth or fifth round selection. It's been a journey for Emmanuel Butler to get to where he is today, but he persevered through all the pain and struggle that he went through. I've spoken to Butler, and I would just like to say that he is one of the nicest, most respectful young players that I have ever talked to. He is a hard worker, and his hard work is about to pay off. Don't forget the name Emmanuel Butler come draft day.
Questions and comments?
thescorecrowsports@gmail.com
Follow Us on Twitter @thescorecrow
Follow Us on Reddit at u/TheScorecrow
Follow Us on Facebook at The Scorecrow
Follow Us on Instagram at The Scorecrow
Follow Givanni Damico on Twitter @giodamico15
Main Credit Image: Embed from Getty Images