Joel Dorcas | March 4th, 2019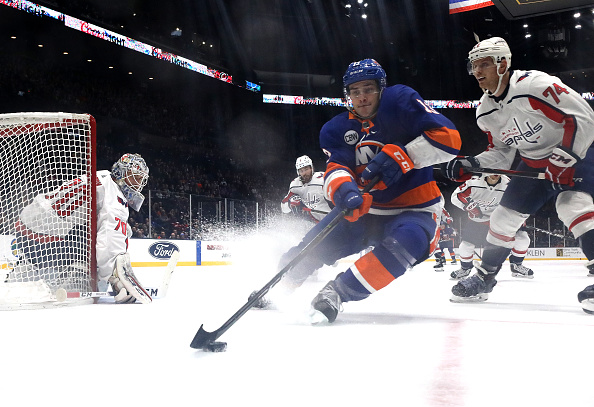 Two surprise teams sit atop the top three spots in the Metropolitan Division, the New York Islanders and the Carolina Hurricanes with the Washington Capitals right there at the top with them. The Pittsburgh Penguins are just a single point away from third and the Columbus Blue Jackets are three points away with a game in hand on each of them.  The Philadelphia Flyers are now slipping away, they are seven points back from playoff contention. The New York Rangers and New Jersey Devils round out the division and have been out of the playoff picture for a good portion of the season. Let's go over each team's situation for the rest of this season and beyond.
New York Islanders
The Islanders decided to stay pat with the roster that has, to date, surprised the entire league. The Islanders have completely adopted head coach Barry Trotz defense-first mentality. They essentially have gone worst to first in league goals against rankings in just one season. Currently, they have gone into a bit of a slide, 5-4-1 in their last 10 games allowing the defending champs, the Washington Capitals to gain ground.
The Islanders are getting production from all four lines. In total, the Islanders have eight players with at least 10 goals. Casey Cizikas is a prime example of the Islanders getting production out of the full roster. Cizkas is the Islanders fourth line center and is having a career season with 18 goals and a team-best plus/minus of +25.
Out of the 18 games remaining for New York, 13 are against teams that are currently in a playoff spot or within range(Minnesota, Arizona). Six games are intra-divisional, three against the Flyers, two against the Blue Jackets and one versus the Capitals.
Washington Capitals
The Capitals made just a couple of minor transactions to bolster their lineup. Veteran forward Carl Hagelin was acquired from the Los Angeles Kings for a third, a sixth and a conditional round selection. They also exchanged depth defenseman with the Detroit Red Wings. Nick Jensen(to Washington) in exchange for Madison Bowey.
Alex Ovechkin continues to dominate and lead the Capitals. Ovechkin is nearing 50 goals yet again. He currently sits at 45 and is showing no signs of breaking down in his age 34 season. The rest of the team has performed as expected with the likes of Nicklas Backstrom, Evgeny Kuznetsov, and John Carlson all providing their usual steady production.
If the offense hasn't been a problem(fifth in the league in scoring), the defense certainly has. The Caps rank 26th in the league in goals given up this season. Goaltender Braden Holtby sports a 2.97 GAA and a less than stellar save percentage of .909, although the Caps do allow more than the league average for shots on goal this season.
For the remainder of the season, the Capitals will jockey for first place in the division with the Islanders, Hurricanes, Penguins and Blue Jackets. The schedule of remaining games isn't great but it could be worse. Nine of the 17 games left are on the road with eight(home and away)being against teams currently out of the playoffs. They play the Lightning three times to close out the remainder of the season.
Carolina Hurricanes
The Carolina Hurricanes boast a very young team with the average age being 26.6(weighted by ice time). League average is at 27.8. Leading point getter Sebastian Aho is all of 21 years of age and is putting together a marvelous season, in 64 games he leads the Canes with 72 points.
The Canes pulled off, as of now, the best trade of the season in acquiring forward Nino Niederreiter from the Minnesota Wild for forward Victor Rask. Niederreiter has nine goals and six assists in 17 games since the trade. Rask, on the other hand, has struggled mightily scoring just a single goal and recording one assist in 10 games as a member of the Wild.
Currently, the Hurricanes are in the midst of a very hot run, losing just twice over their last 12 games. The Canes have a big back-to-back set of games against the Capitals and have five other games against teams that are trying to catch them in the Division standings to close out the regular season.
Columbus Blue Jackets
The Blue Jackets certainly made lots of noise at the trade deadline. They are truly going "all in" for the 2019 stretch run. Pending free agents this summer, Sergei Bobrovsky and Artemi Panarin were not shipped off after rumors circulated surrounding there future with Columbus. Because the Jackets decided to keep both star players without getting something in return before they become free agents, the Jackets saw this as an opportunity to get the most out of this year's squad who is just three points away from third and six points out of first(with a game in hand).
Not only did they keep Bobrovsky and Panarin they also went out and acquired players that will fit right into their core group of forwards. Ryan Dzingel and Matt Duchene were brought over from Ottawa for forward, Anthony Duclair, forwards Vitaly Abramov, Jonathan Davidsson and a whole bunch of picks(two being first rounders). The Jackets also acquired defenseman Adam Mcquaid from the New York Rangers and goalie Keith Kinkaid from the New Jersey Devils.
11 of 19 games remaining for the Blue Jackets will be road matches. They faceoff against divisional opponents seven times, they face both the Penguins and the Islanders twice.
Pittsburgh Penguins
A healthy Kris Letang and a healthy, steady Matt Murray may turn out to be better than any acquisition made this season by Penguins management. Oh, and of course a healthy Sidney Crosby and Evgeni Malkin too. The Penguins are still very much relevant in the Eastern Conference and the window on capitalizing on this core group isn't shrinking just yet. Wear and tear will eventually catch up to Sid and Gino soon enough though as they play through their 30's. (Crosby is 31, Malkin is 32).
The Penguins have struggled to maintain a solid place in the division but still, have played well enough to hang around third place. GM Jim Rutherford, like he usually does, has pulled as many strings as possible to bolster the lineup for a long playoff drive. Additions to the lineup include forwards Nick Bjugstad and Jared McCann from Florida, defensemen Erik Gudbranson from Vancouver and Chris Wideman also from Florida. Gone are forwards Derick Brassard, who could never fill the third line role the way the Pens wanted him to, Tanner Pearson, who just wasn't effective(nine goals in 44 games), Riley Sheahan and defenseman Jamie Oleksiak. All of the players brought in will have to step up their level of play down the stretch, especially with Bryan Rust and Olli Maatta sidelined with significant injuries.
If the Penguins get Malkin, Crosby, Letang, and Murray playing at their peak levels they will always have a shot in a very talented Eastern Conference. Of the 17 games remaining, they are home for 10 games and on the road for seven. They have eight games against divisional teams. Columbus, Carolina, and New York Rangers twice each and once against Washington and Philadelphia.
Philadelphia Flyers
Will it soon be time to get excited about the Philadelphia Flyers? Not quite this year as the Flyers, despite a good run in January where they posted eight straight wins, sit seven points from the last Wild Card spot. But fret not Flyer fans, there is lots of promise on this roster. Even after trading away fan-favorite Wayne Simmonds and a couple depth forwards, Dale Weise and Jordan Weal the Flyers have a good cupboard full of NHL or soon to be ready NHL talent.
It starts in goal. This organization has been on the hunt for a solid number one netminder for quite some time. Their savior may be Carter Hart. To date, Hart has performed very well at the NHL level. In 22 games he has 13 victories against nine defeats. The Flyers swapped goalies with Edmonton trading Anthony Stolarz to bring in veteran Cam Talbot, who along with Brian Elliott will guide Hart through an 82 game season grind. We have to remember to temper expectations with Hart because he is just 20 years old. Sending him down to the AHL for seasoning and confidence is still a possibility.
With the goalie situation looking much better, what about the rest of the team? Judging by this list of young talent, the Flyers are set up to be very dangerous in the coming years. Sean Couturier, age 26, Travis Konecny, 21, Travis Sanheim, 22, Shayne Gostisbehere, 25, Nolan Patrick, 20, Oskar Lindblom, 22, Ivan Provorov, 22, Ryan Hartman, 24- (acquired in the Simmonds trade), Robert Hagg, 23. We have already seen Couturier, Gostisbehere, Provorov, and Sanheim play very well, it's only a matter of time for the others to follow suit. If they can get there fairly soon, they will potentially still have superstars Jakub Voracek and Claude Giroux leading the way.
New York Rangers
It's difficult to completely understand what the Rangers organization is doing. Up until the deadline they were actually getting good production out of their fairly young roster. 26-year-old Kevin Hayes was in the midst of having a career season with 42 points in 51 games. Fan-favourite Mats Zuccarello was performing as expected. Both were shipped off for first, second and third round picks and a fourth-liner from Winnipeg, Brendan Lemieux. With Hayes finally tapping into some of the potential that management saw in him it was a bit of a surprise that they let him go for something he once was not all that long ago, a high draft pick.
Aside from Mika Zibanejad and Chris Kreider,  Hayes was arguably the best player on the team with a bright future. It's hard to imagine the Rangers being very competitive in the near future. They have a roster chock-full of average talent at forward and defense and the goalie situation isn't looking much better. 36-year-old Henrick Lundqvist is on the books until the 2020-21 season. They are perhaps hoping for 22-year-old Alexandar Georgiev to develop into the next "King Henrick".
New Jersey Devils
Without superstar and last years Most Valuable Player, Taylor Hall, the Devils were destined to drop in the Metropolitan Division standings. Sure enough, New Jersey finds themselves entrenched in last place. With the playoffs, a long-forgotten prospect, the Devils were able to attain some draft picks by moving Marcus Johansson to Boston and Brian Boyle to Nashville.
With this season washed away, what can we expect going forward? Unfortunately probably not much. Other than Taylor Hall, maybe Kyle Palmieri, and 2017 first overall pick Nico Hischier, there isn't a whole lot to like from this roster. Optimistically speaking, the defense has some interesting pieces in Damon Severson and Will Butcher and the goaltending situation could pan out with Cory Schneider getting healthier and 22-year-old MacKenzie Blackwood showing potential. (.931 save% in 15 games). This won't be near enough for the Devils to be relevant any time soon in the deep Metropolitan Division.
Other Post Deadline Division Reviews:
Central Division Post Deadline Review
NHL Trade Deadline Review: Atlantic Division
Follow Us on Twitter @thescorecrow
Follow Us on Reddit at u/TheScorecrow
Follow Us on Facebook at The Scorecrow
Follow Us on Instagram at The Scorecrow
Follow Joel Dorcas on Twitter @Joel_Dorcas6
Main Image Credit:
Embed from Getty Images