Matt Woolsey | March 3rd, 2019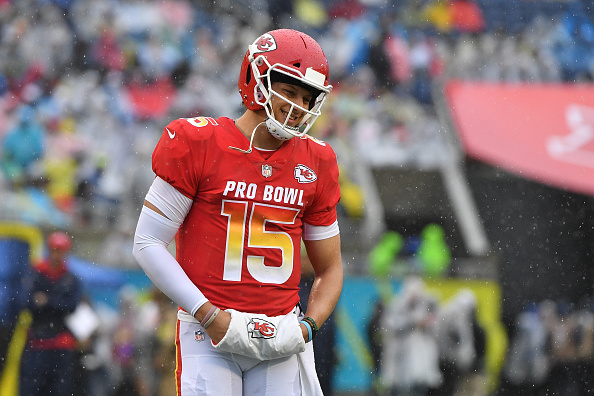 The writers at TheScorecrow.com decided to get together and come up with their version of a Top 100 NFL players from the 2018 season. Each writer was invited to submit a ranked list of their top 25 NFL players. The votes were then counted using a weighted average method. This means that a 1st place vote was worth more than a 25th place vote.
Players ranked 1st on a list received 25 points, 2nd = 24 points and so on down to 1 point for a 25th place vote. Each players points were added up and then listed from least to most to generate our list of top 100 players. The top few players were fairly common on all the lists, but after that it was interesting. We hope you enjoy our rankings and would love to read your comments on our list. Special thanks to Beth Sullivan for tabulating the votes and getting this project together.
TheScorecrow.com Writers
20. George Kittle
What else can you say about the player that set the record for the most receiving yards by a tight end in a single season? Simply amazing, Kittle also racked up 210 receiving yards in a single half but fell short of the single-game record by five yards. He made sure to let head coach Kyle Shanahan know about it. What else made Kittle setting the record in 2018 special is the fact he did it with Nick Mullens and C.J. Beathard throwing him the ball. Kelce set the record first and Kittle broke it an hour later, but Kelce had Mahomes throwing him the ball.
19. Von Miller
If you still believe defenses can win games you may have Von Miller on your team. The almost 30-year-old linebacker continues to be a force in the NFL. He may not have the biggest numbers on the stat sheet or be the flashiest player on the field, but quarterbacks run away when they see Miller coming around the end. With the acquisition of Bradley Chubb last season you would think if the Broncos got themselves a competent quarterback the AFC West could become one of the most interesting divisions in the NFL.
18. Philip Rivers
The Chargers may not have a true home right now, but that didn't stop Philip Rivers last season. Throwing for over 4,300 yards and 32 touchdowns, Rivers led the Chargers to 12-4 record and the playoffs for the first time since 2013. They would, however, lose to the New England Patriots in the divisional round of the playoffs in a game that was never really close. The Chargers won't have Rivers around too much longer as the quarterback will turn 38 next season. Besides someone has to help take care of his thirty children.
17. Bobby Wagner
There isn't much left from the Legion of Boom, but don't tell Bobby Wagner that. Not only did he have a 98-yard pick-six last season, but he was fourth in the NFL with 138 total tackles, including 84 solo tackles. The Legion of Boom may have lost most of its core members, but Wagner will carry the torch next season. After that, he is a free agent. It would be difficult to say Seattle letting him walk, but Richard Sherman is a 49er so anything is possible.
16. Marlon Humphrey
Marlon Humphrey has only been in the league for two years and yet PFF ranks him as the 11th best cornerback in the league. A true shutdown corner, in Week 13 Humphrey was covering Julio Jones and rookie Calvin Ridley. He saw three passes thrown his way and he gave up zero receptions. He had 15 pass breakups and two interceptions in 2018. The Ravens struck gold when they drafted Humphrey in 2017, look out AFC North.
15. Tom Brady
Once again Brady adds to his historic career and he did it at the age of 41. You cannot really say anything about Brady that has not already been said, but the fact he is doing what he is doing at the age of 41 is pretty remarkable. But father time catches up to everyone even Brady and last season Father time did close the gap but look for Brady and the Patriots to be in the hunt once again next season.
14. Julio Jones
We all knew Julio Jones would eventually make it into the end zone. You cannot have the production he had, 10 games over 100 yards, only two games with less than eight targets, and not make it into the end zone. It finally happened in Week 8 and he turned into Touchdown Jones, getting into the end zone in all but two games after Week 8. Now that Jones figured out how to score again maybe the Falcons can become a team worth watching again next season.
13. Travis Kelce
Just like Kittle, Kelce also set the record for most receiving yards by a tight end in a single season, when he surpassed Rob Gronkowski. Kittle just ended up beating Kelce's record, but hey held it for about an hour. I doubt Kelce takes a step backward in the upcoming seasons for Kansas City. He was a favorite target of Alex Smith's, he's a favorite target of Patrick Mahomes' as well. Maybe Kelce will get that record back that Kittle took from him since the Chiefs' offense isn't slowing down anytime soon.
12. Michael Thomas
Michael Thomas has been in the league for three years. Each one those years, Thomas has had at least 1,000 yards. He took his game to another level last season with an 85% catch rate making him possibly the reliable receiver in the NFL. In Week 8 against the Rams, Thomas went for over 200 yards and had a Joe Horn tribute touchdown when he pulled a flip phone out after he scored. Head coach Sean Payton wasn't too happy about the tribute, but Joe Horn was trending on Twitter afterward, so I guess a couple people liked it.
11. Ezekiel Elliott
Has long as Elliott keeps his nose clean we can give him a mulligan for 2017. Elliott surpassed 2,000 total yards and had nine touchdowns last season. The biggest addition to his game was the 95 targets he got in the receiving game last season. Everyone knew when Elliott was coming out of college he could catch the ball, seems like the Cowboys finally realized as well.
10. J.J. Watt
I'm going to name something very boring, are you ready? A Watt-less Texans team. That is exactly what the Houston Texans have been the previous two years before last season. J.J. Watt returned to his destructive ways with 16 sacks and seven forced fumbles. Has Watt returned to his old self? Have the Texans gotten their star edge rusher back again? One thing is certain, he doesn't seem like he's finished just yet.
9. Andrew Luck
After missing the entire 2017 season with a shoulder injury, Luck came back to form throwing for over 4,500 yards and 39 touchdowns. The rust was definitely there for the former first-round pick when he drew some criticism when Jacoby Brissett was brought in for a hail mary. Luck would manage to sand off all the rust and lead the Colts to a playoff berth after going 9-1 in the final 10 games of the season. With a new upgraded line and fully healthy Luck, the Colts are likely to get back to their winning ways.
BuT cHrIsTiAn McCaFfReY cAnT rUn BeTwEeN tHe TaCkLeS. Remember that narrative we heard during his rookie season and last offseason? Remember when people said he was too small? McCaffrey was 137 receiving yards shy from the coveted 1,000 yards rushing, 1,000 yards receiving club. And he would have been even closer if the Panthers brass had not pulled him during the Week 17 final. I thought David Johnson would be the next running back to join the 1,000/1,000 club, but I may have to rethink that thought process.
What do you have when you have a wide receiver that has 1,500 yards, 11 touchdowns, and a catch rate of 70%? You have a damn good wide receiver that some people are taking with the very first pick in startup dynasty leagues. You have a wide receiver that's trying to say Antonio Brown who, Odell Beckham Jr who, I'm the best in the league. With Hopkins big play ability and Watson's arm, the Texans could become a force to reckon with in the AFC.
A lot of people including myself said the Giants made a mistake when they drafted Saquon Barkley with the second overall pick instead of addressing their quarterback situation. I still am not ready to say the Giants didn't make a mistake in drafting Barkley but his 2,000 yards and 15 total touchdowns make it difficult in making a case against the Giants selecting him. You cannot deny his abilities on the field when he gets the ball in his hands. Barkley was trying to do things Manning could not and that was to move the ball downfield. If the Giants get a longterm fix at the quarterback position this year or next, look out NFC.
5. Todd Gurley
Another great year for Todd Gurley post the Jeff Fisher era. Over 1,800 yards and 21 total touchdowns. Simply remarkable stats for the gifted running back and yet the thing that sticks in people's mind the most was is his mysterious absence during the playoffs. He missed the last couple weeks of the season due to a knee injury and then when reports came out he was healthy, he was never utilized or seemed like the same running back. Was the knee more injured than the Rams let on? Is it possible he will see a lighter workload in the upcoming seasons? Ram and fantasy owners will want to know sooner rather than later.
4. Drew Brees
Hold your thumb and forefinger a centimeter apart and say Drew Brees was this close from going back to the Super Bowl in 2018. Brees broke the record on Monday night football against the Redskins for most yards by a quarterback, surpassing Peyton Manning's 71,940 yards. Brees continues to play at a high level, but the 39-year-old was showing some signs of decline towards the end of the season with his deep ball. If the Saints are going to make it back to the big game with Brees under center they will have to do it within the next year or two.
3. Khalil Mack
The NFL community was shocked when the Raiders announced they traded Kahil Mack to the Chicago Bears. What was Jon Gruden thinking, Mack joined what was already a good Bears' defense and took them up to another level. Millions watched as Mack dismantled the Packers offensive line on Sunday night football until Aaron Rodgers started doing Aaron Rodgers things. For the first time in his career, Mack missed a few games during the regular season. But one thing is certain, at this present moment, Bears won the trade with the Raiders.
2. Aaron Donald
Almost broke Michael Strahan single-season sack record, almost. 17 years ago in 2001 Strahan set the single-season record with 22.5 sacks. Last season Aaron Donald ended the season with 20.5 sacks. The Rams were almost without the star defensive tackle as he held out the entire offseason looking for a longterm deal. The Rams obliged and Donald signed a six-year $135,000 contract. Whether Donald would have pulled a Le'Veon Bell is anyone's guess. But Donald rewarded the Rams last season by being a destructive force on the field.
50, count them 50 touchdowns Patrick Mahomes threw for in 2018, he also rushed for a couple more. He was the MVP this season and was probably a coin flip away from a Super Bowl appearance. And I hate to say it but with the way the Rams offense played had Mahomes and the Chiefs made it they would probably be Super Bowl champs right now.
It is unlikely that Mahomes repeats his MVP season but not out of the question of throwing 35+ touchdowns. Will he be able to lead the Chiefs to the promise land in 2019?
Top 100 NFL Players | 100-81 | 80-61 | 60-41 | 40-21
Questions and comments?
thescorecrowsports@gmail.com
Follow Us on Twitter @thescorecrow
Follow Us on Reddit at u/TheScorecrow
Follow Us on Facebook at The Scorecrow
Follow Us on Instagram at The Scorecrow
Follow Matt Woolsey on Twitter @AresgodFF
Main Credit Image: Embed from Getty Images