Matt Bishop | March 3rd, 2019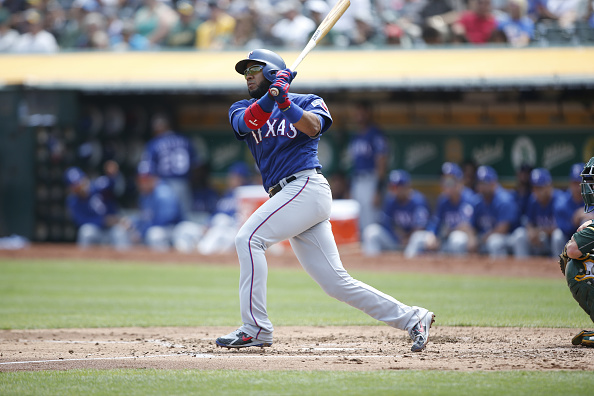 For the record, no one that I have shared this information with is buying it or believes there is any truth to it whatsoever. Let's throw out Elvis Andrus' 2018, which was cut short by an erratic pitch that broke his elbow and kept him out of action for 65 games. Let's not mention that he hit 6 home runs in only 428 plate appearances and before 2017, he had never hit more than 8 HRs, while averaging 650.4 plate appearances in the 8 seasons prior. We also won't talk about his career-low .256 batting average. But when you look at his recent profile, Elvis Andrus is a 20/20 Threat.  
ELVIS ANDRUS, SS TEX (ADP 183.5, #19 Shortstop Off the Board)
Elvis Andrus hit 20 home runs in 2017. In his entire 10-year big league career, all with the Texas Rangers, he had never hit more than 8 home runs. Also, in his 9 seasons prior to 2018, Andrus averaged 29.5 stolen bases per season. So how is a player that has never hit more than 8 HRs in a season going to hit 20+ HRs going forward? A swing change.
When I say recent profile, I am referring to an apparent swing change in 2015. The problem is I can't confirm an increase in exit velocity and launch angle prior because Statcast data was only introduced in 2015. But I can tell you his EV went up almost 2 MPH and his launch angle increased almost 1 degree from 2015 to 2018. You can also take a look at his barreled balls, which went up pretty significantly.
While I can't confirm the Launch Angle and Exit Velocity prior to 2015, I can show you a few other things. His flyball rate is up
almost 10% and now resides at 31%, when it never exceeded 23% in any season. His groundball rate is down below 50% when it never dipped below 55% at any time in his career. His hard contact has leveled off and now lives at his career high and further exceeded that by pushing past 30% in 2018. His change in hard contact also drastically inflated his pull percentage to a gaudy 42% and he has never come remotely close to that number in his career.
This change in approach resembles the profile of a power hitter. And like a power hitter, his plate discipline metrics have suffered. While he is hitting the ball harder and in the air more, his chase rate and swing rates have skyrocketed to career highs, while his contact rates have plummeted to new career lows.
I am in no way saying that Elvis Andrus is elite or even can be for that matter. I am simply saying that when a player goes from never hitting more than 8 home runs in a season to hitting 20 home runs in 2017, you should pay attention. Andrus has also stolen 21+ bases every season in his major league career, with the exception of 2018. He has also finished Top 10 in the league in caught stealing every year since 2010. While I understand this is not a positive stat, it shows intent and volume, while flashing another layer of upside. Elvis Andrus is currently going at pick 183 overall as the 19th shortstop off the board. With these added strides in his batted ball profile, he has the potential to crack the Top 10 at the position this season and add value in a category that he is normally not very productive in. You can do a lot worse at the shortstop position this season.
Questions and comments?
thescorecrowsports@gmail.com
Follow Us on Twitter @thescorecrow
Follow Us on Reddit at u/TheScorecrow
Follow Us on Facebook at The Scorecrow
Follow Us on Instagram at The Scorecrow
Follow Matt Bishop on Twitter @bishphat
Main Credit Image: Embed from Getty Images