Daniel Corrigan | March 3rd, 2019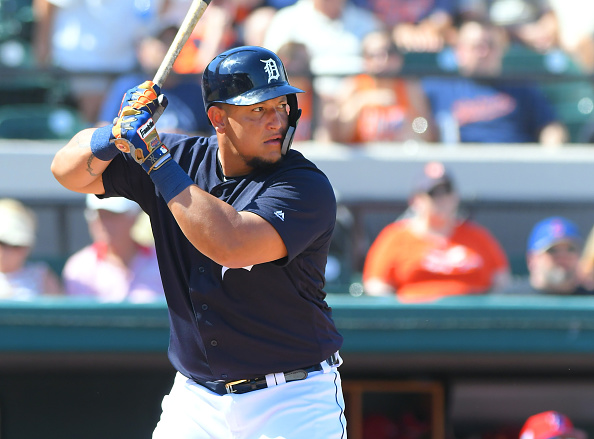 It's hard to believe that the Tigers had Miguel Cabrera, Prince Fielder, Justin Verlander, and Max Scherzer and never won a World Series. They never even won a World Series game (lost 4-0 to Giants in 2012.) Now, the Tigers are in a full rebuild. Cabrera is the only remaining star from those great teams and he is very quickly fading away. So what do they look like now? Let's dig into the 2019 Detroit Tigers.
2018 Season Review
The Tigers finished 3rd in the Al central last season. You may think this is not bad for a rebuilding team, but they went 64-98 in a very weak division. It was the first season back for former Twins manager Ron Gardenhire. I really liked this move for the Tigers. He had some great years with the Twins before those teams fell apart. They had some very notable names with Cabrera, James McCann, Jose Iglesias, Jordan Zimmermann, and Victor Martinez. They just didn't have a great team. They are a work in progress. I expect them to be sellers at the deadline as they have some talent that contending teams would love to have.
Roster Moves
There biggest (and really only) addition to the team is third-baseman Josh Harrison. Harrison had some good years with the Pirates but had a setback last year while only playing 97 games. Harrison is 31 years old and is not going to be a Tiger for long. Key losses would be from the retirements of Martinez and Jarrod Saltalamacchia. They also lost outfielder Leonys Martin (please get better) to a trade with the Cleveland Indians. Iglesias also left and signed a minor league deal with the Reds.
Infield
First things first, thank goodness they got rid of Iglesias. He just was not very good. But the Tigers have an interesting replacement in Ronny Rodriguez. He was great to start off last year but faltered in the summer. He is only 26 and has the perfect chance to snag the starting spot for years to come. McCann is the starter for now, but he has taken major steps back as he approaches 30 years-old. Candelario is the same story as Rodriguez. Started off great but slowed down during the summer. Last season, Candelario slashed .324/.399/.723. He is only 25, so he will also have his shot to become a staple in the Tigers rebuild. Cabrera is in the twilight of his career. He is still a feared bat, but he has nothing left to offer the Tigers other than being a fan-favorite. I wouldn't be surprised if he is moved sometime very soon. The Tigers may have a "fun" infield, but they won't contend with this group.
Outfield
In terms of their bench, they have quite a few young players that will get some reps. Jake Robson and Dustin Peterson are young and will see time this year in the outfield to see if there is any potential. In terms of their starters, they have some solid talent. Castellanos is in his final year of club control and will most likely be traded at the deadline to a contender. Jones is a decent defensive outfielder but is putrid at the plate. He's still young but he is skating on thin ice. He has yet to hit over .210 in his three years with the Tigers. Stewart only appeared in 17 games and had some decent success. He slashed .267/.375/.417/.792. Another young guy, he has the chance to cement himself as the Tigers premier outfielder.
Starters
Fulmer has been the guy ever since Verlander left. He has always been solid pushing toward good but has never really reached that point. He is far and away their best starter and I believe he will bounce back after a year where he went 10-10 with a 4.05 ERA. Zimmerman was once one of the better pitchers in the game. With age, he has slowed down very noticeably. He could be one of the guys traded to help a contender with depth. Boyd has had a rough start to his career but is steadily improving. He is 27 years old and has cut down his ERA by almost 3 whole runs. While his ERA still sits around 4.00, I think he will have a break-out year and push to become the Tigers ace in the near future. Moore was one of those pitchers who you thought would breakthrough…..but man has he fallen off. He had a horrible season last year. He went 3-8 with a 6.79 ERA in 102 IP. He is in his 30s now so he should soon fade away.
Bullpen
The Bullpen, in my opinion, is the weakest and has the most questions. The Closer will be Shane Greene. Greene had a rough year after a very solid 2017. The question with him is can he find the constancy to become the guy to close out the game. Jimenez is a very exciting arm for a young Tigers team. He is 23 and has a great fastball. He had some decent success in his first stint in the majors and I believe can become an all-star coming out of the pen. Hardy is 31 years old and not good, but not bad. Right now, he's just a body. VerHagen has had some bad years but took a major step forward last season. At only 26, he has a shot at being a great arm for the Tigers. Alcantara is another young guy who had a good rookie season. He is only 25 and with time to improve, he also has all-star potential. Stumpf is another inconsistent guy. That is the theme of this Tigers bullpen.
Prediction
I actually believe this team can shock some people. I think they can start out hot with a lot of young, exciting players. But I still firmly stand by my opinion that they will be sellers at the deadline. They have youth and they have veterans. Why not trade those veterans for more youth? I believe they will finish 3rd again with a 74-88. Not good, but a major improvement.
Check out our other Team Previews | Colorado Rockies | Toronto Blue Jays | Minnesota Twins | Atlanta Braves | Chicago Cubs | Tampa Bay Rays | Arizona Diamondbacks | Miami Marlins | Cincinnati Reds | Seattle Mariners | Texas Rangers |Los Angeles Dodgers | New York Yankees | Milwaukee Brewers | San Diego Padres
Questions and comments?
thescorecrowsports@gmail.com
Follow Us on Twitter @thescorecrow
Follow Us on Reddit at u/TheScorecrow
Follow Us on Facebook at The Scorecrow
Follow Us on Instagram at The Scorecrow
Follow Daniel Corrigan on Twitter @Corrigan_Tweets
Main Credit image: Embed from Getty Images