Mike Fanelli | March 2nd, 2019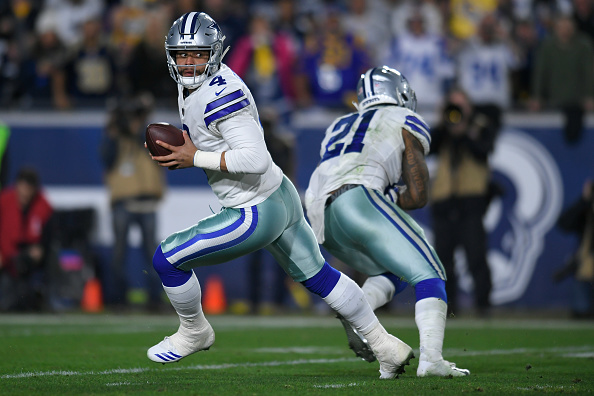 The 2018 season was like night and day for the Dallas Cowboys. After starting the season 3-4, the Cowboys traded for Oakland Raiders' wide receiver Amari Cooper and the whole season turned around. With Cooper on the roster, the Cowboys won seven of their last nine games and took home the NFC East title for the second time in three years. After winning their home playoff game against the Seattle Seahawks, 24-22, the Cowboys lost to the Los Angeles Rams 30-22 in the divisional round.
What Went Right:
Despite consistent doubt, Dak Prescott had a season that matched his tremendous rookie year. In both seasons, Prescott was selected to the Pro Bowl and had single-digit interceptions. Prescott threw for 22 or more touchdowns for the third straight season and despite taking a career-high 56 sacks behind a banged-up offensive line, he matched his career high of 68% completion rate. With a potential contract extension coming up, Prescott has put himself in a strong position.
Everyone can agree, Ezekiel Elliott is one of the best running backs in the league. This season, Elliott led the league in several rushing categories despite sitting out the season finale to rest. He had league highs 304 carries for 1,434 rushing yards and averaged just under 96 rushing yards per game. Elliott not only had a great season on the ground but he expanded his game. He posted career highs in every receiving category. Over his first two seasons combined he had 58 catches for 632 yards and three touchdowns. By comparison, this season he had 77 catches for 567 yards and three touchdowns.
Defensively, the Cowboys were one of the best teams in the league. The trio of Demarcus Lawrence, Jaylon Smith, and rookie Leighton Vander Esch was one of the best, if not the best, in the league. The trio combined for 325 tackles, 14.5 sacks, 23 tackles for loss and seven turnovers while all three played at least 72% of the snaps. Lawrence played the season on the franchise tag and Smith is eligible to sign a contract extension this offseason, while Vander Esch is under team control through the 2022 season.
What Went Wrong:
All-Pro center Travis Frederick missed the season with Guillain-Barre Syndrome, a rare neurological disorder. In addition, both right guard Zack Martin and left tackle Tyron Smith missed two and three games respectfully with injuries. Because of all the injuries, the offensive line was a mess all season long. Prescott was sacked 56 times; easily a career high. Some of those were because he held onto the ball too long and some were because of inconsistent offensive line play.
Head coach Jason Garrett made several questionable, at best, decisions this season. After the season, the Cowboys parted ways with offensive coordinator Scott Linehan and promoted quarterbacks coach Kellen Moore to offensive coordinator. Garrett has just one year left on his deal and the Cowboys don't seem interested in giving him an extension. Some believe this is to just keep the seat warm for Moore in 2020, while others believe the team wants to keep the pressure on Garrett in hopes it helps the Cowboys have a more successful season.
Outlook for the Offseason:
The offseason hasn't officially kicked off yet, but Randy Gregory has been suspended again. While the Cowboys have him under contract for next season, the team simply can't rely on him anymore. Suspensions aren't anything new for Gregory but the team had hoped he was past his issues and was able to stay on the field. Between this suspension and Lawrence's upcoming free agency, the defensive end has become a need for the Cowboys
#Cowboys pass-rusher Randy Gregory has been suspended indefinitely for violating the Policy and Program for Substances of Abuse and the terms of his conditional reinstatement. Big blow for Dallas.

— Ian Rapoport (@RapSheet) February 26, 2019
Last season, Lawrence played under the franchise tag, costing the Cowboys $17.1 million dollars. The team is expected to tag Lawrence again before the March 5th deadline while the work out a long term deal. Over the last two seasons, Lawrence has totaled 24.5 sacks. In addition to Lawrence, the Cowboys' other top free agents are David Irving and Cameron Fleming.
Irving has been suspended to start each of the last two seasons and has been suspended again for violating the NFL's substance abuse policy.  The Cowboys have some good pieces at defensive tackle and won't offer Irving a new deal. Fleming was a free agent signing last offseason and he played well when he had to start three games at left tackle when Tyron Smith was injured. The Cowboys need to have a swing tackle on the roster, especially with all their injury history. If the team doesn't resign Fleming, they will need to find a replacement.
David Irving of the Dallas Cowboys has been suspended indefinitely for violating the Policy and Program for Substances of Abuse, per the NFL.

— Adam Schefter (@AdamSchefter) March 1, 2019
Now in a totally out of left field move, former Cowboys' tight end and ESPN Monday Night Football broadcaster, Jason Witten, has decided to come out of retirement to sign a contract reportedly worth up to $5 million dollars. His decision to come back is surprising, but it shouldn't change the team's outlook this offseason. Who knows how much Witten has left in the tank and while the team should welcome him back with open arms, his game has probably taken a huge step downward.
Jason Witten has decided to end his retirement and return to the #DallasCowboys for what will be his 16th season.

Read more → https://t.co/FMCVCje25K pic.twitter.com/azFKYzn4SA

— Dallas Cowboys (@dallascowboys) February 28, 2019
According to over the cap, the Cowboys are projected to have about $47.9 million dollars in cap space before using the franchise tag or making cuts. Some players that could be at risk for being cut are Sean Lee ($7 million dollars saved), Allen Hurns ($5 million) and Jeff Heath ($2.5 million). Of the three, Heath has the best shot to return given his low cap savings while Lee seems like a lock and Hurns could be let go if the team adds a wide receiver in free agency.
With nearly $48 million dollars in cap space, the Cowboys aren't short on cap space but they have several players that are eligible for contract extensions this offseason. The team wants to get a few of these done before their market value picks up. Players that are eligible for an extension include…
Dak Prescott
Ezekiel Elliott
Amari Cooper
Jaylon Smith
Bryon Jones
All of these players are under contract through next season, while Elliott has a fifth-year option worth $9.2 million dollars for the 2020 season. Prescott seems like a lock to get a long term deal done, as does Cooper. The Cowboys may have to choose between Smith and Jones this offseason and use the franchise tag on the other next year if needed.
Between Lawrence's franchise tag, Prescott and Cooper's extensions, the Cowboys won't have a ton of cap space to sign free agents. However, the team has some holes that need to be filled prior to the draft and will have to fill them with cheap bargain contracts. Some options the Cowboys should take a look at including these players.
Cheap Bargain Values:
None of these names will make Cowboy fans rejoice but they all offer something critical to the team. In three seasons Elliott has had over 1,000 touches; averaging over 25 touches per game. The Cowboys need to lighten his workload if they are going to give him a second contract. Peterson is coming off a 1,000-yard season at 33 years old and has always wanted to play for the Cowboys. Adding Peterson would give the Cowboys a legit option to spell Elliott with. The Cowboys should also spend a day three pick on a running back to give them depth behind Elliott.
Cole Beasley's role with the team diminished after the Cooper trade. As a free agent, Beasley isn't expected to be resigned. If the team decides Hurns isn't worth his $6.3 million dollar price tag, they could look to add a veteran slot receiver. Cobb isn't expected to receive a contract offer from the Green Bay Packers and could be a cheap veteran option. Jordan Matthews had a solid 2018 season and if the Philadelphia Eagles are tight on cap space, they may have to let him walk.
Of the wide receiver options, Crabtree is the only outside guy. While the team will need to find a slot receiver, Cooper has experience lining up there and Crabtree would give Prescott another red zone target. Because Crabtree was released he wouldn't count against the Cowboys' 2020 compensatory picks (an added bonus) and might be willing to take a little less than market value since there is no state income tax in Texas.
If Cameron Fleming isn't resigned, adding Nsekhe from the division rival Washington Redskins would be a nice replacement. Much like the Cowboys, the Redskins' offensive line has struggled with injuries the past couple of seasons giving Nsekhe a chance to start. While there is a chance Nsekhe is offered a starting spot somewhere, if he isn't, signing with the Cowboys would be an excellent idea.
Because of the Randy Gregory suspension, the Cowboys will need to add a pass rusher at some point this offseason. The Cowboys could do this on day three of the draft but adding a veteran would be a wise move as well. Curry was released by the Tampa Bay Buccaneers a few weeks ago and wouldn't count against the Cowboys' 2020 compensatory picks. Wake is 37 years old and if the Dolphins decide to go younger at the position, he would be a nice veteran presence to the younger players like Taco Charlton and Dorance Armstrong while still producing on the field.
The safety position has been an issue for the Cowboys the past couple of years. Rumors of the Cowboys adding Earl Thomas have been going on for about a year. If the Cowboys do make an expensive free agent move, it would be to add Thomas. However, if his asking price becomes too much for the Cowboys, a cheaper option would be Quin. While he isn't the player Thomas is, he would be an upgrade over the current starters.
Because of the Cooper trade, the Cowboys don't have a first-round pick but will happily watch his highlights when the Raiders are on the clock at pick 27. Since the Cowboys only have two picks in the first three rounds, they will have to hit on both. However, over the past few years, the Cowboys have done a good job drafting and developing.
Cowboys Free Agents..

2019
Rod Smith
Beasley
DeMarcus Lawrence

2020
Dak
Amari
La'el Collins
Maliek Collins
Jaylon Smith
Anthony Brown
Byron Jones
Kavon Frazier

2021
Zeke
Awuzie
Jourdan Lewis
Xavier Woods

America's Team has drafted / developed extremely well recently

— Chad Forbes (@NFLDraftBites) February 26, 2019
Everyone wants to know what players the Cowboys should take with their picks, but I don't want to give player names because we still have a little under two months of evaluating to do before the draft. Also, free agency and trades will have an impact on how the team drafts so take these suggestions lightly.
Second Round (#58 overall): Tight End
Even with Witten returning, he will turn 37 years old in March. The Cowboys drafted Dalton Schultz in the fourth round last year and they have Jarwin but they need to bring in competition. This tight end class is too good not to grab one with this pick. Giving Prescott as many weapons as possible on cheap deals needs to be the Cowboys' mindset this offseason.
Third Round (#90 overall): Offensive Line
Injuries have been a problem for the offensive line for the past few seasons and the players are just getting older. Spending a second round pick on Conner Williams last year was a smart move, but it shouldn't be the only one. Between all the injuries and the lack of depth, the Cowboys need to draft at least one offensive lineman this year. Also, after quarterbacks, offensive lineman is the hardest position to find in free agency. It is better to draft and develop them than overspend for them on the free agency market.
2019 Expectations:
As long as Jerry Jones is the owner, the Cowboys will always have high expectations and that won't change in 2019. For Jones, it's Super Bowl or bust every season. More optimistic expectations for the 2019 Cowboys would be to reach the NFC Championship game. If they can reach the title game, it should be enough to get Garrett a new contract. However, if the team doesn't win the NFC East again and advance to the second round of the playoffs, the season would be a disappointment and should lead to Garrett being fired.
Check out our other Team Reviews: Atlanta Falcons | Minnesota Vikings | Washington Redskins | Miami Dolphins | Cincinnati Bengals | San Francisco 49ers | New York Jets | Denver Broncos | Indianapolis Colts | Oakland Raiders | Baltimore Ravens | Green Bay Packers | Tampa Bay Buccaneers | Detroit Lions | New York Giants | Cleveland Browns | Buffalo Bills | Pittsburgh Steelers| Arizona Cardinals | Los Angeles Rams | New England Patriots | Chicago Bears
Questions and comments?
thescorecrowsports@gmail.com
Follow Us on Twitter @thescorecrow
Follow Us on Reddit at u/TheScorecrow
Follow Us on Facebook at The Scorecrow
Follow Us on Instagram at The Scorecrow
Follow Mike Fanelli on Twitter @mikesports22
Main Credit Image: Embed from Getty Images