Dale Money | March 2nd, 2019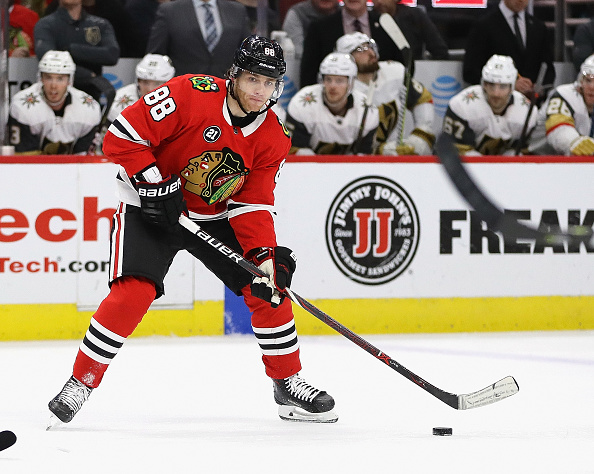 As we look towards the last leg of the regular season, the bottom four teams in the Central are within five points of each other and will no doubt be battling down to the very last couple of games, in an attempt to grab one of those highly coveted wildcard spots.
Nashville Predators
With such a busy trade deadline, the Predators weren't standing on ceremony, completing two pretty important trades, picking up both Mikael Granlund and Wayne Simmonds. In order to acquire Granlund, they would need to part with Kevin Fiala. Granlund has a lengthy track record as a productive NHL forward while Fiala likely has untapped potential remaining. In 63 games with the Wild, he has 15 goals and 49 points in 63 games. Granlund will play on Nashville's second line with Kyle Turris along with either Craig Smith or Calle Jarnkrok.
In the Predators' last move on deadline day, they acquired Simmonds from the Philadelphia Flyers in exchange for Ryan Hartman and a conditional 2020 fourth-round pick. The pick becomes a third-round selection if the Predators win a round in the 2019 Playoffs. What the Predators are getting in Simmonds, is a power forward who thrives in a net-front role, especially on the power play. He isn't the two-way player nor the possession driver he was in seasons past. In 62 games he has recorded 16 goals and 11 assists, including five goals and three assists on the man advantage.
It was in early February they made a trade for a pretty steady vet in Brian Boyle, in exchange, they offered the New Jersey Devils a second-round pick in this year's draft. Boyle had 13 goals and six assists, including six goals and two assists on the man advantage, in 47 games with the Devils prior to the trade. At 34 he isn't the player he once was but has fit in quite well with two goals, both at even strength, in 10 games. His ability to generate screens and create havoc as a net-front presence has been impactful as the Predators have been more of a threat to score on the power play since he joined the team than they had all season.
Winnipeg Jets
The Winnipeg Jets made the big move for a center at the NHL trade deadline, by bringing aboard former New York Rangers forward Kevin Hayes to the club, this shores up the weakness at second line center. The 26-year-old is trending for a career year in points while playing more minutes than he ever has before. He's likely to slide into the second line with Kyle Connor and Nikolaj Ehlers. Giving up a first round pick to make the trade for Hayes, the Jets are all in for a serious Cup run.
Patrik Laine finally broke out of his big slump on February 22, having not scored a goal for Winnipeg in 15 games. Laine contributed a pair of power-play goals and Connor Hellebuyck made 31 saves to lead Winnipeg to a 6-3 win over the Vegas Golden Knights, Connor Hellebuyck has given up 10 goals during his past two starts and is looking to play his best hockey as the final quarter of the season begins.
The Jets were given a shot in the arm from a host of new arrivals, but they'll also be without a top-pairing defender until April.  Losing Josh Morrissey to what is being described as an upper-body injury. This will certainly hurt the team, however, thankfully for the Jets, Kevin Cheveldayoff was able to add the depth to Winnipeg's blue line ahead of Tuesday's deadline, picking up Nathan Beaulieu and Bogdan Kiselevich. Beaulieu will look to fill that big hole left by him, stepping onto the top pairing with Jacob Trouba.
St Lous Blues
The Blues were pretty quiet at the deadline, only trading away a 6th round pick for a defensive journeyman, Michael Del Zotto. In 35 games, he has one goal and six assists for seven points. The move does not compete with any of these in terms of an impact addition, but perhaps it reveals what the Blues think of their team.  It is a good depth move for the Blues, especially with the injury to defenceman Carl Gunnarsson.
The Blues are looking forward to the healthy return of David Perron and Brayden Schenn. With a fully healthy lineup minus Gunnarsson, they should be ready for a playoff run. Thanks to solid goaltending from rookie Jordan Binnington, and an improved defensive system, they certainly look to be blooming at the right time. Binnington made his first NHL start on Jan. 7, posting fantastic numbers, including a goal against average of 1.45, save percentage of 945, as well as recording 4 of his 5 shutouts. He looks to have cemented his status as the starting goaltender going forward, overtaking longtime starter Jake Allen. It would seem the writing is on the wall for Allen's tenure in a Blue's jersey, having lost the job so promptly, you can only have so many second chances.
Vladimir Tarasenko not to be outdone played a big role also in the Blue's massive turnaround, recovering from an offseason shoulder surgery, he looked to not be fully recovered at times in the early part of the season. Tarasenko currently has 27 goals and 27 assists in 63 games played. Ryan O'Reilly's showing as the number one center for the Blues has provided Vladimir Tarasenko with the offensive threat to partner up with that makes their line one of the most dynamic in the league.
One of the hottest teams in the NHL since the new year, the Blues went 13-1-1 in the month of February, which started off with a ten game win streak. They are currently only 5 points behind division-leading Nashville in the Central, with three games in hand, there is now a real opportunity to capture the division, something that would have sounded very unrealistic, a number of weeks ago.
Dallas Stars
In a trade that was meant to be a huge boost towards tipping the scales in their favor when it comes to getting a playoff seed, having acquired Forward Mats Zuccarello, from the Rangers before the deadline, it, however, turned into a very unfortunate turn of events. Two periods into his first game, he broke his arm blocking a shot, he did play well prior to that, recording both a goal and an assist in a winning effort. Zuccarello is out at least four weeks, so if they can get into the playoffs, he should be ready to go by then.
It isn't all doom and gloom, owning one of the best defensive clubs in the Western Conference, they are allowing a leagues third best 2.61 goals-against per game. They also have a goaltender in Ben Bishop, who has become the Stars' security blanket. He's there to clean up mistakes, to stone opponents, and, ultimately, to keep the Stars in games. He's been part of the strength of the Stars this season, and the team will need him more than ever down the stretch.
Tyler Seguin and Alexander Radulov make up a great 1-2 punch on the first line, combining for 110 points. Rookie Roope Hintz, has been solid joining Seguin and Radulov on the first line, Hintz has scored in consecutive games, registering eight shots on goal in that two-game span, which includes scoring the game-winner against the lowly Los Angeles Kings on Thursday. Its anyone's guess if he can keep this up, but it's certainly something to keep an eye on.
With only five games left against playoff opponents, it is a rather soft schedule for the team down the stretch, which bodes well if they can take advantage of it. They have a game left against both Chicago and Minnesota, as well as two home games versus Colorado, those could go a long way toward deciding their playoff hopes.
Minnesota Wild
GM Paul Fenton was quite busy at the deadline, among his trades, dealing two of the Wild mainstays. Gone are Charlie Coyle and Mikael Granlund, two 26-or-under players once believed to be an important part of the future core. By swapping out Granlund for Kevin Fiala, Fenton is betting on a player he believed in when he helped draft him in Nashville.
Devan Dubnyk stopped 30 of 32 shots in Tuesday's 3-2 come from behind win over the Jets, he would need for Jason Zucker and Eriksson Ek to come through for him in the last two minutes, they scored 26 seconds apart. Dubnyk is getting hot at the right time to keep pace in the Central Division, as he has allowed just six goals over the last four games for a .951 save percentage.
Zach Parise leads the team in scoring, with 54 points in 63 games. Parise suffered a foot injury while blocking a Jacob Trouba shot early in Tuesday's 3-2 victory in Winnipeg, but it only appears to be minor, which should be music to the team's ears. Given that Minnesota's in such a tight spot, hovering between a playoff seed and being out of the top eight in the Western Conference. The Wild are gonna need all the scoring they can muster, as we inch closer to the playoffs, they are currently 26th in goals per game.
They are still in control of a post-season spot, tied with Colorado for eighth place with one game in hand. As well as having a stretch where they play six straight games against top-tier teams, including the Lightning. They may have the toughest road forward, with a real rough slate in the final three games leading up to the playoffs, they will be going head to head with the Jets, Bruins, and Stars.
Colorado Avalanche
Derick Brassard could help shore up the middle six, hopefully boosting the club's mediocre secondary production. They will have a harder road than some of the bubble teams, with a total of 6 games remaining against playoff teams and still needing to play 6 more road games this season. The Avalanche have three lines who are capable of scoring, players like Nathan MacKinnon, Mikko Rantanen, Gabriel Landeskog, and Alexander Kerfoot have all been nice contributors. On pace to break the 100-point mark for the first time in his career, MacKinnon is a big reason why the Avs have been able to turn the season around and make a push towards a playoff spot. With 81 points in 64 games, he also leads the league in shots on goal with 282.
Chicago Blackhawks
Many might have expected the Hawks to call it a season, after starting goaltender Corey Crawford went down in mid-December to a head injury. It was their rookie goaltender, Colin Delia that stepped up in a huge way, Delia won his first three starts, including two road games against the Avalanche, finishing up with a 6-4-3 record and .909 save percentage, before being sent back to the minors. It afforded the team time to hang around in the hunt and gave Crawford the time he needed to get himself better.
They finally were able to get him off injured reserve Monday.  He returned on Wednesday, making 29 saves on 32 shots, winning a come from behind 4-3 victory, Patrick Kane scored the game-winner with 16.1 seconds remaining to seal it. It was Kane's 40th goal of the year. After another superb month, in which he was named the NHL's second star of February, he put together 23 points in 13 games, helping get the Blackhawks to a 9-4-0 record and back into the Western Conference wild-card race. Going into March, Kane ranks second in points, second in goals, and third in game-winning goals.
Did two big Central Division losses directly prevent the Blackhawks from making bigger moves at the deadline? I expect GM Stan Bowman is viewing this season as one of transition, when you take into consideration the number of prospects they've lost in deadline deals, in order to get veteran players they thought could get them further in the playoffs, who in the end really didn't do much. The Blackhawks find themselves in the hunt for a wild card spot as the NHL season heads to its final stretch. They have fought hard to get to this point, and are now 5 points behind the Minnesota Wild for the second wild-card spot. Their next game will be on Saturday afternoon against the last-place Los Angeles Kings.
Take a look at the Atlantic Division Review also
Questions and comments?
thescorecrowsports@gmail.com
Follow Us on Twitter @thescorecrow
Follow Us on Reddit at u/TheScorecrow
Follow Us on Facebook at The Scorecrow
Follow Us on Instagram at The Scorecrow
Follow Dale Money on Twitter @packerd_00
Main Credit Image: Embed from Getty Images