Givanni Damico | March 2nd, 2019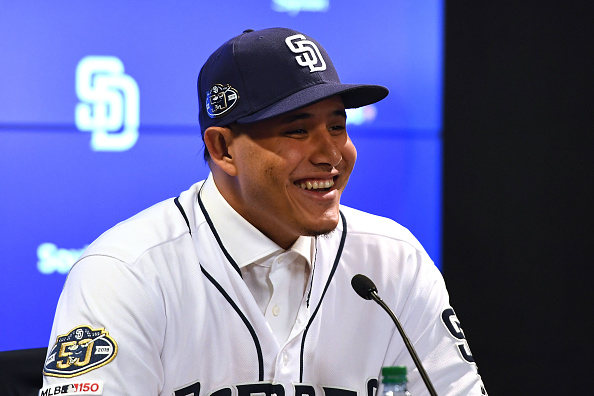 The San Diego Padres made a big splash when they signed Manny Machado. They have some top-notch prospects coming, but will it be enough to push for a spot in the postseason?
Recap: 66-96 (Last in NL West) Missed Playoffs
The season was already off to a bad start when the "ace" of their rotation, Dinelson Lamet, went down before the season had begun and opted for Tommy John surgery. This effectively ended his season. In 2017, Lamet went 7-8 with a 4.57 ERA, striking out 11 batters per nine innings and walking four per nine. These stats aren't great by any means, but for such a bad rotation, he would've made a difference. Let's talk about the Padres rotation last year. It was absolutely atrocious. As a team, their rotation had the worst ERA in the NL. Clayton Richard made the most start for the Friars in 2018, and he was the worst in the rotation. I honestly don't know what the Padres saw in him. I knew, as a fan of baseball, that this man did not deserve to be pitching in a Major League rotation, let alone being the so-called "ace" of this rotation. The 34-year old went 7-11 with a 5.33 ERA. He only struck out six batters per nine innings while walking three. He also got smoked for nine hits per nine innings. There was no good stat for Clayton Richard last year. Making the second-most starts, and the guy with the most promise in the rotation was 25-year old Joey Lucchesi. Lucchesi pitched to an 8-9 record with a 4.08 ERA. He struck out 10 guys per nine while walking three. He gave up too many long-balls last year, getting rocked for 1.6 of them per nine. Lucchesi will headline this year's rotation to start the year. Tyson Ross went 6-9 with a 4.45 ERA and walked four batters per nine innings while only striking out eight. Eric Lauer got rocked for 10 hits per nine during his 2018 campaign. He finished 6-7 with a 4.34 ERA. Finally, Bryan Mitchell was arguably worse than Clayton Richard. He finished 2-4 with a 5.42 ERA. He had an embarrassing K/9 line with just 4.7 strikeouts per nine while walking 5.3 batters per nine. Straight up, embarrassing. Robbie Erlin and Luis Perdomo also made some starts, but neither were successful.
I think it's important to note that the highest WAR on the team was 2.4 from Hunter Renfroe. The hitting was just as bad as the pitching for the Padres. Only four players who played regularly hit over .250. These players are Eric Hosmer, Travis Jankowski, Wil Myers, and Franmil Reyes. There's not much to talk about with anyone in the lineup. Franmil Reyes is one of my favorite players in the entire league. He is someone who hits both for average and for power, and he is only 23 years old. Eric Hosmer will bounce back from his slouch of a season in which he only hit .253, his lowest average since 2012.
The bullpen was actually really good for the Padres. They lost their closer, Brad Hand, as well as one of their better set-up men, Adam Cimber in a trade to the Indians at the deadline. Once Hand left, Kirby Yates took over as their closer and was very successful. He finished the season with a 5-3 record, a 2.14 ERA, and struck out 13 batters per nine innings. Yates made 12 saves in 13 opportunities. Matt Strahm was good too, going 3-4 with a 2.05 ERA and striking out 10 guys per nine.
Overall, it was a lackluster season all-around for the Padres.
Key Additions:
Manny Machado, 3B (2018 w/ BAL & LAD): .297 BA, 37 HR, 107 RBI, .367 OBP, .538 SLG, .905 OPS, 5.7 WAR
This was the most recent, and the biggest splash for the Padres in free agency. They inked Machado to a 10-year, $300 million contract, locking him up until he's 36. Machado tore it up in Baltimore before being traded and still made his mark in Los Angeles, helping them to a World Series appearance. Baseball fans were beyond frustrated with how long Machado was taking to sign. His name was linked to many other teams, including the Yankees, White Sox, Phillies, and Brewers. The Padres offered the most money and security, and he jumped on the offer. Machado has hit 30-plus home runs in each of his last four seasons. The Padres didn't have much power last year, as Hunter Renfroe led them in long balls with 26. Padres' fans should be excited for this season as well as their future.
Garrett Richards, SP (2018 w/ LAA): 5-4, 3.66 ERA, 87 SO, 34 BB, 1.284 WHIP, 0.1 WAR
Richards has been riddled with injuries over the last three seasons, making just 28 starts over these seasons. Before I continue, it's important to note that Richards will miss the entire 2019 campaign. Yeah, he's injured again. This isn't a key addition for this season, but for the next couple after that if he can stay healthy and pitch well. He had a rough first three years from 2011-2013, posting an ERA over 4.00 in each of those years, but he has shown improvement since then. His best season came in 2014 when he went 13-4 with a 2.61 ERA and struck out nine batters per nine innings. Richards was solid last year (when he played), but his problem was his control. He walked an average of four batters per nine innings. Richards will be 31 in May, but there's still promise for his career in the 2020 season. If he makes a good recovery during the season, we will see how dominant he can be once he's finally healthy.
Ian Kinsler, 2B (2018 w/ BOS): .240 BA, 14 HR, 48 RBI, .301 OBP, .380 SLG, .681 OPS, 2.4 WAR
Kinsler will start at second base for the Padres this year after another Gold Glove year for the Red Sox last year. As he continues to get older, he is becoming less effective at the plate, but he's still a solid option. This isn't a "power move" for the Padres, as I believe that by August, he won't be the starter anymore. I'd honestly like to see Fernando Tatis start the season at shortstop and Luis Urias start at second.
Key Subtractions:
Freddy Galvis, SS (2018 w/ SDP): .248 BA, 13 HR, 67 RBI, .299 OBP, .380 SLG, .680 OPS, 2.3 WAR
Despite his mediocre numbers, Galvis was actually one of the best hitters on the Friars last year. He played all 162 games and was a really solid shortstop. He didn't walk much, so his ability to get on base was questionable, but he's a switch hitter which is always valuable. Looking ahead, this loss won't affect the Padres too much, but it's still a minor blow.
Christian Villanueva, 3B (2018 w/ SDP): .236 BA, 20 HR, 46 RBI, .299 OBP, .450 SLG, .750 OPS, 1.8 WAR
Villanueva isn't even in the MLB anymore. He left the Majors to go play in Japan after the Padres DFA'd him following last season. I think this was a mistake because, despite just a .236 batting average, Villanueva was top-five on the Padres in WAR. His power numbers were better than almost anyone on the team. The problem with Villanueva is that he couldn't hit right-handed pitching, slashing .189/.225/.319 against righties. He also struck out 27.1% of the time he was at the plate. These numbers didn't bode well with the Padres. In my opinion, he could have, at the very least, been a guy to throw in when a southpaw is starting or to use as a pinch hitter. I didn't really understand this move. Once again, this isn't a move that will affect the franchise in the long run, especially since adding Machado.
Strengths:
Youth
This team has easily the best farm system in the MLB. They have 10 prospects on the MLB Pipeline top 100 list, seven of them being pitchers. Pitching is obviously the weakest part of this team, and they have guys like MacKenzie Gore, Adrian Morejon, Logan Allen, Michael Baez, and Chris Paddack. Not only do they have pitching, but they also have Fernando Tatis Jr., Luis Urias, Francisco Mejia, Buddy Reed, and Josh Naylor for future position players. Urias and Mejia will probably make the Opening Day roster. In the next 5-10 years, this team should be dominating the National League and hopefully on their way to a World Series ring or two. The Padres haven't been to the playoffs since 2006, so this is something that fans have been looking forward to for a long time. For more on the Padres' farm system, check out my article on the Padres' top five prospects by clicking on the link at the bottom of the article. Not only do they have a good farm system, but they also have nice young players like Franmil Reyes. As I said earlier, Reyes can hit for both average and power. He's only 23 and should be a member of this team for a long time. Unfortunately, Hunter Renfroe will most likely start over Reyes this season. It's a make or break season for Hunter Renfroe. He's 26, a bust so far, and he needs to hit 35 home runs this year. I doubt he hits above .260, so he needs to make an impact with the home run numbers.
Infield
The Padres are set with a really nice infield. At third is Manny Machado, who was obviously the Padres' big addition this offseason. Machado is still young and he is an MVP-caliber player. He hits for a good average consistently and is a 35-40 home run hitter. At shortstop (for now) is Luis Urias. I say for now because once Fernando Tatis is called up, Urias will shift back to his natural position at second base. Urias isn't a power threat, but he's one of the best pure hitters on the team. He has the potential to hit .300 with 15 home runs and to steal some bases. He's not quite a five-tool player, but he has All-Star potential. His play style is becoming a lost art in the game of baseball. Everyone is so worried about power and launch angle, that people like him aren't appreciated. At second base (also for now) is Ian Kinsler. Kinsler is a solid piece to have until Tatis is ready to come up. He should get the job done in the field and shouldn't be a liability at the plate. Once Tatis is called up, Kinsler will be relegated to a bench role where he will still be effective. Finally, at first is Eric Hosmer, who was last year's free agency splash. He was kind of a disappointment only hitting .253 with 18 home runs last year, but I definitely think he will heat up again this year. He should hit near .280 with at least 20 home runs. He's a Gold Glove winner at first base, so fielding isn't an issue as it is for many first basemen. This is an infield that should have success for years to come
Weaknesses:
Starting Rotation
The Padres are heading into 2019 with Joey Lucchesi headlining the starting rotation. I'm not knocking Lucchesi, but he's not your ideal "ace" of the rotation. The fact that Bryan Mitchell is still in the starting rotation, according to the Padres' depth chart, is terrible. He was an embarrassment last season. He walked more guys than he struck out and got absolutely rocked. He had a terrible ERA and has never been good, even for the Yankees. Mitchell shouldn't even be on a Major League team after last year, which shows how weak the rotation truly is. Their rotation is set for the future, but for the present, it might be a struggle. Jacob Nix is also listed as a starter. Last year he went 2-5 with a 7.02 ERA. I'm a bit more flexible with Nix since he is only 23, but most teams don't have to even think about starting someone like this. Eric Lauer is back for another year. He wasn't the worst pitcher in the rotation last year, but once again, should probably be a long reliever or in the minors. Robbie Erlin is also a starter, and he also had an ERA above 4.00 last year. Overall, this is a bottom-three rotation in baseball.
Infield Projections:
1B – Eric Hosmer
2B – Ian Kinsler, Greg Garcia
3B – Manny Machado, Ty France
SS – Luis Urias
Note:
Ty France is a very underrated player. He hit 22 home runs while hitting .267 in the minors last year. He should see a decent amount of at-bats.
Outfield Projections:
LF – Wil Myers, Franchy Cordero
CF – Manuel Margot, Travis Jankowski
RF – Hunter Renfroe, Franmil Reyes
Note:
Once again, I really like Franmil Reyes. At the first sight of Renfroe struggling, I'd give Reyes the starting job. Franchy Cordero also has a decent amount of power as well as speed. Both of these guys are solid players. Travis Jankowski is really fast and a good utility guy in the outfield.
Starting Rotation Projections:
Joey Lucchesi
Robbie Erlin
Eric Lauer
Jacob Nix
Bryan Mitchell
Atrocious. I'd call Cal Quantrill up to replace Mitchell.
Bullpen Projections:
Aaron Loup (ew)
Matt Strahm
Luis Perdomo
Phil Maton
Trey Wingenter
Craig Stammen
Kirby Yates
Prediction: 3rd in NL West, miss playoffs
This team will be a playoff team in a year or two, but not with this rotation. Pitching is so important and their rotation is just too bad to lead them to the playoffs. I think Machado will finish top five in MVP voting this year, making his mark on the Padres. I also think that Luis Urias will hit at least .290 with 10 home runs. Like many NFL fans were cheering for the Browns, I'll be cheering for the Padres because I just feel bad for the fans. Twelve years without a playoff appearance is a long time (I'd know as a Buffalo Bills fan) and it's just agonizing to be bad year after year. They'll win more games this year than they did last year, maybe even finishing with a winning record, but they won't be in the playoffs.
Check out our other Team Previews | Colorado Rockies | Toronto Blue Jays | Minnesota Twins | Atlanta Braves | Chicago Cubs | Tampa Bay Rays | Arizona Diamondbacks | Miami Marlins | Cincinnati Reds | Seattle Mariners | Texas Rangers |Los Angeles Dodgers | New York Yankees | Milwaukee Brewers
Questions and comments?
thescorecrowsports@gmail.com
Follow Us on Twitter @thescorecrow
Follow Us on Reddit at u/TheScorecrow
Follow Us on Facebook at The Scorecrow
Follow Us on Instagram at The Scorecrow
Follow Givanni Damico on Twitter @giodamico15
Main Credit Image: Embed from Getty Images