Givanni Damico | February 28th, 2019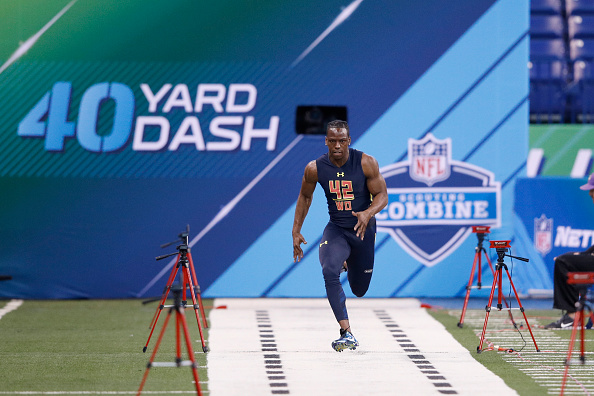 As we approach the 2019 NFL Scouting Combine, many people are enthralled in the top 40-yard dash times. I'm here to tell you not to be deceived by the top 40 times. When it comes to players who ran the fastest 40-yard dash in Combine history, many of them had unsuccessful careers. We're going to take a look at the top 10 fastest 40-yard dash times in Combine history.
#10 Jacoby Ford (Clemson) 4.28 seconds
Ford was taken in the fourth round of the 2010 draft by the Oakland Raiders. Throughout his career, Ford was used primarily as a kick returner and a punt returner. As a fourth-round pick, Ford isn't considered as a bust, just proof that speed is overrated. In his rookie year, Ford was targeted 54 times and only came down with 25 catches for 470 yards and two touchdowns. He also totaled 155 rushing yards and two rushing touchdowns. He also had 1280 kick return yards and three kick return touchdowns in his rookie year. He fumbled a total of three times too. His second year was less productive across the board. He had 279 receiving yards and one touchdown as well as one kick return touchdown. He didn't play at all in 2012, then returned in 2013 and only recorded 99 receiving yards. Jacoby Ford never had good hands and didn't have the skill to be a wide receiver at the professional level, but I think he could have stayed in the league as a kick returner. He should have been a Pro-Bowler in his rookie year just because of his three kick return touchdowns, and overall was a very successful returner. When drafting Ford though, the Raiders wanted more than just a kick returner.
#9 JJ Nelson (UAB) 4.28 seconds
Nelson was selected in the fifth round of the 2015 draft by the Arizona Cardinals. Nelson wasn't great in college, never totaling over 800 yards. This was the main reason he was taken so late because he showed out at the combine. At the NFL level, he has played four seasons with the Cardinals. In those four seasons, he's totaled 81 catches for 1439 yards and 10 touchdowns. He was seldom used as a return man, and when he was, he was unsuccessful. He's still in the league, currently a free agent. He'll likely be signed as a depth signing by someone. I want to reiterate that these guys aren't busts because they weren't first round picks (most of them). They show that speed doesn't mean everything and that drafting based off speed alone is a bad idea that rarely results in successful football players.
#8 Jalen Myrick (Minnesota) 4.28 seconds
Myrick wasn't much of a show out in his time at Minnesota. In fact, I believe that if it weren't for his combine performance, he wouldn't have been drafted. He was taken very late in the seventh round by the Jacksonville Jaguars. The Jaguars have used him strictly on the practice squad, and he only has one tackle and one kick return for 18 yards in his career. He didn't play last year. It looks like Myrick's career may have already come to an end, but he's another player who's speed didn't elevate him to the ability to start.
#7 Marquise Goodwin (Texas) 4.27 seconds
Marquise Goodwin will probably be the most (or second-most) successful player to make this list. He was drafted by the Buffalo Bills in the third round of the 2013 draft. In his time with Buffalo, he came down with 49 catches for 780 yards and six touchdowns over four years. These stats are by no means eye-catching, especially over a four-year period, but out of all the people listed thus far, Goodwin has made the biggest impact. In his two seasons with the San Francisco 49ers, Goodwin had 79 catches for 1357 yards and six touchdowns. These are solid numbers, especially considering he missed five games. Goodwin has lost two children, one of them in the womb, over the last two seasons, so I have a tremendous amount of respect for him as he perseveres through these hard times. This list isn't just highlighting unsuccessful players, it's just highlighting the fastest players and how drafting by speed doesn't work out 80 percent of the time.
#6 Tyrone Calico (Middle Tennessee) 4.27 seconds
Calico is more of a bust than the rest of these guys. He was taken in the second round of the 2003 draft by the Tennessee Titans. He only started two games in his rookie year and caught 18 passes (43 targets) for 297 yards and four touchdowns. He only played one game in 2004 and had two catches for 13 yards. 2005 was the last year of Calico's short career in which he caught 22 passes for 191 yards and no touchdowns. Calico was underwhelming in college at Middle Tennessee, never breaking 800 yards in four straight years of starting. Calico was never used as a return man either, so it was a waste of a pick by the Titans.
#5 Stanford Routt (Houston) 4.27 seconds
Routt was taken in the second round of the 2005 draft by the Oakland Raiders where he played seven seasons. Routt had a pretty solid career with Oakland. He started two years at Houston where he brought in six interceptions. He was a ball hawk in the NFL as well, recording 12 interceptions in his eight-year career, to go along with 258 tackles and 55 passes deflected. He was never a Pro-Bowler, but for a second-round pick, he paid off as a solid player. He was always good in man coverage, while zone coverage was a whole other story. His career was filled with inconsistencies, but he most certainly wasn't a bust.
#4 Jerome Mathis (Hampton) 4.26 seconds
The Houston Texans brought in Mathis with a fourth-round pick in the 2005 NFL draft. Mathis only played three seasons in the NFL, almost exclusively as a kick returner. He was actually a Pro-Bowler and First-Team All-Pro in his rookie season as a return man. He had 1542 kick return yards and two touchdowns including a long of 99 yards. Unfortunately, Mathis suffered a fractured foot during the Pro Bowl. This injury wouldn't be discovered until OTA's and he was originally expected to miss four months, but he missed six. He was then placed on Injured Reserve. He only played three games in the 2007 season in which he returned one kick for a touchdown before going back on Injured Reserve. Once he was a restricted free agent, the Texans declined to give him a contract, as did every other team in the league. This is one of the saddest stories (besides Marquise Goodwin) on this list because Mathis had serious potential to be a fantastic kick returner, but injuries stalled his career.
#3 Dri Archer (Kent State) 4.26 seconds
Archer was highly touted as one of the fastest players of all time after tying Jerome Mathis' time for the second-fastest 40-yard dash of all time (at the time). He was taken in the third round by the Pittsburgh Steelers in 2014. He never really got his chance with Pittsburgh. They seldom used him as a return man in which he struggled to get much going. He only had 10 carries in his two-year career for 40 yards and seven catches for 23 yards. I think if Archer was given more snaps, he could have been a semi-successful running back. Kick returns didn't seem to be his game in the NFL as he averaged just 22.4 yards per return in his career. Archer had a great junior year at Kent State in 2012 in which he ran for 1429 yards and 16 touchdowns while also catching 39 passes for 561 yards and four touchdowns. I think that if he declared after his junior year, he would have been drafted higher and maybe been given a chance at a starting job somewhere. When he returned for his senior season, he played in four fewer games but only ran for 527 yards and six touchdowns and caught 25 passes for 327 yards and four touchdowns. This lowered his stock. He was used as a kick returner in college as well, in which he recorded four kick return touchdowns, three of them during his junior year. I think that his career could have gone in a totally different direction had he declared after his junior year.
#2 Chris Johnson (East Carolina) 4.24 seconds
Johnson had a fantastic senior season for the Pirates. He had 1423 rushing yards and 17 rushing touchdowns while catching 37 passes for 528 yards and six touchdowns. He also had 1009 kick return yards and a return touchdown in his senior season. The Tennessee Titans selected Johnson with the 24th overall pick in the first round of the 2008 NFL draft. Johnson was an animal for the first six years of his career, all with the Titans. He had six straight 1000 yard seasons, while in 2009 he ran for 2006 yards and 14 touchdowns, earning First-Team All-Pro honors. From that point on, he was widely regarded as "CJ2K". He also had 500 receiving yards that season. In his 10 years in the NFL, Johnson had 9651 rushing yards with 55 rushing touchdowns. He also had 2255 receiving yards with nine receiving touchdowns. A majority of these stats were in his six seasons with the Tennessee Titans. After he was released in April of 2014, Johnson joined the Jets on a three-year deal but failed to reach 1000 yards, only rushing for 663 yards and one touchdown. The Jets declined Johnson's second-year option, making him a free agent. He signed with the Arizona Cardinals. In 2015, Johnson was having a great year with 814 rushing yards through 11 weeks, but he broke his tibia and was put on Injured Reserve. The Cardinals brought him back for two more years, but he didn't start and struggled to be productive. David Johnson emerged as a star, so Johnson's role was limited. In November of 2018, Johnson announced his retirement. Johnson had a fantastic career, especially the first six years with the Titans. Johnson will forever go down as "CJ2K" and will be an important piece of football history.
#1 John Ross (Washington) 4.22 seconds
Everyone was all over John Ross after he broke Chris Johnson's 40-yard dash record. His junior season at Washington was impressive, as he recorded 1150 receiving yards and 17 receiving touchdowns. He also had four kick return touchdowns in his time at Washington. He decided to forego his senior season and enter the draft. He didn't make it far into his rookie campaign before he was hit with knee injuries and shoulder injuries that put him on the Injured Reserve list. He only had one touch in his rookie season which was a carry that went for 12 yards, but he, unfortunately, fumbled the ball and was benched. Marvin Lewis at his finest. He only had 210 yards and seven touchdowns in his second year. He was targeted 58 times and only came down with 21 catches. Ross is looking like a bust at this point. The Bengals are currently shopping him for trade, but I think the new coaching staff should give him one more shot. The most they could get at this point is a fourth or fifth-round pick, and his value will be just the same next year if he fails to produce this season. Ross is someone who could be a great player but has already been hindered because of injury.
This begs the question: Will anyone break John Ross' record in 2019?
As I said, speed doesn't mean as much as people think, but it's always fun to see if someone can break the record. The only person who has a chance, in my opinion, is UMass wide receiver, Andy Isabella. He proclaimed that he could run a 4.26, so I doubt he beats Ross as this is probably a stretch, but who knows? Isabella had 1698 yards and 13 receiving touchdowns this year for UMass. It was an immaculate campaign for Isabella, but he still probably goes in the mid-rounds.
For those wondering, Tyreek Hill did not receive a combine invite.
Questions and comments?
thescorecrowsports@gmail.com
Follow Us on Twitter @thescorecrow
Follow Us on Reddit at u/TheScorecrow
Follow Us on Facebook at The Scorecrow
Follow Us on Instagram at The Scorecrow
Follow Givanni Damico on Twitter @giodamico15
Main Credit Image: Embed from Getty Images