Joey Ricotta | February 26th, 2019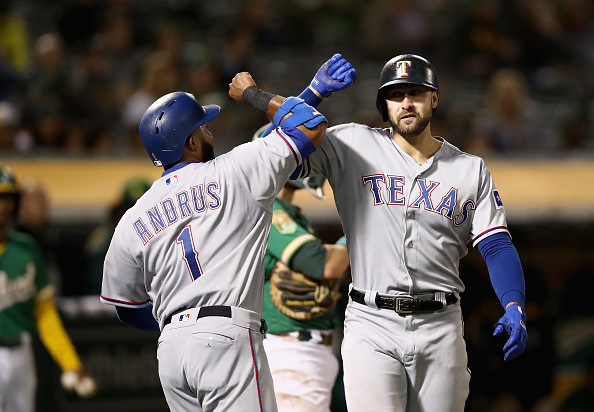 Getting ready to unveil a new stadium with a retractable roof to open the 2020 season, the Rangers are hoping they can close the book on their current one in winning fashion. The Rangers have hired former Major League infielder, Chris Woodward to be the teams' new manager. Let's take a look at what to expect from Woodward's 2019 Texas Rangers.
Last Season: 67-95 5th in the AL West
2018 was a disaster for the Rangers. They finished dead last in their division. Pitching and defense were the main reasons why. They had the fewest amount of strikeouts in the majors, the third highest staff ERA, and the third most home runs allowed. Combine all of that with the third most errors on defense and it becomes virtually impossible to have a winning record. Rangers fans were hoping for so much more in what became Adrian Beltre's final season.
Key Additions
RHP, Jesse Chavez, 3B Asdrubal Cabrera, RHP Shawn Kelley, 3B/1B Patrick Wisdom, 3B/1B Matt Davidson, OF Hunter Pence, C Jeff Mathis, RHP Shelby Miller, LHP Drew Smyly
Key Departures
3B Adrian Beltre, SS Jurickson Profar, C Robinson Chirinos, RHP, Doug Fister, RHP Tony Barnette, RHP Bartolo Colon, LHP Martin Perez, LHP Matt Moore, LHP Alex Claudio,
Is there even an argument to be made that Beltre isn't a lock to be a future first ballot Hall of Famer? The 39-year old announced his retirement in the off-season after an amazing 21-season career. Beltre goes down in history as one of the greatest to ever do it at the hot corner. He finishes his career with a lifetime 95.7 WAR, 3,166 hits (leads all third basemen), 477 home runs, 1,707 RBI (leads all third basemen), and a 115 wRC+. Beltre had a career slash line of .286/339/480. He also was a four-time Silver Slugger winner, won five gold gloves and two platinum gloves. It's extremely difficult to replace a player of his caliber. But at this stage of his career, the Rangers organization has to be feeling okay with his decision to walk away from the game.
Catcher Projections
Jeff Mathis/Isiah Kiner-Falefa
Jeff Mathis will not provide much at the plate. Mathis is a career .198 hitter, but he was brought in for his good defensive abilities. The Rangers are hoping that with the help of Mathis, they can turn super-utility man Kiner-Falefa into a good enough Major League catcher. Kiner-Falefa played at least 20 games at three different positions last season, C, 3B, and 2B. Expect Mathis and Kiner-Falefa to split time at catcher this season.
Jose Trevino is another catcher that could find his way on the Major League roster. He probably starts out the season in the minors. Although he doesn't project to be an amazing hitter, the Rangers really like his defense. Trevino already has two Minor League gold glove awards under his belt, winning the award in 2016 and 2017. He'll probably wind up with the big league club at some point during the season.
Infield Projections
At 24-years old and under team control for the next five years, Ronald Guzman figures to be the opening day starter at first base. Guzman showed the ability to get on base and slug a little bit. In 387 at-bats last season, Guzman hit 16 home runs with a .722 OPS. His strikeout rate was a little concerning for a guy that doesn't hit home runs at the rate of say a Joey Gallo does. He struck out at a 28.3% clip. There's a reason to believe he can improve on that front this season. Last season was his first in the big leagues. His entire Minor League career, he had never struck out at a rate higher than 24.2%. As he gets acclimated to big league pitching, expect that number to jump back down. That's of course if he can manage to not mess with or change his swing as much this year.
Signed through 2022 with a club option for 2023, Rougned Odor will be manning second base. Odor struggled to hit with regularity throughout 2017 and the first couple months of 2018. He wound up finishing last year, with a .253/326/424 slash line and 18 home runs. He's got the pop in his bat to hit 25+ home runs and he's already hit 30+ home runs twice. The Rangers are looking for him to improve on his 2018 numbers and live up to his 6-year 49.5 million dollar contract. Oh, and you can't forget about the two horses that were included in the deal.
Elvis "El Comando" Andrus, will once again be the Rangers starting shortstop. After a season in which he fractured his right elbow and played in the fewest games of his career, Andrus decided not to opt-out of his contract. He has another opt-out option next season. If he doesn't explore the option, the Rangers have him signed through the 2022 season, with a club option for 2023. His fewest amount of games played included his worst career batting average (256), on-base percentage (308), and steals (5). He's a career .275 hitter, with a career on-base percentage of .333. Andrus has also averaged over 29 steals per season, in his nine previous campaigns. The 30-year old shortstop is still considered to be one of the best defensively and should bounce back fine.
After Adrian Beltre retired, many thought that Jurickson Profar would slide into that third base position. That was before they traded him to the Oakland A's, in a three-team deal, involving the Tampa Bay Rays. Then, they dipped into the free agency pool to sign Asdrubal Cabrera to a one-year $3.5 million deal. Ready for a weird random fact? Cabrera shares a birthday with the author of this article. The 33-year old veteran, two-time all-star has been a productive player his entire career. He offers the Rangers versatility. He can hit from both sides of the plate and play three or four different infield positions.
With the versatility of Cabrera and Kiner-Falefa, the Rangers don't need a true back-up to fill out the middle infield. That brings us to an interesting position battle, between Matt Davidson and Patrick Wisdom. Davidson wants to pitch. The Rangers have said they will let him in spring training, but we'll see how that shakes out. He provides good thump with his bat, hitting at least 20 home runs in each of the last two seasons. Wisdom was brought in via trade, that sent Drew Robinson to the Cardinals. Wisdom has shown improved power, but not as proven at the big league level. They both can play first base and third base and they both hit from the right side. Hitting from the right side is key because Ronald Guzman struggles against lefties. He slashed .208/245/327 with a .250 wOBA versus lefties. Compared to .245/326/448 with a .333 wOBA against righties.
Outfield/DH Projections
This group is pretty much set. Everyone knows what Joey Gallo brings to the table, a lot of power, walks, and strikeouts. He exemplifies a real Three True Outcomes player, otherwise known as a TTO guy. That said, he can absolutely crush the ball. Last year, he hit 40 home runs and led the Majors in barrels per plate appearance, with 11.4. If he can get his batting average up to around .250 you are looking at a perennial all-star.
Delino DeShields Jr. is locked into the center field position. He is a very good defender and has good speed. The Rangers would like to see him hit for more average and get on-base more. Last season, a .216 batting average and .310 OBP. If he can get on-base he should add to his 20 steal total from a year ago.
The starting right fielder will be Nomar Mazara. He's a consistent 20 home run guy, hitting exactly 20 home runs in each of the last three seasons. There was some talk that Mazara would be moved somewhere for some pitching prospects during the off-season, but he wasn't and he's firmly set in stone in right field this season. He's never hit below .253 in his three-year career. It's easy to expect him to hit somewhere in the neighborhood of .255-270.
More times than not, the DH spot will be filled by Shin-Soo Choo. Last year, Choo made the All-Star team for the first time in his 14-season career. He will be 37-years old this year and he doesn't figure to be in the teams' future plans. I could absolutely see them trying to maximize his potential and moving him at the deadline. He's the type of veteran bat, a contending team would love to have down the stretch.
One of the more interesting position battles this spring will be between Hunter Pence and Willie Calhoun. The outfield is left-handed hitting heavy. It would make sense for them to bring in a veteran like Pence to work in a platoon, against left-handed pitchers. Pence, saw a drop off in production last season, slashing 226/258/332 with 4 home runs in 97 games played. The Rangers had high hopes for Calhoun last season, but he disappointed as well. He's still young, only 24-years old and he only played in 35 games a year ago. So, there's room for growth with him and he should still get plenty of opportunities. The problem is, he doesn't exactly fill the right-handed hitting outfield need. Calhoun is a left-handed hitter.
Other Non-roster Invitees
OF Danny Santana, OF Ben Revere
Starting Rotation Projections
This unit is headlined by Mike Minor. A guy who didn't even start a single game from 2015-2017. What a difference a year makes. Minor is expected to be the teams' opening day starter. He received a chance to start last year and pitched pretty well. The Rangers are hoping he can duplicate his performance a year ago. If the Rangers fall out of contention, I would not be surprised at all to see Minor get dealt at the deadline. At 31-years of age, he could be the perfect balance of veteran and quality a contending team will be looking for. However, it's not likely that he sets the world on fire. He went 12-8 with a 4.18 ERA, 132 K's in 157 innings pitched. Out of pitchers who threw at least 100 innings last year, Minor ranked 65th in HR/FB rate (12.1%), 109th in xFIP (4.53), and 76th in SwStr% (10%). Those numbers aren't exactly ace level. He can still be very serviceable and who knows, he could take another step forward this season, after his first season starting in over three years.
After Minor, it gets pretty messy. The Rangers have three guys coming off of Tommy John surgery, Volquez, Smyly, and Miller. They have high hopes for all three of them but are kind of easing them in. It's a toss-up as to what their production will look like coming off of the injuries.
Yohander Mendez and Ariel Jurado will compete for starting spots. Mendez will likely be the first one into the rotation if one of the Tommy John guys can't go opening day.
Expect left-handed pitcher Taylor Hearn to make his debut this season. The Rangers are high on him. Hearn grew up a die-hard Rangers fan and could make a big impact at some point this season.
Interesting Non-Roster Invitee
RHP Jason Hammel – He's a veteran who had success in the past, could be a depth option.
Bullpen Projections
Jose Leclerc is expected to be the anchor at the back end of the bullpen closing games. Leclerc really came on strong last season. In 57.2 innings pitched he tallied 85 strikeouts, good enough for a 38.1% K rate. He also converted 12 out of 16 save opportunities and finished the year with a 1.56 ERA and a 0.85 WHIP.
The additions of Chavez and Kelley should really help stabilize the pen, leading up to Leclerc. We'll see what they're able to get otherwise as far as production goes. The subtraction of Tony Barnette hurts. McAllister struggled last season with the Indians. C.D. Pelham, Joe Palumbo, and Brock Burke are good young arms that are intriguing. They could make their way to the roster at some point. The Rangers also picked up Luke Farrell in the off-season, who has a decent amount of MLB experience already. It'll be interesting to see if either he or Gardewine crack the opening day roster.
LHP Kyle Bird – An outside shot to make the opening day roster. In my opinion, a good chance to make it given the few amount of arms they have from the left side.
Strengths
This team still has the potential to bang the ball around the yard, with guys like Gallo, Odor, and Mazara. Hitting in a hitter-friendly place like Globe Life Park in Arlington, the Rangers should have no problems being competitive offensively.
Weaknesses
Starting Pitching/Left-handed Relief
They don't have a real solidified pitching staff. Jose Leclerc and some of the other right-handed pitchers in the bullpen will be solid. Mike Minor in the rotation is solid. But after that, there are a lot of question marks. Can these Tommy John surgery pitchers stay healthy and step up? Can they find an internal left-handed bullpen arm? They'll most likely go out and add more arms as they get closer to competing. They also have guys like Hans Crouse and Cole Winn in the Minors, still a couple of years away with major potential as front line starters.
Prediction
73-89 4th in the AL West
This is a marathon and not a sprint. They seem to be in somewhat of a rebuilding mode, but they have pieces on their roster that could make them somewhat competitive this season. I expect them to be better, but they have too many question marks with their pitching staff. They need too many things to break in the right direction in order for them to make a playoff push. Most likely, they are dealers at the trade deadline, looking to bolster their farm system with some nice prospects in return. I don't think the current starting rotation will be the starting rotation when the team is ready to seriously compete. The Astros still look to be a powerhouse and are the favorites to win the division. The Angels look to have gotten better and I think they leapfrog into the number two spot this season. They might even be able to compete for a Wild Card, despite a very good looking AL East and an improving AL Central. All in all, I wouldn't expect this team to make any real noise this season, but there are still things to look forward to and watch for. This team will be better than last year and they are making strides to be better in the future.
Check out our other Team Previews | Colorado Rockies | Toronto Blue Jays | Minnesota Twins | Atlanta Braves | Chicago Cubs | Tampa Bay Rays | Arizona Diamondbacks | Miami Marlins | Cincinnati Reds | Seattle Mariners
Questions and comments?
thescorecrowsports@gmail.com
Follow Us on Twitter @thescorecrow
Follow Us on Reddit at u/TheScorecrow
Follow Us on Facebook at The Scorecrow
Follow Us on Instagram at The Scorecrow
Follow Joey Ricotta on Twitter @theriot326
Main Credit Image: Embed from Getty Images