Nickolas Loza | February 25th, 2019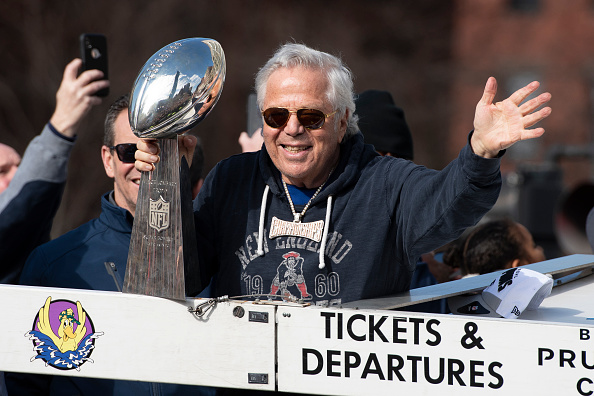 New England Patriots owner Robert Kraft has been charged with a misdemeanour charge of soliciting prostitution according to South Florida Police. A warrant has been issued by South Florida Police and his attorneys have been notified of the issue according to ESPN's Adam Schefter. According to South Florida Police he visited a massage parlor in Jupiter, Florida about a month and a half ago.
Charges Mr. Kraft could face
According to Floridian Law, he faces 60 days in jail or 6 months probation if he is convicted of his charges.
If he's arrested, who takes over the team in his absence?
His son Johnathon would take over the Patriots until he is released because the Patriots are a family-run business. When Robert Kraft eventually dies, Johnathon Kraft will take over, which means he would take over in this situation because he is the heir to the owner.
Could Kraft be suspended?
Yes, he very well could be suspended. Owners and Presidents of teams have been suspended in the past. Indianapolis Colts Owner Jim Irsay was suspended 6 games for drug charges five years ago, and Lions President Tom Lewand was suspended 30 days for driving impaired. He would probably be suspended more towards Lewands side of the owner punishment spectrum. I would see a maximum of two to three games if he is convicted.
The Gravity of the Situation
The gravity of the situation is that it darkens what should be a celebratory month for the Patriots owner after winning Super Bowl LIII 3 weeks back. It puts a dark cloud over the Patriots in general, because they have faced this kind of problem before with Deflategate and Spygate.
Could he be forced to sell the franchise?
This is an interesting question, but the answer is a stern no. But the NFL may find him to be non trustworthy person, which would be the only reason to believe he would be forced to sell the team.
Concluding Thoughts
In conclusion, Kraft will probably be suspended at least a couple games even if he isn't convicted and will give his some form of discipline. This will be interesting as it plays out in the coming days as more details are revealed.
Questions and comments?
thescorecrowsports@gmail.com
Follow Us on Twitter @thescorecrow
Follow Us on Reddit at u/TheScorecrow
Main Credit Image: Embed from Getty Images