Daniel Corrigan | February 23rd, 2019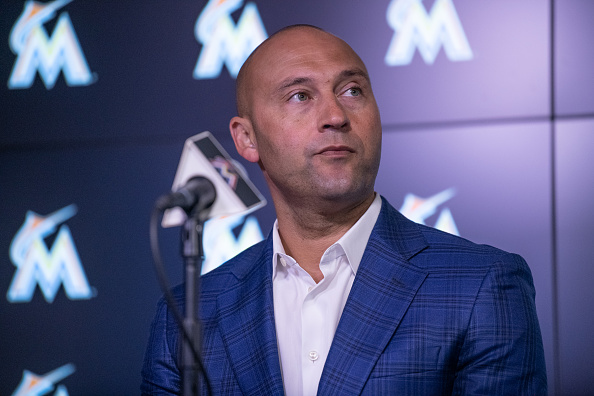 It's hard to believe that the Marlins once had Giancarlo Stanton, Christian Yelich, J.T. Realmuto, and Jose Fernandez on the same team and have not been to the playoffs since they defeated the Yankees in the 2003 World Series. Side note, it's pretty amazing that they have been to the playoffs twice in their existence, and won the world series both times.
To sum that up, the Marlins once had a team full of all-star players. They have given up a lot in the past few years, but hey, at least they have a kick-ass new logo.
Is there anything to look forward to with this club? Not much, but there may be a few surprises.
Last Season: 63-98 5th in the NL East
The Marlins finally seemed to have hope. They came off a year where they finished 2nd in the NL East, had a great lineup, the NL MVP, a good manager in Don Mattingly, and were playing with emotion following the death of all-star teammate Jose Fernandez. Then Derek Jeter came along. They traded Dee Gordon, Stanton, Yelich, and in my opinion, didn't get a very good return. So they are back to square one. What do they look like now? do they have any shot? Will Marlins-Man be happy this year? Probably not, but let's take a look anyway.
Catcher/Infield 
After research on their roster, this is the best I could come up with…It's not horrible but they are not going to be winning games with this. Castro is a four-time all-star (three with the Cubs and one with the Yankees) He is not feared at the plate, but is a solid player. In his first year in Miami (was a part of the Stanton trade) he slashed .329/.400/.729 He is not a power threat but is a solid option to have batting second in the lineup. Walker is a fill-in guy until they find a permanent first-baseman. After a mildly successful stint with the Pirates that included a Silver Slugger in 2014, he has fallen off fast. Prado has not played much the past couple years and is nowhere near the player he was when he was with the Braves. Riddle is the same story. They just don't have the talent in the infield to be competitive. We may see a lot of Dixon Machado this year because he's young, but he had some mediocre years with the Tigers. Expect a lot of youth to be rotated in throughout the year.
Outfield
Pretty much the same story with the infield, they have a veteran in Granderson who is way past his prime and then some experimental players. I fully expect Granderson to be traded to a playoff team for some extra depth. Anderson is an interesting young player. He will be 26 this season. Last year he hit .273 and slashed .357/.400/.757 he is not exactly a power hitter but does have a decent bat. Brinson is young but needs to improve. He hit .199 last year in 109 games. He will be the opening day centerfielder but needs to show improvement if he wants to stay in the lineup. They need their youth to produce because right now, they are in big trouble.
Starting Pitchers
Remember in Major League when Neil Flynn was looking at the roster and said "Who the F**k are these guys?" that's pretty much the starting pitchers for the Marlins. A player like Jose Fernandez will not be with a team like the Marlins for a long time. They are in a full rebuild and this takes time. Patience Marlins fans. Urena is 27 and will be the Ace. Last year, he went 9-12 with a 3.98 ERA and 130 strikeouts. He has shown some promise but had a little bit of a down year last year. He needs to improve his HBP but has the stuff to be a solid pitcher for some years. Straily has posted some double-digit win seasons but is wildly inconsistent. He is 30 and won't be in the long-term plans, but is a solid piece in the current rotation. Alcantara is an interesting player. He will only be 23 and had some solid numbers last year with only 34 IP. He went 2-3 with a 3.44 ERA and 30 SO. I believe he will be a key piece in the rotation when the Marlins bring up all their youth. Now, we will see what he has with his first full year in the rotation. Richards is also another young guy who shows promise, his 4.42 ERA isn't great but he only has room to improve. They have some interesting farm-system players like Nick Neidert who has had great control in Double-A but doesn't have "blow you away" stuff. They have lots of youth here, and just need to be patient with what they have.
Bullpen
Same stuff, different players. No notable players, but have some interesting players. Steckenrider will be the closer. He is young and has some promise. He posted a 3.38 ERA and has a decent fastball. With most of their other positions, they are experimenting with their current youth. Conley has some promise but has had a rough two seasons. He is 28 and still has time to establish himself as the go-to relief pitcher. They will have players come up through their system and will draft players in the future, but for now, they just have to see what they have.
Season Prediction
It won't be pretty. But they need to be patient and trust their prospects. They will not be good for many years. But they have had some great players come through their system. They have to trust that they have an eye for talent and just let things develop. Marlins fans, just sit back and take what's about to come. It's not going to be fun. I believe the Marlins will go 62-98. Obviously, last in the NL East and they will be fighting for that number one pick.
Check out our other Team Previews | Colorado Rockies | Toronto Blue Jays | Minnesota Twins | Atlanta Braves | Chicago Cubs | Tampa Bay Rays | Arizona Diamondbacks
Questions and comments?
thescorecrowsports@gmail.com
Follow Us on Twitter @thescorecrow
Follow Us on Reddit at u/TheScorecrow
Follow Us on Facebook at The Scorecrow
Follow Us on Instagram at The Scorecrow
Follow Daniel Corrigan on Twitter @Corrigan_Tweets
Main Credit Image: Embed from Getty Images