Givanni Damico | February 22nd, 2019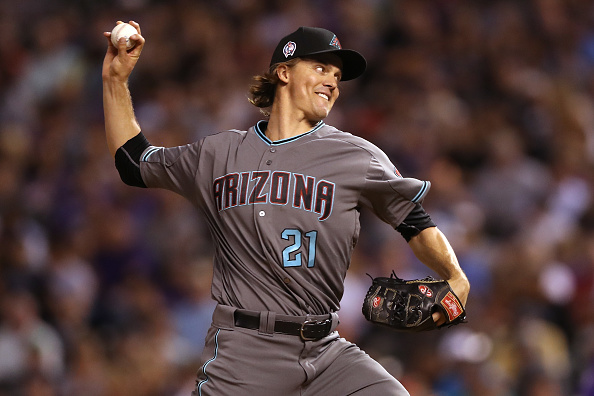 It was yet another year of mediocrity for the Arizona Diamondbacks. I didn't expect a lot from this team, to be honest, but it must be frustrating for Diamondbacks fans for their team to constantly be second or third in their division. In 2017, they finally made the playoffs (as a wildcard) for the first time since 2011, in which they lost in the divisional round to the Dodgers.
Recap: 82-80 (3rd in NL West) Missed Playoffs
On paper, their roster going into 2018 wasn't a playoff team. Zack Greinke continued to pitch very well. He had a down year in 2016, but his career has been very impressive. Last year he started 33 games and went 15-11 with a 3.23 ERA. He walked two batters per nine innings while striking out nine. He definitely wasn't as dominant as Max Scherzer or Chris Sale but he pitched like an ace for the most part. I don't think anyone expected much from Patrick Corbin going into 2018. Before last year, he had been an all-star once in 2014, but his career has been a roller coaster. In 2016 he went 5-13 in games he started. Corbin was pretty much the ace, despite Greinke's good performance. He averaged 11 strikeouts per nine innings and walked two batters per nine. Unfortunately, he is now a part of the Washington Nationals. Clay Buchholz pitched very well. No this is not 2013. In 16 games started, he went 7-2 with an ERA of just 2.01. He was definitely the biggest surprise of the season. Paul Goldschmidt has been one of the most consistently good players in the MLB over the last seven seasons. He slashed .290/.389/.533 with 33 home runs and 83 RBIs. He, unfortunately, is also no longer with the Diamondbacks. The rest of the Diamondbacks offense, excluding David Peralta, was very lackluster. Ultimately, it was their offense that cost them a lot of games.
Key Additions:
Greg Holland (2018 w/ WSH & STL): 56 GP, 2-2, 4.66 ERA, 47 SO, 32 BB, 1.619 WHIP
I had to reach to find someone even half-notable for me to put on this list. Sure, the D-Backs added Luke Weaver and Carson Kelly in the Paul Goldschmidt trade, but neither of these guys have been very successful at any point in their young careers so I don't think the addition of them is "key" going into this season. Earlier in his career, Greg Holland was very successful. In 2013 and 2014, Holland had an ERA below 1.50 and struck out around 13.5 batters per nine innings while only walking about 2.5 batters per nine. Obviously, those numbers have changed significantly over the course of the last few years. Clearly, the 34-year old has begun to regress. The Diamondbacks bullpen isn't very strong, so if Holland can pitch even half as good as he did in 2013, he should be able to make an impact on this team.
Key Subtractions:
Paul Goldschmidt (2018 w/ ARZ): .290 BA, 33 HR, 83 RBI, .389 OBP, .533 SLG, .922 OPS, 5.4 WAR
This was an incredibly huge loss for the Diamondbacks. The face of the franchise, an MVP candidate, traded for a couple unproven young guys. It hurts for the organization and the fans. Goldschmidt was the best player on the offense and has been the best player on this team for the last six seasons. I don't really understand the trade considering they could have gotten much more from a different team and I think that the majority of the fans feel the same way. If I were a Diamondbacks fan, I wouldn't be excited about this season. I promise, I'm not trying to be pessimistic, but I don't see much promise in Carson Kelly at catcher or Luke Weaver as a starter. This loss is a killer.
A.J. Pollock (2018 w/ ARZ): .257 BA, 21 HR, 65 RBI, .316 OBP, .484 SLG, .800 OPS, 2.5 WAR
A.J. Pollock is another big loss for the Diamondbacks. Pollock and Goldschmidt were two of three major pieces on the offense last season, and only David Peralta remains. Pollock was very streaky last season, starting off hot in March and April. In this time, Pollock hit .291 with nine home runs and 24 RBIs. To compare, in August, Pollock hit .189 with a single home run and 10 RBIs. He also hit much better at home then he did on the road. At home, he hit .278 while on the road, he hit just .235. Yet another lopsided split is his stats against right-handed pitchers compared to southpaws. Against righties, he hit .275 with 12 home runs, while against lefties he hit just .221 with nine home runs. Interesting for a right-handed hitter to do better against righties on the hill, but that is becoming more and more prevalent. Not only did they lose Pollock, but they lost him to their biggest NL West competitors, the Los Angeles Dodgers. This might be a rebuilding year for the Diamondbacks, but people said the same about last season's Oakland Athletics.
Patrick Corbin (2018 w/ ARZ): 11-7, 3.15 ERA, 246 SO, 48 BB, 1.050 WHIP
New Team: Washington Nationals
Patrick Corbin is yet another huge loss for this team. He was arguably the best pitcher in the rotation last year, while easily being the most dominant. He struck out 11 batters per nine innings while only walking two per nine. Corbin was an all-star and finished fifth in the NL Cy Young voting. He also tossed his first career shutout. Yet another player that they lost to a team in their conference. I'm not sure how Corbin will fare in the NL East, but I don't expect him to be quite as dominant as he was last season. I look forward to the matchup between these two teams.
Strengths:
Starting Pitcher Depth
Despite the loss of Patrick Corbin and Clay Buchholz, the D-Backs still have good depth at this position. Going into Spring Training they have Zack Greinke, Robbie Ray, Zack Godley, Taijuan Walker (out until at least July), young prospect Jon Duplantier, Luke Weaver, and Matt Koch. I don't think this is a particularly strong rotation, but they have good depth in case anyone goes down with an injury. You can argue that Zack Godley had an ERA in the mid-3.00s just two seasons ago and that Luke Weaver is still a young player with a lot of promise, but based on last season, it doesn't look promising.
Infield
When you think of the Diamondbacks infield, you may not consider it a strength. This is a relatively weak team, so that puts more emphasis on how good this infield is capable of being. Jake Lamb missed most of last season with an injury, but he is a strong home run threat. In 2017, he hit 30 home runs with 105 RBIs. His average has always hovered in the mid-.200s, but he contains a lot of power and I believe that he has the ability to hit in the .270s or even .280s which is game-changing. Ketel Marte has flown under the radar during the course of his entire career thus far. He is consistently a .260 hitter (.259 in 2016, .260 in 2017, .260 in 2018) and last year he hit 14 home runs. People forget about him because he doesn't have game-changing power and he hasn't been in the spotlight much, but Marte is still 25 and continues to produce. He's actually one of my favorite players in the league because of how underrated he is. Nick Ahmed won a gold glove at shortstop last season while also hitting 16 home runs. His average has never been very good (.229 career average), but last year proved that he is a capable starter. Eduardo Escobar was highly coveted at the shortstop position at the trade deadline last year and Arizona was his landing spot. Over the course of the whole season in 2018, Escobar hit .272 with 23 home runs and 84 RBIs. His strikeout rate was decent at 20%, but if he can produce as he did, it's not too big of a problem.
Weaknesses:
Bullpen
The Diamondbacks added to the bullpen by signing Greg Holland, but if Holland is as bad as he was last season, it won't make much of a difference. The best player in that bullpen last year was the 33-year old rookie, Yoshihisa Hirano. He appeared in 75 games and went 4-3 with a 2.44 ERA. He struck out eight batters per nine innings and walked three per nine. This year's projected closer, Archie Bradley, wasn't particularly good last year. He went 4-5 with a 3.64 ERA, striking out 9.4 per nine innings and walking 2.5 per nine. He gave up nine long balls in 71.2 innings pitched, which isn't an ideal stat. He actually blew eight saves last season while only recording three saves. He is definitely an upgrade over last year's closer Brad Boxberger, now a part of the Kansas City Royals. T.J. McFarland pitched surprisingly well last year, going 2-2 with a 2.00 ERA. Andrew Chafin also had a good ERA at 3.10 but it came with a 1-6 record and about five walks per nine innings. There isn't much consistency in this bullpen, which blew an unbelievable 27 saves last year.
Positional Depth
Outside of who I mentioned in the infield earlier, the Diamondbacks have Ildemaro Vargas who has only had 32 plate appearances in which he is 8-32 (.250) with one home run. They also have Christian Walker who actually had a negative WAR last season. He is a career .170 hitter (15-88) with six home runs. He has power but that's about it. Currently, their only backup in the outfield is Socrates Brito (great name). Brito also had a negative WAR last year and is a career .202 hitter (34-168) with five home runs. His career has not been successful and I doubt things will turn around at this point. Alex Avila is washed up, and he showed that last season hitting .165 with seven home runs in 194 at-bats. I guess it's a good thing his father traded him out of Detroit. John Ryan Murphy is the third-string catcher. I've seen him live plenty of times when he was in Triple-A and I can confirm that he is terrible. He was actually better than Avila last year, hitting .202 with nine home runs. Obviously, there is still Spring Training which will determine who else makes the team, but right now their depth is absolutely terrible.
Infield Projections:
C – Carson Kelly, John Ryan Murphy, Alex Avila
1B – Jake Lamb, Christian Walker
2B – Ketel Marte, Ildemaro Vargas
3B – Eduardo Escobar
SS – Nick Ahmed
Outfield Projections:
LF – David Peralta, Socrates Brito
CF – Jarrod Dyson
RF – Steven Souza Jr.
Note:
Souza is a power threat, but nothing more. He is a terrible average hitter and I don't even think he should be an everyday starter. He reminds me of Adam Duvall.
Starting Rotation Projections
Zack Greinke
Robbie Ray
Zack Godley
Luke Weaver
Jon Duplantier
Matt Koch
Bullpen Projections
Yoshihisa Hirano
Andrew Chafin
T.J. McFarland
Silvino Bracho
Matt Andriese
Archie Bradley
Note:
Despite going 0/8 in save opportunities last year, I think Silvino Bracho could be one of the best pieces in this bullpen this year.
Prediction: 5th in NL West, Miss Playoffs
I think that I've made it known that I don't believe that the Diamondbacks will be a playoff team this year. I think the Diamondbacks finish last in the NL West. The Giants might give them a run for their money at that spot, but I don't think the Diamondbacks are a team that will even contend for a wildcard spot (I'm probably wrong). I'll be following this team very closely this year to see how they can do after losing three of their best players. I think the Diamondbacks finish at 68-94. I have a bold prediction, and this is probably very bold, but I think that Ketel Marte will be an all-star this year or at least be good enough to be an all-star. All-star games can be popularity contests so I doubt he gets in even if he performs really well. The team will likely regret the Goldschmidt trade as they could suffer through this year.
Check out our other Team Previews | Colorado Rockies | Toronto Blue Jays | Minnesota Twins | Atlanta Braves | Chicago Cubs | Tampa Bay Rays
Questions and comments?
thescorecrowsports@gmail.com
Follow Us on Twitter @thescorecrow
Follow Us on Reddit at u/TheScorecrow
Follow Us on Facebook at The Scorecrow
Follow Us on Instagram at The Scorecrow
Follow Givanni Damico on Twitter @giodamico15
Main Credit Image: Embed from Getty Images