Mike Fanelli | February 21st, 2019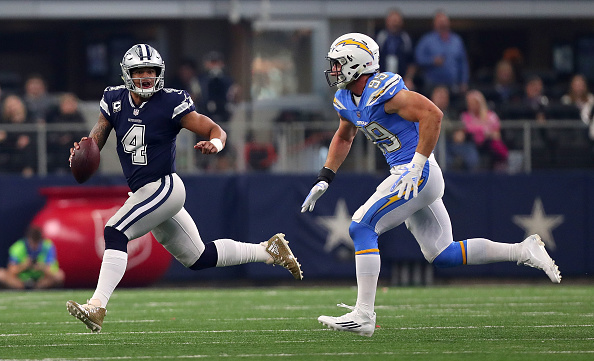 The writers at TheScorecrow.com decided to get together and come up with their version of a Top 100 NFL players from the 2018 season. Each writer was invited to submit a ranked list of their top 25 NFL players. The votes were then counted using a weighted average method. This means that a 1st place vote was worth more than a 25th place vote.
Players ranked 1st on a list received 25 points, 2nd = 24 points and so on down to 1 point for a 25th place vote. Each players points were added up and then listed from least to most to generate our list of top 100 players. The top few players were fairly common on all the lists, but after that it was interesting. We hope you enjoy our rankings and would love to read your comments on our list. Special thanks to Beth Sullivan for tabulating the votes and getting this project together.
TheScorecrow.com Writers
80: Dak Prescott – Despite getting a ton of criticism for his play, Prescott's 2018 season was on par with his rookie year. Prescott made the pro bowl and led the Cowboys to the NFC East division title in both years. Once the Cowboys traded for wide receiver Amari Cooper, Prescott's play picked up. Thanks to the division title and the playoff win against the Seattle Seahawks, Prescott is in line for a big contract extension this offseason.
79: Daniel Hunter– Even at just 24 years old, Hunter has turned into one the best defensive lineman in the NFL. This season he had 14.5 sacks; easily a career high. He ranked fourth in the league in sacks, ahead of players like Myles Garrett, Dee Ford, and Chandler Jones; all of whom get more public acknowledgment than Hunter. The Minnesota Vikings have Hunter on a very team-friendly deal as he is under contract through the 2023 season without a cap number higher than $15 million dollars in any season. Without a doubt, Hunter is just starting to scratch the surface of his potential.
78: Trent Williams– Over the last five seasons, Williams has missed at least one game in every season because of injuries and has missed 16 total. However, even with all the injuries, Williams remains arguably the top left tackle in the league. Williams is under contract for just two more seasons and the Washington Redskins need to decide if the injuries are enough of a concern to move on from him after his contract is up or start working on an extension.
77: Kenny Clark– The 2018 season was a disappointing one for the Green Bay Packers. However, the one bright spot was Clark's play. He had six sacks and eight tackles for loss this season; both career highs. The Packers have Clark under contract next season for just under $3 million dollars and that is a bargain. I fully expect them to pick up his fifth-year option for about $9.4 million for the 2020 season.
76: Josh Allen– Many, including myself, expected the Buffalo Bills to be one of the worst teams in the league this season. However, Allen led the Bills to a 5-6 record as a starter and accounted for 18 total touchdowns compared to just 12 interceptions despite a lack of talent around him. That speaks volume to his talent and effort. Other than Baker Mayfield (coming up later on this list), you can argue Allen had the best season among rookie quarterbacks. The Bills are projected to have the third most cap space this summer and if they spend big and put weapons around Allen, the Bills should compete for a playoff spot next season.
75: Jadeveon Clowney– With back-to-back seasons with nine or more sacks, Clowney has proven to be one of the best pass rushers in the league. However, injuries have always been the issue with Clowney as he has played in all 16 games just once in his five-year career. The Houston Texans are expected to place the franchise tag on Clowney in the coming weeks. More than likely the Texans will let Clowney play on the tag next season in hopes that he can prove that he can stay healthy. If he does, the Texans will need to open up their checkbook next offseason.
74: Derrick Henry– Like night and day, Henry's 2018 season was totally different in the first 12 games compared to the last four. Over the first 12 games, he didn't top 60 rushing yards and had just five rushing touchdowns. By comparison, he rushed for at least 84 yards in each of his last four games and had seven rushing touchdowns. Henry had a nice finish to the 2017 season and then struggled for most of 2018, will that be the same in 2019?
73: Nickell Robey-Coleman– Most famously known for the no-call defensive passing interference penalty at the end of the NFC Championship game, Robey-Coleman actually had a solid season. The Rams defense had several big named players on their defense this season but Robey-Coleman was one of the better ones. Robey-Coleman is under contract for the next two seasons for a combined $10.55 million dollars; a steal for a good nickel cornerback.
72: Tyler Boyd– The Cincinnati Bengals' 2018 season was a disappointment. However, the third-year wide receiver had a breakout season. Boyd had 76 catches on 108 targets for 1,028 yards and seven touchdowns in 2018; all easily career highs. Because of Boyd's great play and a potential change of direction of the franchise, the Bengals may look to trade A.J. Green this offseason. If they do, Boyd would step into the number one receiver role and hopefully, he can handle it.
71: Desmond King– One of my favorite players in the league, King is a do it all playmaker for the Los Angles Chargers. He plays safety, nickel back, and returns punts for the team. This year he made First-Team All-Pro. King was one of the best defensive backs in the league, with three interceptions, 10 passes defended and four tackles for loss this season. King has two more years left on his super cheap rookie deal and the Chargers will have to open up their checkbook for him sooner than later; he deserves every penny.
70: Micah Hyde– The Buffalo Bills' defense was one of the most underrated units in the entire league in large part because of Hyde's play. Despite not being a household name, Hyde is a multi-purpose weapon on the Bills defense. His ability to play nickel back, in the box or in the back third of the field, allows the Bills to change things up from play-to-play.
69: Terron Armstead– If you list off the best left tackles in the league, Armstead isn't likely to be on the list, but he should be. Armstead had been a critical factor in the New Orleans Saints passing and running game. Armstead missed six games this season, five of which due to injuries. During the 10 games he played, the Saints averaged 36.1 points per game compared to just 23.8 in the six games he missed. The Saints have Armstead under contract for the next three seasons, with a cap number, not higher than $16.4 million dollars; a steal for an elite left tackle.
68: Jerry Hughes– Much like his teammate Micah Hyde, Hughes isn't a household name but was a critical part of the Bills defense this past season. He had seven sacks, 16.5 tackles for loss and three forced fumbles; all team highs. Hughes is entering the last year of his contract worth $10.4 million dollars. The Bills can release him and save $7.5 million dollars in cap space, but with his production and all their cap space that isn't likely to happen. However, when his contract expires after next season, I doubt they resign him.
67: James Conner– Who needs Le'Veon Bell when you got Conner. In his first year as the starter, Conner had 1,470 scrimmage yards and 13 total touchdowns in just 13 games. Conner averaged 113.1 scrimmage yards and a touchdown per game. By comparison in 2017, Bell averaged 130 scrimmage yards and 0.73 touchdowns per game. The difference is Bell cost the Steelers $12.1 million dollars in 2017, while Conner cost the Steelers just $754,572 dollars this season; 94% cheaper than Bell. The Steelers are going to let Bell leave as a free agent in March in large part because Conner can produce similarly and only cost the Steelers $1.8 million dollars over the next two seasons combined.
66: Julian Edelman– Super Bowl MVP and the second most catches in the postseason history, Edelman had a great finish to the 2018 season. Even with serving a four-game suspension, Edelman led the Patriots in receiving yards and was second on the team in both catches and receiving touchdowns. Other than sixth-round rookie Braxton Berrios, Edelman is the only New England Patriots' wide receiver currently under contract for next season. As Tom Brady's favorite weapon, Edelman should have another good season in 2019.
65: O.J. Howard– The season was cut short for Howard as he missed six games because of knee, foot and ankle injuries. However, prior to ending up on injured reserve, Howard was having a career year, catching 34 balls for 575 yards, five touchdowns and bringing in just under 71% of his targets. The Tampa Bay Buccaneers are tight for cap space and can save $17 million dollars by releasing Cameron Brate and DeSean Jackson. If the team goes that route, Howard would be in line for even more targets next season.
64: Joey Bosa– Despite missing the first nine games of the season because of a foot injury, Bosa still registered 5.5 sacks in seven games. Over a full 16-game slate, Bosa would have had 12.5 sacks; which would have ranked tied for 12th in the league. The Chargers defense played much better with Bosa on the field than off of it this season. Hopefully entering the 2019 season, Bosa will be 100% healthy and at top form as he is eligible for a contract extension this time next season.
63: Melvin Gordon– After an awful rookie season, Gordon produced his third straight season with double-digit scrimmage touchdowns. Other than Green Bay Packers' wide receiver Davante Adams, Gordon is the only player to have such an accomplishment. Despite missing four games because of injuries, Gordon had 1,375 scrimmage yards and 14 total touchdowns. Gordon has improved in each of his four seasons and with 2019 being the last year of his contract, the Chargers need to lock him up long term as soon as possible.
62: Demarcus Lawrence– Much like Melvin Gordon, Lawrence has stepped up his game over the last couple of seasons. After registering 14.5 sacks in 2017, the Dallas Cowboys slapped the franchise tag on Lawrence. In 2018, he registered 10.5 sacks despite seeing more double teams. The Cowboys have a lot of players up for contract extensions the next few years and Lawrence might be the most important of the group.
61: Baker Mayfield– While Saquon Barkley deserved to win the offensive rookie of the year award, Mayfield gave a franchise that was a dumpster fire fresh hope. While Mayfield went 6-7 as the starter, the Cleveland Browns won a total of four games over the previous three seasons. In addition to providing hope for a franchise, Mayfield broke Russell Wilson and Peyton Manning's rookie record for touchdown passes with 27 in just 13 games. The Browns had an excellent 2018 offseason and if they can do similarly again in 2019, they should be the favorites to win the AFC North next season.
Top 100 NFL Players | 100-81
Questions and comments?
thescorecrowsports@gmail.com
Follow Us on Twitter @thescorecrow
Follow Us on Reddit at u/TheScorecrow
Follow Us on Facebook at The Scorecrow
Follow Us on Instagram at The Scorecrow
Follow Mike Fanelli on Twitter @mikesports22
Main Credit Image: Embed from Getty Images