Andrew Harbaugh | February 21st, 2019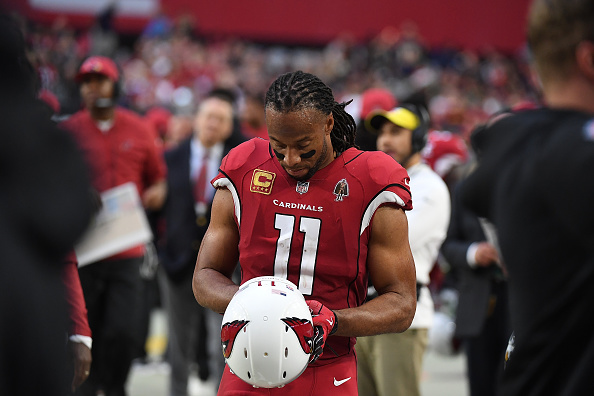 As you are reading this and you are a Cardinals fan your team is on the clock with the first pick of the 2019 NFL draft. Sadly you didn't trade for it, you guys earned it with what seemed to be a very promising year that quickly declined while still somehow keeping promise towards the future.
The Cardinals came into the year with a new coach and new quarterback. They brought in Steve Wilks, who was the defensive coordinator of the Carolina Panthers, to be the new head coach to replace retiring fan and player favorite Bruce Arians. They also brought in a new quarterback to replace Carson Palmer who also retired, they drafted Josh Rosen out of UCLA after trading up in the draft to get him.
The Cardinals also were getting top NFL running back David Johnson back from a wrist injury the year before and they also convinced future Hall of Famer Larry Fitzgerald to return as well.
With all that great promise and talking up the situations they were in as a team, the whole season crashed and burned similar to the Hindenburg.
Season Review
The Cardinals had to wait till week 5 to get a win unfortunately when they defeated inter-divisional rival San Francisco 49ers. Before that, though they had already made a quarterback change in benching Sam Bradford, and all his money, for top rookie pick Josh Rosen. Rosen flashed all year in spurts but ended the season with a disappointing stat line of 55.2 completion percentage, 2,278 yards passing, 11 touchdowns, and 14 interceptions. He wasn't given much in the form of advantages with the team switching offensive coordinator from Mike McCoy to Byron Leftwich.
The team did potentially find their future number one receiver in second-round pick, Christian Kirk. He had a year consisting of 43 receptions, 590 yards, and 3 touchdowns. He showed a lot of potential and a connection with Rosen which could give them both a fruitful future together in the desert, as long as Rosen stays here in the long term.
David Johnson and Larry Fitzgerald also returned with some positives while neither was there old explosive selves but with the new staff in place, they might see their numbers pop more. Wait did I say new staff? Spoiler.
Wilks' Vacation in the Desert Ends in a Year
As I mentioned earlier the team had a disappointing year going 3-13 and in Arizona after sustaining success for so long that record isn't going to cut it. With that said General Manager Steve Keim decided to remove Steve Wilks from his head coaching role. It was a move that many thought was very premature but they replaced him with offensive guru and former Texas Tech Head Coach Kliff Kingsbury.
Kingsbury after being fired from Texas Tech in December had taken a job at USC as the offensive coordinator in January but as soon as the NFL came calling with a head coaching offer he bolted from LA to the desert.
Offseason Preview
Kliff Kingsbury this past year, when he was the coach at Texas Tech, said in an interview that if he had the first overall pick in the draft he would take Heisman Trophy Winner Kyler Murray. Well, now he is the coach of the team with the first pick in the draft and even though the team has Josh Rosen many are hearing that the team may try to move Rosen. Kyler in a Kingsbury offense would be a lot of fun for both fans and the team in general because he would instantly help players like DJ, Fitz, and Kirk immediately.
Apart from having the first pick the team also has between 9-10 picks overall depending on how compensatory picks are distributed. The team has needs at Edge rusher, offensive line, and defensive line. This is the draft and frankly the free agency market to address all these issues for the team.
The team has already started making moves in signing players getting cut early by teams. They have brought in cornerback Robert Alford, linebacker Brooks Reed, and Tight End Charles Clay. The team also has impending free agents such as Mike Iupati, Tre Boston, and Ricky Seals-Jones to make decisions on as well.
The team has a lot of promise and it will continue to grow even further after the draft. Kingsbury will make this team at least fun to watch even if they don't win his first year. Regardless, Kingsbury has the team buzzing. They just have to make sure he isn't a mirage in the desert or the team will be set back for years to come.
Check out our other Team Reviews: Atlanta Falcons | Minnesota Vikings | Washington Redskins | Miami Dolphins | Cincinnati Bengals | San Francisco 49ers | New York Jets | Denver Broncos | Indianapolis Colts | Oakland Raiders | Baltimore Ravens | Green Bay Packers | Tampa Bay Buccaneers | Detroit Lions | New York Giants | Cleveland Browns | Buffalo Bills | Pittsburgh Steelers
Questions and comments?
thescorecrowsports@gmail.com
Follow Us on Twitter @thescorecrow
Follow Us on Reddit at u/TheScorecrow
Follow Us on Facebook at The Scorecrow
Follow Us on Instagram at The Scorecrow
Follow Andrew Harbaugh on Twitter @DHH_Mandrew
Main Credit Image: