Joel Dorcas | February 21st, 2019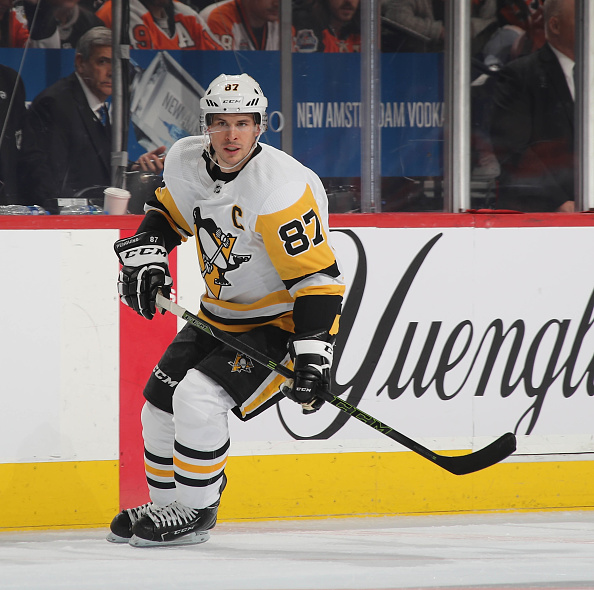 Thursday, February 21st's NHL card has 11 games on tap. Two games have me very intrigued and lead the way by a good margin over the rest of the offerings for high event matches. Washington at Toronto and San Jose at Pittsburgh(especially) could go off for a plethora of goals. Also, Buffalo at Tampa Bay and New York Islanders at Edmonton are on my radar.
At the Core
Brent Burns D SJ $7,000
We should have as many players as possible in our lineup from the San Jose/ Pittsburgh game. Burns is as close to as a lock as it gets and is matchup proof. Against the defensive deficient Penguins, he should have no problem firing five shots on goal and notching a few points along with a block or two for good measure.
Joe Pavelski W SJ $6,800
The sharks are rolling along very nicely compiling a 7-2-1 record over there last 10 games, scoring 4.1 goals a game. Leading the way is Joe Pavelski, he has notched 15 points in those games. The Penguins are just one game over .500 over in there last 12 games(6-5-1) and are allowing over three goals a game(41 in 12 games).
Sidney Crosby C PIT $7,600
Crosby is primed to get in on the scoring fest that we are hoping for in the Sharks at Pens tilt. Crosby is filling the scoresheet on a regular basis and is worth spending up for. He is riding a six-game point streak with two goals and 10 assists. On the season Crosby has an impressive 73 points in 57 games.
Auston Matthews C TOR $7,300
When Matthews runs hot we shouldn't hesitate to include him in our lineups. Matthews has seven goals and 11 points in his last 10 games. Against the Capitals this season Matthews has two goals and an assist in two games. The Capitals have struggled defensively allowing 50 goals in there last 13 games.
Stacks
San Jose Sharks- Pavelski(W), Burns(D), Thornton(C), Labanc(W)
Tampa Bay Lightning-Kucherov(W), Stamkos(C), Sergachev(D), Gourde(W)
Pittsburgh Penguins-Crosby(C), Letang(D), Guentzel(W), Bjugstad(W)
Value Plays
William Nylander W TOR $3,500
Nylander is slowly finding his game after being inactive for the first portion of the season followed by going through a prolonged scoring slump on his return, scoring just two points in 11 games. Although the production of late is not where we think Nylander should be, five points in his last 10 games, Nylander is too talented, and playing on a very offensive minded club, he shouldn't be ignored, especially at this salary. Nazem Kadri is likely to sit this one out with a concussion he sustained last games against the Blues. This could result in Nylander playing on the first power-play unit.
Luke Kunin W MIN $3,600
The Wild recently shook up their roster with the acquisition of forward Ted Donato. Winger/Center Charlie Coyle went to the Bruins. Donato may or may not be in the lineup against the Rangers. Either way Luke Kunin has stepped up in the absence of center Mikko Koivu. His minutes have increased and he is playing on the second line with talented forwards Mikael Granlund and Zach Parise.
Joe Thornton C SJ $4,200
We were touting Jumbo Joe in a previous article before he went off for a hat trick against the Bruins. It is no surprise that the Sharks are an offensive powerhouse, but what is slightly surprising is at the ripe age of 39 Joe Thornton is an important contributor. He has 11 points in his last 10 games all while playing on the Sharks third line and second power-play unit. Linemate Kevin Labanc at $4,300 is a good play as well.
Mikhail Sergachev D TB $3,900
Sergachev's value is somewhat tied to if Victor Hedman dresses tonight or not. Hedman sat out last game with what the Lightning are calling a minor injury. Sergachev will gain more minutes and get dibs at the Lightning's first power-play unit should Hedman sit out another game. Nevertheless, Sergachev'sproduction has been solid of late recording points in three out of his last four games played.
Follow Us on Twitter @thescorecrow
Follow Us on Reddit at u/TheScorecrow
Follow Us on Facebook at The Scorecrow
Follow Us on Instagram at The Scorecrow
Follow Joel Dorcas on Twitter @Joel_Dorcas6
Main Image Credit:
Embed from Getty Images