Pranav Ramasubramanian | February 21st, 2019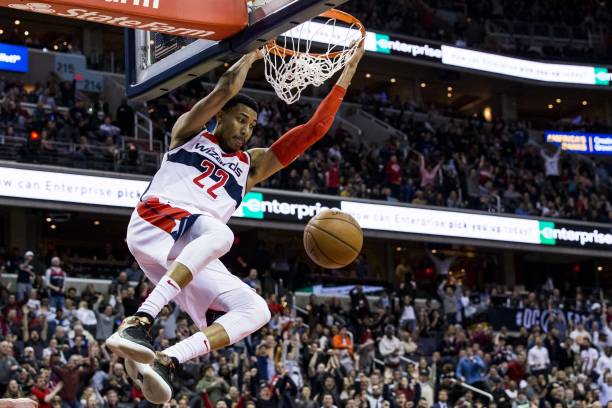 Team Giannis led by as many as 19, but Damian Lillard and Kawhi Leonard brought Team LeBron back before Kevin Durant closed out the game with some crucial threes to give Team LeBron the win for the second straight year. The All-Star break is fun and meant for rest before the big stretch runs for the playoffs. Here's where all the teams outside of the playoff picture rank so far this season.
17. Sacramento Kings (30-27)– They play a fun style of basketball based off of speed and outside shooting that has them developing at a fast pace. De'Aaron Fox and Buddy Hield have both recovered from bad years to lead the Kings offense while bigs Willie Cauley-Stein and Marvin Bagley are having solid years to compliment them. The Kings have solid pieces all around them and adding Harrison Barnes will help them as they will make the ultimate playoff push to try and beat out both the LA teams for the 8th seed in the West.
18. Los Angeles Lakers (28-29)– The injuries that LeBron James and Rajon Rondo sustained damaged all the good momentum going for the team and the team failed to close out close games when they were out faltering down the ranks of the Western Conference. Also, trade talks seem to have ruined the team chemistry as they faced their worst loss of the season last Tuesday to the Atlanta Hawks even though they did get three-point shooters Reggie Bullock and Mike Muscala at the deadline. Lonzo Ball is scheduled to return in March so the team needs to hold their ground until he comes back and LeBron needs to get back in shape so the Lakers can pick up where they left off in December or else LeBron may be at home for the playoffs for the first time in a long time.
19. Miami Heat (26-30)– This is Dwyane Wade's tribute season and he is helping the team develop well with his guidance. The defense is good as they give a ton of effort and play hard, but offensively they have to find a way to score as they are 24th in offensive rating with 106 points per game and they need to find that consistent scorer on the team. The Heat can still easily make the playoffs by putting the ball more in Justise Winslow's hands as he is having a very good year.
20. Minnesota Timberwolves (27-30)– After the Jimmy Butler trade it seems the Wolves are playing harder, but their efforts are in vain without a true closer. Derrick Rose has found some of his MVP self with more playing time. If the Wolves had fired Tom Thibodeau earlier they could've still been in the playoff race.
21. Dallas Mavericks (26-31)– Luka Doncic has been a revelation this year with his scoring and playmaking and has made a dull Mavericks team so much more fun to watch. The Mavericks haven't been winning lately and Mark Cuban decided it was time to give his rookie sensation some new players and he traded away the entire starting lineup to start fresh. It is unclear if this is Dirk Nowitzki's last year or not, but the Mavericks can try and give him one last playoff appearance even though the competition of the West will make it unlikely as they are too far behind.
22. Orlando Magic (27-32)– An overabundance of big men is still a major issue for the Magic and they need to let Nikola Vucevic walk in the offseason to prevent a logjam in cap space. The guards have never been great and the Magic need to invest more time looking for them because the go big or go home plan is failing in major proportions. The Magic can still make a playoff run so they have to stay focused and not let past failures dictate how this season ends even though trading away Jonathon Simmons makes them weaker.
23. New Orleans Pelicans (26-33)– This is getting messy with Anthony Davis now and it really won't get any better soon. Nobody seems to even care about the games anymore and the Pelicans just keep on losing. They started out well, but everyone's anger toward ownership and management affected them too much as they will be watching lottery balls yet again.
24. Washington Wizards (24-34)– This was supposed to be the year that the chemistry clicked, but it turns out as another year of wasted potential as John Wall's health is a major question mark year after year and he will spend the rest of this year and next year out with a ruptured left Achilles after slipping in his house while Dwight Howard proved to be a big waste of time. They gutted the whole roster and it looks as if they want a new combination of players around Wall and Bradley Beal, but it won't seem to matter cause it seems to be a locker room issue at this point. They may compete harder, but the wins are rare in the nation's capital this year.
25. Memphis Grizzlies (23-36)– The Grit N' Grind Formula just won't work with the evolution of the three-ball because of the math and the Grizzlies insist on trying to make it work too much. They finally got rid of Marc Gasol and they are looking to develop Jaren Jackson Jr. and some other young pieces for the future even though Mike Conley is still on the team. Management needs to get a draft right and it looks like the team will give them that chance yet again this year.
26. Atlanta Hawks (19-39)– Trae Young fits the Hawks' system well and John Collins has improved well after year one. They just don't bring the same effort every night as one night they beat the Lakers and the next they lose to the Knicks. In the NBA, consistency is important and until the Hawks find that, they will not find their 2015 magic.
27. Chicago Bulls (14-44)– Injuries derailed what could've at the very least been a developmental year for some of the younger players. It's so bad in Chicago that Dwyane Wade swapped jerseys with the mascot instead of any of the players! The pickup of Otto Porter Jr. is good and will help the Bulls moving forward, but they need to stay healthy to see if this group has any type of potential.
28. Cleveland Cavaliers (12-46)– Post-LeBron was always going to be rocky, but at least Collin Sexton has come along nicely throughout the year. Everyone with the exception of Kevin Love has marginal to no talent and, without LeBron, it shows. Dan Gilbert better shape up or this team could look like this for a while.
29. New York Knicks (11-47)– Tank for Zion has become the motto this year especially after shipping Kristaps Porzingis away for cap space in the summer. The trade for Dennis Smith Jr. seems to be a big win as Dennis Smith Jr. has been sensational as a Knick so far. The Knicks ended their 18-game skid by beating the Hawks before the break, but they will probably go on another one after the break knowing the Knicks.
30. Phoenix Suns (11-48)– The pairing of Deandre Ayton and Devin Booker is nice on offense, but the defense is non-existent. The void of a true point guard limits them, and in the West, that is an important piece.They should tank and get that piece in R.J. Barrett cause this year is a lost cause.
The competition in the NBA has picked up from years past and there is a ton of parity in the league. Some of these teams are really solid, but they just haven't done enough this year. The second half of the season will determine if the season is a success or failure.
Questions and comments?
thescorecrowsports@gmail.com
Follow Us on Twitter @thescorecrow
Follow Us on Reddit at u/TheScorecrow
Follow Us on Facebook at The Scorecrow
Follow Us on Instagram at The Scorecrow
Follow Pranav on Twitter @PranavRama1
Main Credit Image:Embed from Getty Images