Logan Whaley | February 20th, 2019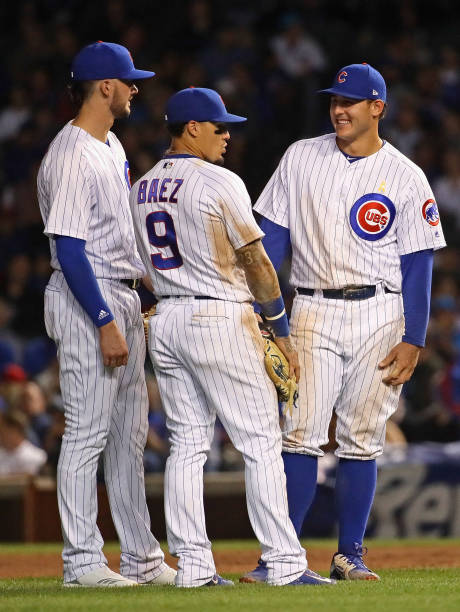 The Chicago Cubs are fresh off their fourth straight season of 90+ wins. Despite the disappointing abrupt end to last years campaign, the club looks to bounce back in a big way and once again show off how dominant they can be in the National League.
Last season: 95-68, 2nd in N.L. Central
The expectations were high for the Cubs to once again reign supreme not just in the Central, but in the National League last season. The team was coming off their third straight National League Championship Series appearance, had won a world championship, and landed prized starting pitcher Yu Darvish via free agency.
Unfortunately, everything came crashing down rather quickly. The team still put together a fantastic 95-win season, however, fell to division rival Milwaukee on the final day with the division on the line, and lost just one day later to the Colorado Rockies in a 13-inning Wild Card game. Now, with a rejuvenated attitude and youthful faces, the boys of Wrigleyville look to once again jovially return to the top.
Catcher/Infield projections
Beginning with the clubs coveted backstop Wilson Contreras, it is easy to assume he will return to form following a down year in 2018. Contreras caught a career-high number of innings (1109 2/3) over just 138 games, ultimately leading to burnout. Over the first half of the season, Contreras slashed a robust .279/.369/.449 with 7 home runs and 34 RBI. He struck out at just a 20.8% clip. In the second half, however, Contreras was a completely different player, slashing a porous .200/.291/.294 with 3 home runs and 20 RBI. The strikeout rate increased too, to 24.6%.
Now, Contreras looks to return to form in 2019. The team has not made a move on the veteran catcher front, giving way to their belief in current backup Victor Caratini. This season, if the team can once again limit Contreras' innings behind the plate, he should return to his old self. He is projected to slash .257/.340/.427 with 14 home runs and 58 RBI; numbers Contreras can reach.
Speaking of Caratini, the Cubs hope for consistency out of the third year backup who is still just 25 years old. Caratini was not great last year, slashing just .232/.293/.304 with 2 home runs and 21 RBI. He posted a well below-average .268 wOBA and 65 wRC+, and a 0.0 WAR. As Caratini saw only 200 plate appearances, it would be great to give him the benefit of the doubt, and hopefully, for Cubs fans, he can blossom into a great compliment to Willy.
Moving on, Anthony Rizzo is someone who also will look to find early season consistency. Despite finishing at .283/.376/.470 with 25 home runs and 101 RBI, things did not start great for the All-Star first baseman. Rizzo slashed .246/.341/.407 with a slightly above league average 101 wRC+. Nevertheless, Rizzo picked it up in the second half, slashing .329/.420/.550 with an excellent .970 OPS to finish the year strong. As Rizzo is one of the most consistent Cubs on the team, we need not worry about another big year coming from the smooth-swinging lefty.
The next fan favorite, Ben Zobrist, is entering the final year of his four-year deal with Chicago. Last season, 'Zo was consistent as ever. He slashed .305/.378/.440 with a .355 wOBA and 123 wRC+, finishing with a 3.6 WAR. Zobrist is someone fans have come to count on as he has produced many big moments, and will undoubtedly provide more in 2019. Zobrist is projected at just 104 games this season, at a .268/.351/.406 line. Despite this, we should all expect more from Zobrist as he should continue to be a reliable producer for another year.
Heading across the diamond, it is time to look at the duo on the left side of the diamond of Javier Baez and Kris Bryant. Baez took off last season, producing a career year and finishing as one of the best players in the National League. Baez finished 2nd in the MVP voting and will look to build on last years campaign. Baez slashed .290/.326/.554, finishing with 34 home runs, 111 RBI, and 21 stolen bases. While it may not be another year like last year, we can expect 'Javy' to be another big bat in a stacked lineup. Kris Bryant, meanwhile, struggled last year after a few scares and injuries. He will look to bounce back and, as reports have discussed, Bryant is healthy and ready to roll. Bryant is projected at a .275/.382/.504 clip and a 5.6 WAR. Expectations are high for these two and should be reachable.
Last but not least, is Daniel Descalso. Descalso arrives in Chicago after the departure of fan favorite utility man Tommy La Stella. What Descalso brings to the club is another substantial veteran presence and should ultimately step up and produce off the bench, in a platoon role. He is coming off a career-best year and will look to shore up some inevitable lost at-bats throughout the season.
Outfield Projections
As we move into the new season, the outfield is set and ready to roll. Starting in left field is Schwarber, who posted a career year last season. He finished improving in almost every offensive category, producing a higher wRC+ and wOBA from the year before and ended with a 3.2 WAR. His defense significantly improved as well, improving into a positive two DRS and posting a 14 UZR/150. The key for Schwarber is, of course, health and expectations are high for the 25-year-old lefty looking to continue to improve.
Manning center field will inevitably be the combo of Almora Jr. and Happ. Almora was his same old consistent self in 2018, finishing with an identical 1.1 WAR. The wRC+ and wOBA were significantly down. However, he still managed to slash .286/.323/.378. Naturally, the defense was still outstanding. Almora Jr. finished with an impressive nine DRS. Expect him to continue to be a producer this year.
Of the four, Happ is somewhat of an enigma. He kicked off the 2018 season by homering on the very first pitch…of the season. From then on, it was downhill with flashes in between. Happ finished with a paltry .233/.353/.408 line, and a 36.1% strikeout rate. He still finished with a 106 wRC+ and a 1.5 WAR. Expectations are high for the 24-year-old. However, Happ needs to show up this season.
Finally is Jason Heyward. As Cubs fans know, he has not been great since signing his mega contract in 2015. He did, however, produce his best season in Chicago last season. Hayward finished by slashing .270/.335/.395, lowered his K% to 12.9 and was worth a 2.0 WAR. For Heyward, it is all about the leather, as he remains one of the best outfielders in the game. Cubs fans hope he will keep trending in the right direction this year.
Starting Pitching Projections
Lester is coming off a fantastic season, in which he led the Cubs with an 18-6, 3.32 ERA. The strikeouts were down, and walks were up. However, he gave up fewer home runs and stepped up in crucial moments. Lester is coming off eleven straight 30+ start seasons. If he can stay healthy, he should replicate more of the success this season.
Finding diamonds in the rough, its time to look at Cole Hamels. After being traded to the Cubs midseason, Hamels pitched to a 2.36 ERA over 76 1/3 innings. Batters were held to .223 with only a .337 slugging percentage. The Cubs picked up Hamels' option over the offseason, and he will look to continue his notable success into this year.
Projecting to be third in the rotation is the aforementioned prized free agent acquisition Yu Darvish. The 2018 season was a major letdown for Darvish as he struggled to find consistency before landing on the shelf for much of the year. Now, Darvish appears to be healthy which is excellent news. He made just eight starts so, as long as he can stay healthy, Darvish should rise to the challenge for his projections and be who the Cubs want him to be.
Fourth is "The Professor" Kyle Hendricks. Throughout his Cubs career to this point, there is nobody more consistent outside of Lester than Hendricks. In 132 starts for the club, Hendricks has a 3.07 ERA. Last year, Hendricks had a "down" year of sorts, yet still managed 33 starts and posted a 3.44 ERA. He is projected at a 4.04 ERA over 32 starts, however, he should reach higher with no problems.
Last but not least is Jose Quintana. Similar to Darvish, Quintana has had his fair share of challenges since arriving on the Northside. He made 32 starts in 2018, however, he also saw a drop in his strikeout rate and an increase in his walks. Quintana posted a less than stellar 4.43 FIP and 4.18 xFIP. This year, with hopefully less pressure on him to perform, all eyes will be on Quintana to progress in the right direction.
Bullpen Projections
Out of the entire club, the bullpen is probably the weakest link. The team brought in Brandon Morrow last season as the primary closer, however, finished his campaign with 30 2/3 innings after elbow surgery. Morrow missed the final three months of the season. Before his injury, Morrow pitched to a 1.47 ERA, and so the Cubs could use him this season. As Morrow is out to begin the year, the team will undoubtedly turn to the likes of Pedro Strop to mop up closer duties. Strop put up solid numbers last season. Spanning 59 2/3 innings, Strop pitched to a 2.26 ERA and 13 saves. Rounding out the body of the pen are veterans Steve Cishek, Carl Edwards Jr., and Brandon Kintzler. Cishek was once again excellent, posting a 2.18 ERA over 70 1/3 innings with a 27.1% strikeout rate. Edwards is looking to return to form himself and has developed mechanic tweaks to slow down his delivery. Hopefully, this will help him this season and beyond.
Kintzler arrived in Chicago at last seasons trade deadline. He was not great in his short time, posting a 7.00 ERA in 18 innings. He will look to return to prominence and provide for the pen in a big way this season. Duensing is another who struggled having posted a 7.65 ERA in 37 2/3 innings. If he can produce results similar to 2017, he will be fine and so will the Cubs. Lastly, are Chatwood and Rosario. In Chatwood's' first season as a Cub, he was also below-average. Thankfully, the 5.30 ERA will presumably decrease this year, and he could provide substantial long relief if and when injuries occur. Rosario was a bright spot in the bullpen. In 46 2/3 innings, he posted a 3.66 ERA. In his first real significant league experience, he seemingly excelled and will look to build on it this season.
The final addition to the bullpen is free agent acquisition, Brad Brach. Brach arrives on a one-year deal and provides major late-inning depth to help the likes of Strop and Edwards. This may be the biggest move of the offseason for Chicago, so hopefully, Brach will produce.
Predictions
The Cubs sit in an unusual position. Of course, the club is still one of the best in the National League. Despite succumbing to the Brewers on the final day of the season, hope should not be lost. The Cubs lost the division, plain and simple. Now, they get their top producer back healthy and a returning starter who seeks redemption.
All of that being said, the Cubs have somewhat sat idly by while the remainder of the division has been aggressive. The Brewers, of course, added many pieces last season, as well as signed catcher Yasmani Grandal, and brought back Mike Moustakas in the past few days. The Cincinnati Reds traded for Yasiel Puig and signed Sonny Gray. The St. Louis Cardinals are looking competitive once again with bringing in Andrew Miller and Paul Goldschmidt. The Central is about to get wild.
Being completely honest, it could be a very competitive year for the Cubs. I believe in them to once again win north of 90 games, and as long as the team can stay mostly healthy, should be competitive. I'll go with a final regular season record of 93-69 and a fifth straight playoff appearance.
Check out our other Team Previews | Colorado Rockies | Toronto Blue Jays | Minnesota Twins | Atlanta Braves
Questions and comments?
thescorecrowsports@gmail.com
Follow Us on Twitter @thescorecrow
Follow Us on Reddit at u/TheScorecrow
Follow Us on Facebook at The Scorecrow
Follow Us on Instagram at The Scorecrow
Follow Logan Whaley on Twitter @game7magic
Main Credit Image:"Embed from Getty Images