Zach Gotlieb | February 19th, 2019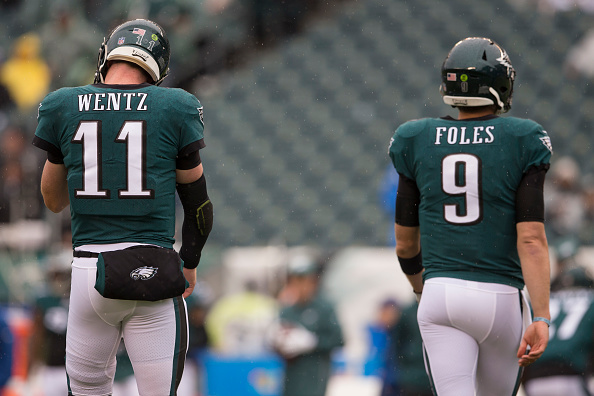 The writers at TheScorecrow.com decided to get together and come up with their version of a Top 100 NFL players from the 2018 season. Each writer was invited to submit a ranked list of their top 25 NFL players. The votes were then counted using a weighted average method. This means that a 1st place vote was worth more than a 25th place vote.
Players ranked 1st on a list received 25 points, 2nd = 24 points and so on down to 1 point for a 25th place vote. Each players points were added up and then listed from least to most to generate our list of top 100 players. The top few players were fairly common on all the lists, but after that it was interesting. We hope you enjoy our rankings and would love to read your comments on our list. Special thanks to Beth Sullivan for tabulating the votes and getting this project together.
TheScorecrow.com Writers
Honorable Mentions: Alex Smith, Carson Wentz, Patrick Peterson, Tremaine Edmunds, Brandon Graham
Alex Smith– Alex Smith is just a sad story. He went down with a terrible leg injury in week 11 which may be potentially career-ending based on a near identical injury that happened to Joe Theismann on the exact 33rd anniversary of when Theismann got hurt. Before that, he was pretty productive in his first season with the Washington Redskins. He completed 62.5% of his passes for 10 touchdowns and 5 interceptions and 2,180 yards. Not Earth-shattering, but productive and definitely would have been in the top half of the league providing a consistency that the Redskins were looking for when they acquired him. He's already been ruled out for 2019, but hopefully, he will still get the chance to play again in the NFL.
Carson Wentz– This is becoming an interesting storyline in Philadelphia with Nick Foles at backup quarterback. But he's still the future in Philly. He's a top talent coming off an ACL tear and while it took him a little while to get back into the swing of things, but he looked good. He threw for over 3,000 yards, 21 touchdowns and 7 interceptions in just 11 games. His stats didn't exactly translate to a superb record (5-6), but it showed good signs for him going forward.
Patrick Peterson– Despite a forgettable year for the Cardinals franchise this year, Patrick Peterson still managed to be a reasonably productive corner and still a clear number one cornerback for the Cardinals.
Tremaine Edmunds– Edmunds had an excellent rookie campaign. He posted 121 tackles which were 4th among rookies this season. With Leighton Vander Esch and Roquan Smith and Derwin James dominating most of the headlines this year in the rookie class, Edmunds flew under the radar and posted a high floor to start with and a potentially really big ceiling in future years.
Brandon Graham– With tons of weapons on the defensive line, lots of sacks and tackles had to be divided among them, and Graham still had a fairly decent year. He was 2nd in tackles with the Eagles among the defensive line. It was not his best year ever, but he did make a solid and consistent impact and will look to keep making an impact and hopefully a bigger one next year.
100: Mitchell Trubisky– A revival year for the Chicago Bears led by a number one defense and a quickly developing 2nd-year quarterback. Trubisky improved in just about every single statistical category. He more than doubled his QBR (72.8 out of 100) and more than tripled his touchdown passes (24) from 2017. A heartbreaking loss in the playoffs was what prevented them from potentially making real noise in the postseason. The big worry for him was big game playoff experience, and now he has some and some potentially great weapons to work with which can only help continue to develop and grow.
99: Kyle Williams– An end to a very very productive career. He posted the third highest sack number of his career (5) and continued to be run stuffer at the line forcing lineman to focus on him and making running backs change their running routes. He's been very good for years and years, and unfortunately, we'll no longer get to see him lineup on Sundays.
98: Harrison Smith– Smith posted another terrific season and continued to be among the upper echelon safeties in the league. As a first-team all-pro player last year, he still recorded more tackles than last season and the most tackles for loss in his career. He's disruptive in coverage and in the run game flying all over the field and seems to be around the ball during every play. He's in his prime right now, and he's playing like it. He looks to keep it up next year and continue to be an anchor for the Vikings defense.
97: Mark Andrews– In his rookie year, Andrews did a great job with the Ravens, leading their tight ends in targets and receptions as well as doubling them in yards. He was 4th in yards on the whole team. With a couple quarterback changes in Flacco and rookie Lamar Jackson, it was impressive to see the production out of him at the tight end spot. He didn't have a huge role, but if his production continues to grow and he continues to develop, there's definitely the potential for his role to expand as he gains more experience.
96: Phillip Lindsay– What a year for this undrafted rookie. In 14 games and change, he finished top 10 in the league in rushing yards and 2nd in yards/carry. For a Broncos team that frankly didn't have a good year at all, Lindsay was one of the few bright spots for the team. A growing fandom fronted by Terrell Davis is just the beginning. He had a terrific year and it doesn't appear that he'll slow down anytime soon.
95: Greg Zuerlein– Greg the Leg. He hit the game-winning kick that sealed the fate of the New Orleans Saints season in an unbelievably controversial NFC Championship Game overtime win. He had a terrific year overall. He made 87% of his kicks and 97% of his extra points this season which is a great mark especially considering that it was a down year for kicking. As a league, they set a record for missed kicks in a single week this season. There could be any number of reasons for some of the kicking woes that happened at times this year, but Zuerlein defied them all and will look to continue to be a top kicker.
94: Jaylon Smith– Amidst a very solid looking defense, Jaylon Smith has put together a very solid 2 years in a row. This year he totaled 121 tackles and 4 sacks which 2nd and 4th on the team. He seemed to get overshadowed by rookie standout Leighton Vander Esch, but don't let it take away from the very impressive season Smith had. He seems to be up and coming and he, along with sensation Vander Esch, seem like they will make a very dangerous linebacker duo for years to come.
93: Zack Martin– Zack Martin is a tremendous guard. Top in the game no doubt. Of the 56 sacks that the Dallas offensive line gave up on the year, Martin only gave up 3 of those. A top offensive line in the league really struggled this year, and the loss of center Travis Frederick appeared to make a bigger difference than people thought and it showed on the line, but not with Martin, he's still a stone guard that rushers won't get past. As Martin continues to grow, people have started to ask if he may just be better than Cowboys legend Larry Allen.
92: Dee Ford– Dee had a career year. His 55 tackles and 13 sacks are both career highs, and he provided so much more than what numbers can show. He brings the ability to be an effective running mate to star pass rusher Justin Houston which opened up lanes for Houston to be extremely effective as well. Ford is a free agent this coming offseason and is expected to be a huge name on the market after this season. There are question marks about whether his success is sustainable or not, but wherever he lands in free agency, that team will pick up a player that has the potential to be a number one pass rusher
91: Stephen Gostkowski– He has been a top kicker in the NFL for years now and this year wasn't an exception to that. It was a down year for him in terms of previous seasons, but still worthy of being included in the Top 100 players list. He posted an 84% field goal percentage and 98% on extra points. He went 5-6 in the playoffs, and you could argue he was among the top reasons the Patriots won the Super Bowl this year given it was a low scoring affair that featured only 1 touchdown. At age 34, Stephen is starting to go past his prime, now let's see how long he can last and still be among the best kickers in the league.
90: Rob Gronkowski– He's not the player he used to be, and at certain points, he looked like a shell of himself, but when he was needed most, he was a game-wrecker like everyone knows him to be. He showed top tight end in the league talent in the AFC Championship Game and the Super Bowl. He had 13 catches for 191 yards, but where his true impact turned out to be was in the run game. He was a terror as a run blocker, opening holes for running backs, Sony Michel and James White. Gronk is clearly no longer the player that he used to be and faces an uncertain future. He may stay with New England, he's been brought up in trade rumors over the past season or so, but the idea that seems to be most prominent after being injury riddled for years is that he may retire.
89: Lamar Jackson– Welcome to the Lamar Jackson era in Baltimore. With Joe Flacco being traded to Denver, it's time for Lamar to be the franchise quarterback of the future. After an injury to Flacco gave him the starting role, Lamar excelled. He finished the season going 6-1 as a starter and clinching a playoff berth in week 17. There's still a ton of questions about Lamar as a quarterback. His athletic ability is incredible and he can throw the ball forever, but he isn't the most accurate guy and has problems with consistency. Before everyone can buy into him being The Guy of the future, he's gonna need to be a little more consistent with his accuracy, but he is off to a tremendous start to his career which surprised many, and he will continue to look to surprise people going into his sophomore season.
88: Denzel Ward– Another rookie that had a very good season. Drafted at number 4 overall, there were lofty expectations, and he achieved them by being a number one corner on a much-improved Browns team, particularly on defense. Among the secondary, Ward finished 5th in tackles, 2nd in interceptions, and 3rd in forced fumbles. After reaching the Pro Bowl, he's looking like he could be the lockdown corner that Cleveland was hoping to get when they drafted him
87: Nick Foles– Two years in a row, Nick Foles has made a special run guiding the Eagles to the playoffs. After having to finish the season for an injured Carson Wentz, Foles started the last 3 games, and they all ended in wins and a playoff berth. The Nick Foles "magic" came back for another season as he got them out of the Wildcard round with a miracle win against Chicago. He finished the season going 6-2 and 4-1 in the regular season. His best game was in week 16 against Houston; throwing for 471 yards and 4 touchdowns. That was the game when people thought the magic was back for the Eagles. Unfortunately, the season didn't end like it did last season and they got ousted by the Saints in the Divisional Game. He still played well and put them in a position to win. Foles is expected to be one of the top free agent quarterbacks on the market, and whether he's able to test the market or he's transition tagged and traded, it's fully expected he'll be the starting quarterback elsewhere and provide a team with a potential franchise guy.
86: TreDavious White– While it was a bit of a down year statistically considering his stats his rookie year, he still led the cornerbacks in tackles and interceptions despite the fact that he's among the least targeted players in the NFL which is just a testament to his coverage ability before the ball is in the air. His interceptions and passes defended may be down, but that's because no one targets him. He was drafted at the end of the 1st round last year and quickly inserted himself as the top corner in Buffalo. "He's very good. He's very talented, very strong, can press, can play off, good ball skills," O'Brien, the Texans coach, told reporters early in the season before a game against the Texans. "We studied him a lot coming out of college. He's a top-flight corner in this league." We'll see if he can keep playing like a top corner, but he had a fantastic sophomore season this year and certainly deserves to be on this list and in the conversation among the top corners in the league.
85: Mike Evans– This year was crazy for Tampa Bay. Back and forth between two different quarterbacks. Jameis Winston getting suspended yet again and somehow Mike Evans still ended up with one of the best seasons of his young career. He had 86 receptions for over 1,500 yards and posted his highest catch percentage rate. He stands at 6'5" which is an absolute terror for almost any cornerback; especially in the red zone. 7 of his 8 touchdown receptions occurred in the red zone. He's the best player on the Buccaneers and is beginning to really embrace a leadership role that this team desperately needed through the mild chaos that occurred at times this season. If the Bucs want even to sniff the playoffs in a tough division, Evans will need to be at the forefront of that.
84: Cam Jordan– Cam has really come into his own in his career with the Saints and what made this year so impressive is his contribution to the revival of the Saints defense as a whole. For the last few years, it's been the Drew Brees air show every week, then last year with Alvin Kamara, it opened up opportunities for Mark Ingram to be his running mate and the passing game to be even more potent. But the defense was a very nice and significant surprise that really gave the Saints the grounds for a potential Super Bowl run (which is a discussion for another time). Jordan led the front 7 with 12 sacks which are among the highest of his career and led the defensive line in tackles. There were times where he seemed to be absolutely unstoppable, and his impact was noticed. He's entering his prime, and the Saints will be looking to him for another big impact next season to make a Super Bowl run before the window with Drew Brees closes.
83: Damon Harrison– Snacks!! Quite possibly one of the best and certainly accurate nicknames in the league. He had another solid year making it near impossible for teams to run up the middle. He was traded from the Giants to the Lions which was somewhat of a surprise, but also showed the state of the Giants franchise. He contributed with both teams finishing the season with 81 tackles and 3.5 sacks which is a good showing for him, one of the best of his career actually. Harrison is 30 and is likely to have a couple years left of his prime. Hopefully, we get to see more good production from "Big Snacks."
82: Calais Campbell– Playing among one of the top defenses in the league on a massively underperforming Jacksonville team, Calais put together a very good season on a very good Jags defensive line. Putting together a career high in tackles and his 2nd double-digit sack season. Opposite of Malik Jackson, Campbell has really been able to excel with more consistency including both of his top seasons in sacks coming from being in Jacksonville. Campbell is getting up in age a little bit and should be nearing the end of his prime, but hopefully, he can keep going and providing an impact on the vaunted Jags defensive line while they retool the offense to compete and reach the potential of what we thought they would be this year.
81: Chris Harris Jr.– Another year, another terrific season for CHJ in Denver. With a secondary that was inconsistent at best, Harris was a bright spot week in and week out providing top corner coverage from the slot and the outside. With Denver trying to make an extremely late run to the playoffs, they lost both Emmanuel Sanders and Chris Harris, and it showed. Especially on defense having only two players that had more than two years of experience and one being healthy for the majority of the year. The one thing that can't be measured by any stats or numbers is leadership ability, and that was noticeable. Harris went down late in the season against the Bengals, and in the last 4 games, you just saw the hope of the defense drop. Losing their number one corner was too much. Hopefully, Harris can continue to be the number one guy and top corner in the league for the [what should be rebuilding] Broncos.
Questions and comments?
thescorecrowsports@gmail.com
Follow Us on Twitter @thescorecrow
Follow Us on Reddit at u/TheScorecrow
Follow Us on Facebook at The Scorecrow
Follow Us on Instagram at The Scorecrow
Follow Zach Gotlieb on Twitter @zachgotlieb
Main Credit Image: Embed from Getty Images