Troy Pierce | February 18th, 2019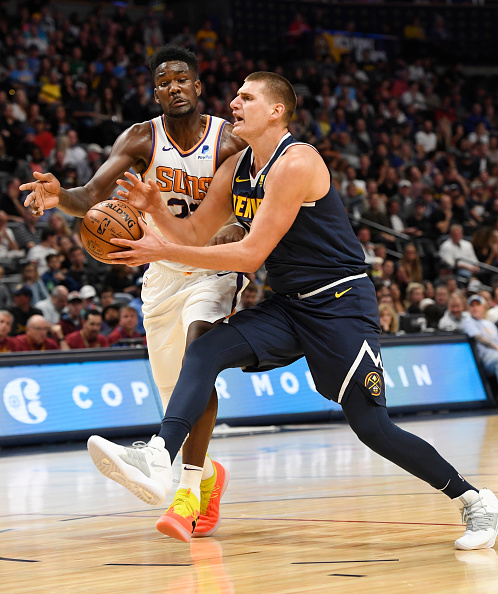 With NBA All-Star Weekend looming to start the week, NBA was cut short this week with the weeks' action ending on Thursday night. This week we'll be checking in on Cleveland's "young bull" Collin Sexton. Next, we'll be checking in on Trae Young and his career night against the visiting Los Angeles Lakers. After that, we will head to the desert for DeAndre Ayton's 20-point performance against the Los Angeles Clippers.
Collin Sexton 
On Monday Collin Sexton had 20 points, one rebound, three assists, and one steal in 38 minutes against the New York Knicks. The Cleveland Cavaliers point guard would shoot 7-of-21 from the floor and 2-of-8 from distance. Sexton would also have one turnover and three fouls.
Sexton did not have a particularly great game shooting the ball against New York. He tried time and time again to score at the rim, but with DeAndre Jordan protecting the paint, he struggled to get easy looks at the basket. Sexton was still able to use his speed to get into the lane and kick the ball to the open man, although that did not necessarily translate into the assist column. To close the first half the 20-year-old had a good read in which he waited for the lane to clear and was able to blow by Kadeem Allen for an easy layup that allowed him to extend the Cleveland lead to 15 at the half.
Even though Jordan did not allow him easy looks at the rim, Sexton was able to turn those tough shots into free-throw attempts, and he was able to shoot 80% on the night from the charity stripe. One thing that Sexton will need to be more aware of going forward is when to drive the ball, especially against elite shot blockers like Jordan. He must get comfortable shooting the midrange jumper when coming off screens, or passing to the open man. Unfortunately, the Cavs rookie struggled in that area against New York.
Sexton had a bit of a statement play with about five minutes left in the second quarter where he hit a layup over Kevin Knox and drew the foul. Knox, who was drafted the pick after Sexton in last year's draft, was named over the Young Bull for the Rising Stars game. Sexton, as of 2/11/19, was averaging 14.8 points and 3.1 rebounds while shooting 41% from the field and 40% from three, compared to Knox's 12.6 points and 4.2 rebounds on 37% and 34% shooting.
Trae Young
Trae Young was the latest beneficiary of the Lakers ineptitude on defense as he set a career-high 14 assists in the Atlanta Hawks' stunning win over Los Angeles. Before Lonzo Ball went down with an ankle injury the Lakers were seventh overall in defensive rating but, currently, they rank 26th.
Young's 14 assists were certainly impressive, but something that could be a regularity in his career. Young is averaging 7.6 assists per contest, putting him seventh in the league and first among rookies.
In addition to the 14 assists, Young also had 22 points, six rebounds, one steal, and one block. The point guard shot 6-of-19 from the floor, 7-of-9 from the free throw line, and 3-of-9 from beyond the arc. Even though Trae did not have the best shooting night, he was able to draw contact thanks to his speed and knack for getting into the lane.
One thing that was really impressive was the way Trae Young was able to control the pace for Atlanta when running the offense. His career passing night allowed him to command the game for the Hawks and was a huge factor in helping the team get this win. Young had one particular pass where he caught Lance Stephenson out of position on a fast break and hit DeAndre' Bembry for a wide open dunk.
In the closing minutes, Young had an and-one that pushed the Atlanta lead to 7. With 30 seconds left he would go 1-of-2 at the line and push the lead to 8, sealing the victory.
Deandre Ayton
Ayton has had an overall quiet season for a number one overall pick, but he was able to show a glimpse of what the Phoenix Suns hope he can become. On Wednesday night, Ayton would put up 20 points, grab eight rebounds, and have two assists in 29 minutes, shooting 9-of-15 from the field and 2-of-3 from the free-throw line. His solid shooting would come in a losing effort though, as the Suns would fall to the Clippers 134-107.
Ayton played well overall on the offensive end. He had several plays at the basket where he scored on Ivica Zubac in the post, as well as with fadeaway and midrange jumpers. The body control and footwork he has is very encouraging to see in a young big man and his offensive ability is a welcome sight.
Ayton also played with a lot of energy on the boards against the Clippers, grabbing two offensive and six defensive rebounds. However, he did struggle to box out Zubac who would grab seven rebounds on the night.
The Bahamian overall struggled on defense in this game as he was caught out of position on several possessions in the second quarter that lead to a dunk, two layups, and a free throw for Montrezl Harrell for seven points in the span of one minute. Ayton played conservatively on defense but he did have a nice play in the third quarter where he caused Shai Gilgeous-Alexander to lose his handle, leading to a Devin Booker steal.
If not for Ayton's lack of defensive impact, I think Phoenix would have liked to go to him more in this game to give them a better chance of victory.
Questions and comments?
thescorecrowsports@gmail.com
Follow Us on Twitter @thescorecrow
Follow Us on Reddit at TheScorecrow
Follow Troy on Twitter @HoopHead_prod Main Credit Image: Embed from Getty Images