Josh Elias | February 18th, 2019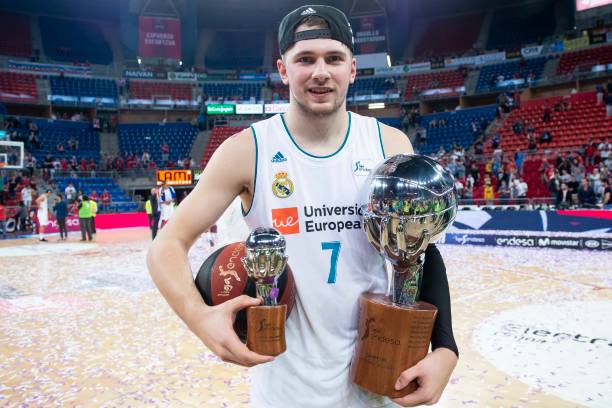 CLICKBAIT CLICKBAIT CLICKBAIT! Yeah, I know that's probably the reaction most of you have when you read this title. And I understand. It's a ludicrous question to pose about a rookie.
It's crazy enough to make the claim that a rookie could even be on the path to the Hall-of-Fame, especially when you consider the incredible rookie seasons we've seen from Tyreke Evans, O.J. Mayo, Michael Carter-Williams, and Jay Vincent, who all combine for zero all-star appearances, over the years.
How do we know this isn't going to be his best year? What if a freak injury happens? Those are legitimate questions to ask.
Except, what I'm saying isn't that he's on track to be a Hall-of-Famer. What I'm saying is there's a legitimate argument that he already would be if he retired tomorrow.
Before I explain myself, I want you to take a look at the achievements of Luka Doncic compared to a member of this last Hall of Fame class, Maurice Cheeks.
While being an NBA Champion and a four-time All-Star are certainly truly more impressive achievements than anything on Doncic's list, look at the sheer length of his career awards at just 19 years old. Weighing Cheeks' achievements compared to the Slovenian's does have to include how much you value performance in Europe compared to the NBA. Regardless, it's insane that you even have to consider that during a comparison of a Hall-of-Famer and a teenager. It should be extremely clear-cut.
Doncic has been off to a great start to his NBA career, averaging 20.7 points per game, to go along with 7.2 rebounds per game and 5.6 assists per game so far this year. As a rookie. The full list of players to average better than that in those three categories as a rookie is as follows: Oscar Robertson.
While most NBA scouts knew he would be great, few projected this historic of a season out of him. He's completely overshadowed Deandre Ayton and Trae Young, who have had incredible rookie seasons in their own right.
But why didn't many people project Doncic to be as amazing as he has been? He showed every sign of it last year with Real Madrid, averaging 14.2 points per game, 5.3 rebounds per game, and 4.5 assists per game.
Wait, that's incredible? Since when? That's like a lower-usage-rate Khris Middleton!
Not exactly. It's a different game over there.
And it's understandable for people to have been worried about him when he came over to the league. There have been a lot of highly-touted European players who haven't panned out nearly the way we thought they would.
So let's compare his last season in Spain to them.
Frank Ntilikina was picked #8. He'd averaged 5.7 points per game, 2.1 rebounds per game, and 1.7 assists per game.
Dragan Bender was picked #4. He'd averaged 4.4 points per game, 2.5 rebounds per game, and 0.7 assists per game.
Mario Hezonja was picked #5. He'd averaged 5.8 points per game, 2.0 rebounds per game, and 1.1 assists per game.
Jan Vesely was picked #6. He'd averaged 10.1 points per game, 3.6 rebounds per game, and 1.1 assists per game.
Andrea Bargnani was picked #1. He'd averaged 11.7 points per game, 5.1 rebounds per game, and 0.5 assists per game. And he would actually go on to last in the league as a starter for the better part of a decade. Yet even his numbers weren't particularly comparable.
Now that that's over with, let's get to the meat of the question I posed. Does he already have a Hall of Fame argument?
Since the year 2000, there have been 75 members of the Hall of Fame inducted as players. Here's the point where you have to remember that this is the Basketball Hall of Fame, not the NBA Hall of Fame. As such, it includes a much wider host of players than most people are aware of and a broader range of players than most people are comfortable with.
Of those 75 players, 11 are women, three are from before the NBA's prominence, and 50 were inducted because of their NBA accomplishments. And Ralph Sampson and Jamaal Wilkes made it in primarily because of their college stardom. That leaves room for nine international players over that time period.
I bring that up to clarify that a little over a tenth of Hall of Famers recently inducted are in the Hall primarily due to their play in European competitions.
Those players are, in order of induction, Drazen Petrovic, Dino Meneghin, Drazen Dalipagic, Bira Maciel, Arvydas Sabonis, Oscar Schmidt, Sarunas Marciulionis, Nikos Galis, and Dino Radja. There's a good chance you'll find about half those names familiar.
Dino Radja spent 12 years of his 16-year career in various European competitions. In that time, he won two EuroLeague titles, compared to Luka's one. They each got a Final Four MVP. Doncic got a EuroLeague regular season MVP, which didn't exist back in Radja's day.
He won the Yugoslav league three times, equal to Doncic's three domestic titles from Spain. He won four more titles in Greece and Croatia past his prime, but he only played a starring role for one of those four. His best season saw him average 21.5 points and 10.3 rebounds in Italy, which was the best league in Europe at the time, the same as Spain is right now.
Radja's a good comparison since he had such a short prime in Europe, and he comes away looking like the better player, although the hole in his resume of having never won in Italy means there's not a huge gap.
Bira Maciel played in an era before statistics were accurately kept, but he led three teams to a combined five championships in his home country and helped Brazil to a FIBA World Cup win and over a decade of dominance over South American basketball. He likely wasn't a better player than Doncic is, but certainly makes a better case for the Hall of Fame.
Dino Meneghin won the EuroLeague seven times and the Italian league 12 times. I don't think anything more than that even needs to be mentioned.
Drazen Dalipagic didn't see his teams win too often, but he scored a lot for them. Throughout his 20-year career, he scored over 30 points per game for most of his career, including a 70-point game. Luckily, making up for his lack of team success, he got a whole lot of gold medals with Yugoslavia that solidified him within the Hall of Fame.
Nikos Galis spent his entire career in Greece. Greek basketball was far from what it is today top to bottom and was seen in a similar light to China today.
Nonetheless, Galis had career averages of 33.2 points per game (44.0 in his best year) and single-handedly turned around the national team. While it's hard to compare accomplishments due to the level of competition, it's clear his influence on the game within his country beats Doncic's by a mile.
Though the NBA only got to witness a very small amount of Drazen Petrovic's genius, he made his name in Europe over the course of a decade. He won every award imaginable while he played in Yugoslavia before making a move to the same team Doncic would play for nearly three decades later.
Even though he only spent one year in Spain, he made his mark. He averaged 28.0 points per game that year, leading the league as they nearly won the championship. His extended success in Europe certainly puts him above Doncic.
Oscar Schmidt and Arvydas Sabonis both have achievements that outweigh those of Doncic so much that it's not even worth comparing them. They are the two players off this list who I'm convinced would have been dominant enough in the NBA to become Hall-of-Famers had they spent their primes in America instead of Europe too.
The sixth man for the "Run TMC" Warriors, Sarunas Marciulionis had a relatively modest career in Europe when it comes to accomplishments. His team never won a trophy and he never received an individual award until he came to the NBA, despite his stardom. He did win gold in the Olympics with the Soviet Union before collecting three medals with a Lithuania team he helped create as well as lead on the court.
His international career deserves an edge over Luka, but Doncic achieved quite a bit more with Real Madrid than Marciulionis did with Statyba, and I have to acknowledge that Doncic's recognition he earned within the EuroLeague and Spanish league gives him the better resume.
I've gone through Doncic's resume as fairly as I can against all of these players, and that led to him placing way behind most, and barely edging out Sarunas Marciulionas from my view of things. Realistically, that places him somewhere near the bubble for Hall of Fame consideration if he never played again.
I started this with a ludicrous question, and now I come back with the answer 'maybe, but probably not.'
At nineteen years old, Luka Doncic is probably not a Hall of Famer yet. And the fact that the word 'probably' even can legitimately be in that sentence should let you know exactly how special he is.
Questions and comments?
thescorecrowsports@gmail.com
Follow Us on Twitter @thescorecrow
Follow Us on Reddit at u/TheScorecrow
Follow Josh Elias on Twitter @_SunsofThunder_
Main Credit Image:Embed from Getty Images