Joey Ricotta | February 14th, 2019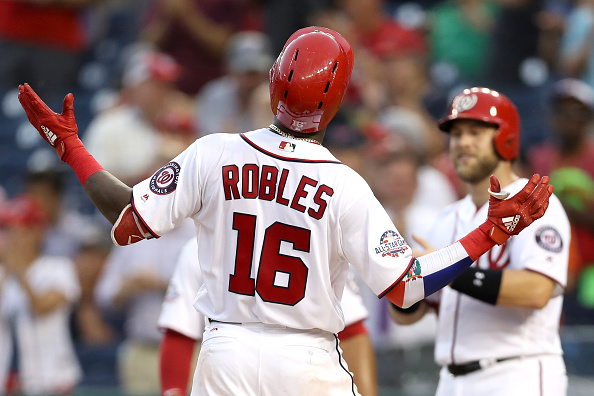 As of writing this, Bryce Harper has yet to make a decision or announce where he will be playing baseball this year. The latest news on the rumor mill has the Nationals out of contention for his services. If you personally know the writer of this article, then you know what kind of luck he has. It's a pretty good bet that right after this releases Harper will announce his decision and any assumptions made or references to Harper will be null and void. Planning accordingly, there will be no other mentions of Harper beyond this point. Instead, we will only be looking at his potential future teammates, replacements, or counterparts.
Note: Doing some digging and making calculations, the players were graded on a 20/80 scale that is more commonly used among scouts and organizations today. In order, it is Present grade/Future grade
Age: 21 Bats: Right Throws: Right
Hitting: 55/65
Power: 45/55
Speed: 70/70
Fielding: 70/70
Throwing: 70/70
Overall: 55/65
Victor Robles was signed in 2013 out of the Dominican Republic. He's one of the brightest prospects in all of Major League Baseball and is ranked as the No. 4 prospect overall by MLB Pipeline. Robles has had experience in each of the last two seasons at the big league level but has had difficulties staying healthy. He debuted towards the end of the 2017 season. Then in 2018, he hyperextended his elbow early in the year. Because of the number of at-bats he has had, he still qualifies as a rookie and prospect.
Albeit a small sample size, Robles has had some success at the big league level. In 59 at-bats last year he slashed 288/348/525 (873 OPS), he had a very good .370 wOBA, and a 131 wRC+. He also hit three home runs, drove in ten, and stole three bases.
Robles has average power as it stands, but that is really the only question as far as his tools go. He has a quick bat and projects as a plus hitter that makes consistent hard contact. When he's on his game, he sprays the ball around the diamond and often times plays pepper with the right-center field gap. He has elite speed that projects as one of the faster players in the Majors. Combine his great speed with a very good glove and above average arm, he could potentially be an elite defensive center fielder.
Robles has been making strides and maturing as a base runner. He was getting thrown out more than he should, given his speed, but has been improving his stolen base percentage. If scouts have any concerns, it's his overall ability as a base runner and his ability to hit for power at the big league level.
He has the potential to hit between .280-300 every season. Realistically, he's a 12-15 homer per season player. Although he could possibly get up to 20 per season. Baserunning is teachable. If he continues to mature as a runner, he could be in the 40 steals per year range. The most bankable thing is his glove. He'll be a plus defender in the outfield. With the potential void in the Nationals outfield this season, because of you know who, it's a good possibility that Robles cracks the opening day roster and gets a ton of playing time this year. ETA: 2019
2. Carter Kieboom – SS/2B/3B – 6'2″ 190 lbs
Age: 21 Bats: Right Throws: Right
Hitting: 50/60
Power: 50/60
Speed: 50/45
Fielding: 45/50
Throwing: 60/60
Overall: 50/60
With their first-round pick in the 2016 draft, the Nationals selected Carter Kieboom 28th overall. Carter wasn't the first Kieboom to play for the Nats. In 2012, they drafted his older brother Spencer, who is a catcher currently listed on the Nationals' 40-man roster.
Carter, gained a little pro experience the year he was drafted, in the Gulf Coast League. Then in 2017, Kieboom had a good year, slashing .297/396/493, between three leagues. But a hamstring injury only allowed him to play 61 games with 255 plate appearances. Getting himself fully healthy in 2018, Kieboom tore it up. He mashed in the High-A Carolina League and was promoted to Double-A Harrisburg before competing in the Futures All-Star game. He went on to finish the year with a combined .280/357/444 slash line, hitting 16 home runs, and driving in 69 runs. Kieboom, also showed better patience, with a 10.3% walk rate and a 19.5% strikeout rate.
He impressed enough defensively a year ago, to the point where many scouts are saying he can legitimately play shortstop at the big league level. The 25th ranked prospect on MLB's top 100 list, has more than enough arm strength. It's unlikely that he will play shortstop over Trea Turner. He also might not be able to play third over Anthony Rendon. Most likely, a move to second base will be in order for him to play every day for the Nationals at the next level.
Scouts are comparing him to Alex Bregman and were somewhat surprised at how late he fell in the 2016 draft. He has good instincts, raw power, and quick bat speed. Capable of hitting bombs to all areas of the field. He's somewhat limited defensively and has only average speed, but with his power, he could line up in the middle of the Nationals' order. They'll most likely be patient with him and hold off another year before calling him up to the show, but Kieboom has All-Star upside and isn't terribly far away. ETA: 2020
3. Luis Garcia – SS/2B/3B – 6'0″ 190 lbs.
Age: 18 Bats: Left Throws: Right
Hitting: 50/60
Power: 40/50
Speed: 55/55
Fielding: 45/50
Throwing: 55/55
Overall: 45/55
Luis Garcia was signed in 2016 as an international prospect out of the Dominican Republic. His athleticism and baseball talent seems to run in the family. Garcia shares his first name with his father, who also played as a middle infielder in the Major Leagues for the Tigers in 1999.
Garcia has had good success as a plus contact hitter so far in the Minors. In his three season pro career, he had a .299 batting average over the span of 699 at-bats and three different leagues. He was promoted relatively fast in each of those leagues, including last year being promoted to High-A ball and then participating as the youngest player in the Future's game.
Garcia has good raw power and could develop more in-game power. The way his swing is currently, it's designed to be quick to the ball. He has a tendency to throw his hands at the ball rather than transitioning his hips and legs properly to maximize his power. This has allowed him to be an above average bat-to-ball hitter that can spray to all fields. If he can work on and improve on his weight distribution, scouts believe he has the potential to be an average to above average power hitter to go along with being a good contact hitter.
His speed has declined some since signing with the Nationals. But he is still considered to have above average speed and is generally smart on the base paths.
He may not stick at shortstop. Garcia has the range to make routine plays on defense and has an above average arm. Much like Kieboom, a move to second base could be in order for him, although he also played some third base. The Nationals would like to see him increase his walk rate, but he does sport a 15% strikeout rate, which is above average. He was recently named the 75th ranked prospect by MLB Pipeline. Keep an eye on him. If he continues to do what he has done, he could find himself moving up the rankings this time next year. ETA: 2021
Age: 19
Fastball: 55/60
Curveball: 60/65
Changeup: 50/55
Control: 45/55
Overall: 45/55
The Nationals selected Mason Denaburg 27th overall in the 2018 draft. Scouts thought, if he hadn't gotten hurt with biceps tendinitis in his last year at Merritt Island High School, Denaburg could've been a top-10 draft pick. Denaburg is a two-sport athlete. He was a kicker and punter on the football field and also used to play some soccer. He wasn't always strictly a pitcher on the diamond either. When he wasn't pitching he was playing outfield or catcher and had decent success at the plate.
In eights starts his senior year, Denaburg went 5-1 with a 1.27 earned run average, while striking out 73 hitters and walking 10.
Because of his injury, the Nationals put Denaburg through an off-season type of throwing program during the summer. That allowed Denaburg to build strength and fully recover. He came back and made two outings in the instructional league in October. The Nationals believe that he is fully healthy and ready to go for 2019.
Denaburg has good velocity on his fastball, sitting comfortably between 93 and 95 miles per hour, and has topped out at 98. He throws a disgusting curveball that is deceptive with a lot of late break. When he is controlling it well it is considered to be a plus-plus pitch. He also features a changeup that is about average right now. He's shown the ability to throw it well at times and scouts believe it has the potential to improve.
The Nationals and pitching coordinator, Paul Menhart have been known to try to develop young pitchers changeups. It sounds like Menhart likes what he sees and could see it being a potential plus pitch for Denaburg at the next level.
With a big strong frame and the type of stuff he has, Denaburg draws a John Smoltz player comparison. This will be his first real experience playing professional ball so it will be interesting to see how he will perform. They will most likely be patient with him and allow him to do his own thing, for the most part, this season. That will allow the Nationals a chance to gauge where Denaburg is at from a mechanics standpoint, as well as let Denaburg get comfortable. He's shown the ability to have good command, but that was high school. He's probably still a little ways away, but the Nationals are hoping he can turn into a number two or three starter. ETA: Late 2022/Early 2023 
5. Wil Crowe – RHP – 6'2″ 240 lbs
Age: 24
Fastball: 55/55
Slider: 45/50
Curveball: 45/50
Changeup: 55/55
Control: 45/55
Overall: 40/50
Crowe is a solid right-handed starting pitcher who went to high school in Tennessee. In 2013, he turned down some big offers, including the Cleveland Indians, who drafted him in the 31st round of the 2013 draft. Crowe went on to pitch at South Carolina. He started out strong, but ran into problems in his Sophomore campaign, hurting his elbow and requiring season-ending Tommy John surgery. The Indians then tried to draft him again in the 21st round of 2016, but Crowe turned them down once more.
Returning to the Gamecocks in 2017, Crowe would work 92.1 innings, striking out 90 batters, and walking 31. He finished with a 6-5 record and a 3.41 earned run average. Apparently, he did enough to majorly boost his stock. The Nationals selected him in the 2nd round of the 2017 draft.
In 2018, Crowe set High Single-A Potomac on fire. He went 11-0 with a 2.69 ERA and an 8.07 strikeout per nine ratio in a total of 87 innings pitched. The success ran dry after being called up to Double-A Harrisburg. In 26.1 innings tossed, he went 0-5 with a 6.15 earned run average.
Crowe features a four-pitch mix. He throws a fastball that sits 91-94, topping out around 96 miles per hour, an above average changeup, a solid curveball, and slider. The Tommy John surgery dropped his velocity slightly, but his changeup has come on strong as a plus secondary pitch. The curveball and slider project to be about league average for the majors, but they could develop into slightly better than.
Despite what scouts would call 'limited upside' Crowe has the ability and makeup to become a back of the end rotation type of guy. His pitch repertoire and knowledge of how and when to use them correctly, give him a high floor projection. He's still probably a year away, but if he continues to progress this year and the Nationals need him, he'd be a late year candidate to be called up. ETA: 2020
Check out the rest of our Top-5 Prospect Series | Toronto Blue Jays | Colorado Rockies | Minnesota Twins | Chicago Cubs | Texas Rangers | Atlanta Braves | Tampa Bay Rays | Arizona Diamondbacks | Cincinnati Reds | Kansas City Royals | Oakland Athletics | Milwaukee Brewers | Seattle Mariners | Miami Marlins | New York Yankees | Los Angeles Dodgers | Detroit Tigers | New York Mets | San Diego Padres | Cleveland Indians | Boston Red Sox | St. Louis Cardinals | Philadelphia Phillies | Baltimore Orioles | LA Angels of Anaheim | Chicago White Sox | Pittsburgh Pirates | San Francisco Giants
Questions and comments?
thescorecrowsports@gmail.com
Follow Us on Twitter @thescorecrow
Follow Us on Reddit at u/TheScorecrow
Follow Joey Ricotta on Twitter @theriot326
Main Credit Image: Embed from Getty Images