Daniel Corrigan | February 14th, 2019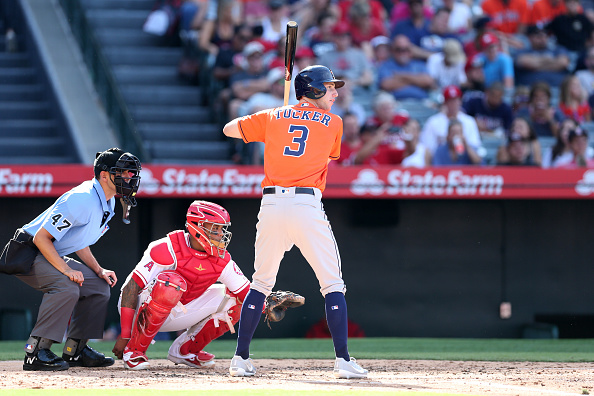 For years the Astros were the punching bag of the MLB. Then the farm system graduated up to the majors. George Springer, Jose Altuve, Carlos Correa, and many others helped the Astros become one of the best teams in baseball, and 2017 World Series champions. They made trades to bring in players that would leave most team's farm systems depleted……not the Astros. Here is a look at the five best players in the Astros system that will help them win games and championships for years.
Hit: 50
Power: 55
Run: 20
Arm: 50
Field: 35
Overall: 50
A quick note, my number five spot came down to two players and the fact that his last name is Beer is 100 percent the tie-breaker. Any way…
Beer is a 22-year-old utility player drafted in the first round of the 2018 draft out of Clemson. He initially bypassed the draft after leaving high school early to go play ball for Clemson. As a freshman, he won the "Dick Howser Award" for college player of the year. Concern over his athleticism and ability to hit with a wood bat had him slide to the late first round.
Beer is a great hitter. In College, he hit 56 home runs and slashed .321/.489/.648. Being a left-handed hitter, this makes Beer a very attractive target with his bat. His fielding is a whole new story. He has a weak arm, below-average reaction, and overall just not a great athlete. He is very slow. I see him more at first base rather than the outfield. If he can get a decent glove, he will be a great player in the bigs.
ETA: 2021
Fastball: 75
Slider: 55
Changeup: 55
Control: 45
Overall: 55
James is a 25-year-old RHP drafted in the 34th round of the 2014 draft. The 34th round might have something to do with why he is not already in an Astros uniform every day. The dude has electric stuff. He also struggled his first four seasons. In his fifth season, James credited his success to controlling his sleep apnea and dedicating himself to the game.
He came into the organization with a fastball in the 92-94 MPH range. He is now hurling the ball 95-97 MPH and reaching triple digits. The fastball has some real pop to it. It's the main reason why he led the minors for most of the season in strikeout rate last season.
James mixes in a slider that has potential but doesn't quite have the control yet. His changeup is very similar. He just needs to work on his control. James will most likely see a good amount of time with the Astros this year. He is more of a bullpen guy, but with that fastball, there is no way he isn't in Houston soon.
ETA: 2019
Hit: 55
Power: 55
Run: 45
Arm: 50
Field: 50
Overall: 55
Alvarez is a 21-year-old OF who was signed from Cuba by the Los Angeles Dodgers then traded to the Astros for Josh Fields. Alvarez has an all-around type game. He is very athletic for a 6'5 225Ib man. There really isn't one area of his game that is that much better than any other area.
Alvarez has a very nice, smooth swing. He has an advanced feel for the strike zone which will help him hit for a good average. He also has great power. In a few years, he will be a feared player at the plate.
Like is said earlier, he is very athletic for someone his size. He has great speed and is very good in the outfield. With time, he will lose some of his athleticism just due to his size. He needs more reps at a pro-level, but he will be an Astro very soon.
ETA: 2020
Fastball: 65
Curveball: 65
Slider: 55
Changeup: 55
Control: 50
Overall: 60
Whitley is a 21-year-old RHP drafted in the first round of the 2016 draft. He was considered one of the best high school pitching prospects of the draft. He has lived up to those expectations as he averaged 13.9 strikeouts in 2017. Whitley was suspended for 50 games due to a violation in the drug policy last year. He picked right up where he left off having another stellar year.
As a batter, pick your death with this kid. He has four pitches that are lethal. His best being the fastball where he throws 92-97 MPH with great control. He supplements that with a 12-6 curveball, slider, and changeup all of which have great movement and control.
The only inconstancy is his delivery. This is why the Astros had him pitch only out of the stretch. Whitley has pro-ready stuff. He just needs a few tweaks and to keep his nose clean. He will be in the bigs this coming year.
ETA: 2019
Hit: 60
Power: 60
Run: 50
Arm: 55
Field: 45
Overall: 60
Tucker is a 22-year-old OF drafted in the first round of the 2015 draft. Tucker, already got the call-up to the Astros in July as a 21-year-old. He had 64 AB and only 9 hits. Don't be fooled by these numbers. The Kid has it all.
Tucker has great bat speed and a great eye for the ball. He has big power in his bat, but also has great vision that allows him to have better contact numbers compared to a guy with his power. He really cleaned up his swing last year when he slugged .528 compared to his average of .408.
His bat is what will make him a star, but his fielding is nothing to sneeze at. He has the real ability to be a five-tool type player. He has solid arm strength but his weakest area is his fielding and reaction. If he cleans that up, we are looking at an all-star.
ETA: 2019
The Astros are already one of the best teams in baseball. They are young and exciting, and with these players, they will only get younger, and better. They will be winning games for a long, long, long time. If you don't like the Astros….sorry. They are here to stay.
Check out the rest of our Top-5 Prospect Series | Toronto Blue Jays | Colorado Rockies | Minnesota Twins | Chicago Cubs | Texas Rangers | Atlanta Braves | Tampa Bay Rays | Arizona Diamondbacks | Cincinnati Reds | Kansas City Royals | Oakland Athletics | Milwaukee Brewers | Seattle Mariners | Miami Marlins | New York Yankees | Los Angeles Dodgers | Detroit Tigers | New York Mets | San Diego Padres | Cleveland Indians | Boston Red Sox | St. Louis Cardinals | Philadelphia Phillies | Baltimore Orioles | LA Angels of Anaheim | Chicago White Sox | Pittsburgh Pirates | San Francisco Giants | Washington Nationals
Questions and comments?
thescorecrowsports@gmail.com
Follow Us on Twitter @thescorecrow
Follow Us on Reddit at u/TheScorecrow
Follow Daniel Corrigan on Twitter @Corrigan_Tweets
Main Credit Image: Embed from Getty Images