Givanni Damico | February 13th, 2019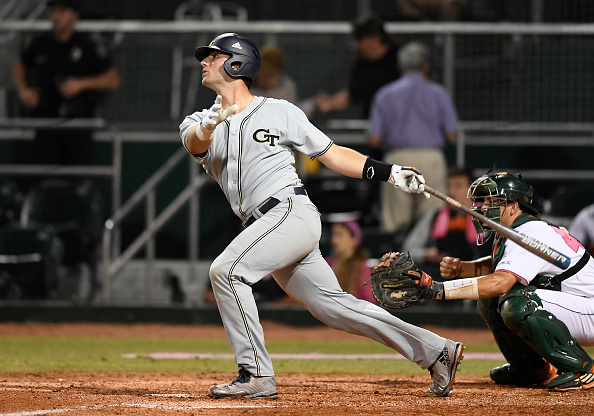 San Francisco Giants: Top 5 Prospects
Age: 22
Height: 6'3"
Weight: 220 LBs
Drafted: 2018 (Round 1, Pick 2)
Drafted from: Georgia Tech
Joey Bart was recently ranked as the #1 catching prospect in all of baseball. Bart, 22, took the Short-Season Class-A league by storm after struggling in the Arizona Rookie League. Bart slashed .298/.369/.613 with 13 home runs and 39 runs batted in. Bart is also solid behind the dish. Like most young catchers, he will have issues with passed balls and errors but as he gets older, I can see him being one of the better defensive catchers in the game. I expect him to quickly move through the Giants farm system, starting this year in Single-A ball and ending the year in Double-A. I can see him joining the Giants team as early as next season and as late as the season after that. Either way, Bart will be a perfect replacement for Buster Posey. The only issue that I have with Bart is his abnormally high strikeout rate. In his first short-season pro year, he struck out 23% of the time, and in his senior year of high school, it was 25%. I'd like to see this change because, despite his great average, a high strikeout rate can obviously hurt a team at times.
Age: 19
Height: 6'2"
Weight: 185 LBs
Drafted: 2017 (Round 1, Pick 19)
Drafted from: Leadership Christian Academy (Puerto Rico) HS
Heliot Ramos is only 19 years old and will play nearly the entire season at 19. He played last season in Single-A August and slashed .245/.313/.396 with 11 home runs, 52 RBIs, and eight stolen bases. Obviously, you'd like to see a better batting average from a high ranked prospect in Single-A ball, but I'm not worried. Heliot Ramos has all the tools to be a future all-star in the MLB. He is a five-tool player, which includes great fielding ability and a solid arm. Despite a poor performance in Single-A, Ramos performed very well in the Arizona Rookie League. He hit .348/.404/.645 with six home runs, 27 RBIs, and 10 stolen bases in 138 at-bats. If I were a fantasy owner, I wouldn't want to own Ramos (dynasty leagues) because of the significant difference in numbers between Rookie League and Single-A. Ramos is a great prospect with a high ceiling but he does have a rather low floor in my opinion. His talent is raw, but he has all the tools to be a successful MLB outfielder.
Age: 18
Height: 6'1"
Weight: 165 LBs
Acquired: International Pool 
Canario played very well in the DOSL, where he hit .294/.391/.464 with five home runs, 45 RBIs, and 18 stolen bases in 235 at-bats. When he was moved to the Arizona League, he struggled a bit, but he still held his own, slashing .250/.357/.403 with six home runs, 19 RBIs, and eight stolen bases. Canario also did a good job in the field. Canario is only 18 and has a lot of maturing to do. He will get stronger which will give him more power and more ability to drive the ball where he wants to drive it. He impressed me with his ability to discern pitches and recognize balls from strikes and sliders from curveballs. He has very good vision and discipline which is harder to teach than a lot of aspects of this game. Canario is someone to get excited about if you're a Giants fan, and the future of the Giants lineup looks very strong.
Age: 17
Height: 6'2"
Weight: 180 LBs
Acquired: International Pool
Marco Luciano is a bit of a mystery, considering he's never played a professional game in his life. He was ranked No. 3 on MLB.com's Top 30 International Prospects. Marco Luciano is very fast, running a 6.7-second 60-yard dash and also wields a pretty nice power bat and a good arm. Luciano has a good size which will allow him to generate more power once he gets stronger. There's not much else to say about him considering his lack of experience, but he's someone who has a very high ceiling and in my opinion, a relatively low floor.
Age: 19
Height: 6'0"
Weight: 175 LBs
Acquired: International Pool 
Rincones has the power that will carry him to the majors. In Low-A, Rincones impressively slashed .315/.357/.455 with seven home runs and 34 RBIs. He's not someone that you'll ever see stealing bases or winning a Gold Glove, but he has the raw power to be a 30 home run player. I think it'd be an encouraging sign for him if he were in Double-A to end this season. Rincones needs to keep hitting both for average and for power because he doesn't really possess the other tools of an MLB player. I'm not ripping into him at all because there are players like J.D. Martinez whose bat is the only reason he's in the league (meanwhile he was almost MVP). The Giants could potentially have themselves a trio in the outfield in a few years with Rincones, Ramos, and Canario. Also, as I do these, it blows my mind to see the number of Hispanic players who have futures in the MLB. It's very impressive.
Height: 6'2"
Weight: 220 LBs
Drafted: 2014 (Round 4, Pick 118)
Drafted from: Rocklin HS (Rocklin, CA)
Logan Webb plays an opener-esque role in both High-A and Double-A ball, as he started a combined 26 games in those two leagues last year and recorded a 2-5 record with a 2.41 ERA and struck out nine batters per nine innings. He has had Tommy John issues in the past but he bounced back very nicely last season. I don't know exactly what type of role Webb will play in the Majors, but I see him as either a back of the rotation guy or a long-relief guy. He could even be a set-up man. I'd like to see Webb spend another full year in the minors to see how consist he is, then come 2020 if he plays consistent enough, he will make the Giants team.
Check out the rest of our Top-5 Prospect Series | Toronto Blue Jays | Colorado Rockies | Minnesota Twins | Chicago Cubs | Texas Rangers | Atlanta Braves | Tampa Bay Rays | Arizona Diamondbacks | Cincinnati Reds | Kansas City Royals | Seattle Mariners | Miami Marlins | New York Yankees | Los Angeles Dodgers | Detroit Tigers | New York Mets | San Diego Padres | Cleveland Indians | Boston Red Sox | St. Louis Cardinals | Philadelphia Phillies | Baltimore Orioles | LA Angels of Anaheim | Chicago White Sox | Pittsburgh Pirates |
Questions and comments?
thescorecrowsports@gmail.com
Follow Us on Twitter @thescorecrow
Follow Us on Reddit at u/TheScorecrow
Follow Givanni Damico on Twitter @giodamico15
Main Credit Image: Embed from Getty Images