Filip Canda | February 13th, 2019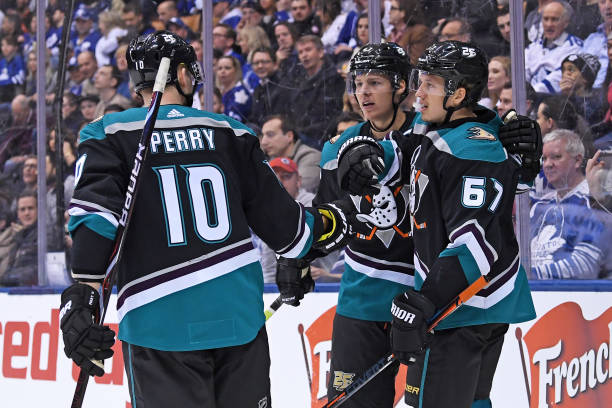 The Anaheim Ducks have finally made THE decision. After losing 18 of their last 20 games and dropping all to way to the bottom of the Western Conference, the Ducks fired their head coach Randy Carlyle. That's the first step, but what about the other steps?
The Ducks currently find themselves eight points out of the playoff spot and they would need to leapfrog seven different teams in order to get back to the playoff contention. It´s almost unbelievable that the Ducks have been in the playoff mix for the healthy part of the current campaign. As it seems more and more improbable that they will bounce back to make a playoff push, trades might start to pop up. Even the biggest stars aren't safe at this point.
Three Anaheim Stars Possibly Considered for Trade
General Manager Bob Murray will take care of the Ducks bench himself after naming himself an interim head coach. "I've been listening to a lot lately. … This organization, we have to change some things," Murray stated. "If we have the opportunity to be younger and faster, have to look at it," the Ducks general manager continued.
#Ducks Bob Murray confirms he went to ownership after Montreal loss to initiate Carlyle firing.

"We have good players, we're just not a good team right now.

On possible trades of core players:

"If we have opportunity to be younger and faster, have to look at it."

— Dennis Bernstein (@DennisTFP) 10. februára 2019
And what about the players like Corey Perry and Ryan Getzlaf with their age, contracts and no-move clauses? Murray said that he's not afraid to approach them about waiving, according to Mark Whicker of the OC Register.
Corey Perry has a season to forget. Limited to play just five games so far, he returned back right to the dumpster fire. That´s not ideal for a player who has recorded 767 points in his 962 games in the NHL with the Ducks. However, over the past years, it hasn't been quite the same Corey Perry. He was unable to reach a 30-goal mark in each of his last couple of seasons and he will extend that streak this year too.
With the contract for two more seasons worth $8,625,000 per year, it will be extremely difficult for the Ducks to move a 33-year-old winger. But at this stage, nothing can be ruled out and we are not talking only about the rest of this season.
Ryan Kesler is becoming a real problem for the Anaheim Ducks. He is already 34-year old and carrier a contract worth $6,875,000 per year until the 2021-2022 season. Over the current course, Kesler has tallied just six points in 48 games. Last season, he missed 38 games and finished the year with 14 points in 44 games.
Moving Perry this year would be difficult because he has a no-move clause and likely won't agree with a trade after having an injury-plagued year. But if he plays better next season and has just one more year left on his contract, the Ducks can beneficiate from that deal. Not so sure about Ryan Kesler, whose numbers and stats are horrible and his contract is even more horrible. Moving Kesler would be more of a wishful dream for the Ducks.
Ryan Getzlaf is probably the only player who can realistically get moved ahead of the Trade Deadline, which is just 12 days away from now. Getzlaf isn't experiencing great season either, but he has collected 36 points in 50 games. Throughout his career, Getzlaf has recorded 911 points in 967 games. Yes, the contract is still gigantic, worth $8,250,000 annually until the 2020-2021 season, but he can always be helpful.
There have been some rumors that the Montreal Canadiens might be interested in the Anaheim Ducks players and one of those mentioned has been Ryan Getzlaf. It would probably be a long shot for any team, especially the Canadiens, to acquire Getzlaf, but as stated above, nothing can be ruled out at this stage.
Questions and comments?
thescorecrowsports@gmail.com
Follow Us on Twitter @thescorecrow
Follow Us on Reddit at u/TheScorecrow
Follow Filip Canda on Twitter @Phiil7
Main Credit Image:
Embed from Getty Images