Givanni Damico | February 12th, 2019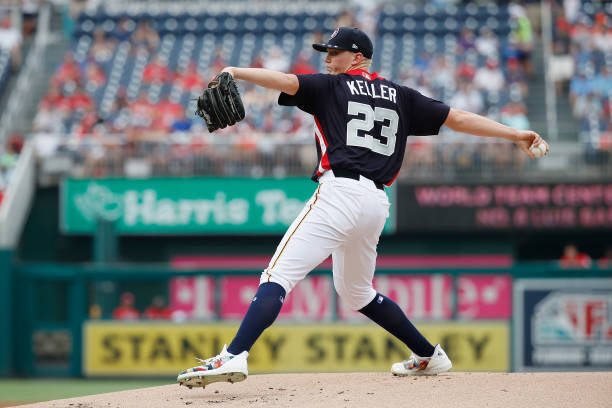 Pittsburgh Pirates Top 5 Prospects
#1 Mitch Keller, RHP
Mitch Keller started last season in Double-A and then was promoted to Triple-A at the end of June. In Double-A Altoona, Keller pitched very well. He started 14 games and had a 9-2 record with a 2.72 ERA. He was averaging eight strikeouts per nine innings and three walks per nine. These K/9 and BB/9 numbers don't jump out at you but Keller was clearly very impressive. Once promoted to Triple-A, Keller started 10 games and went 3-2 with a 4.82 ERA. Obviously, this is a big jump in ERA, but these are just growing pains. His K/9 actually took a jump up to about 10 strikeouts per nine innings. Keller is only 22 and has played Triple-A, so his upside is still an ace. The floor for Keller is a mid-rotation guy which isn't bad, but he could easily take over the Pirates rotation in a year or two. I expect him to be a September call-up this season if he plays well in Triple-A.
#2 Ke'Bryan Hayes, 3B
Hayes played all of last season in Double-A Altoona and slashed .293/.375/.444 in 117 games. Hayes lacks in power especially for a corner infielder, but he has good extra-base hit ability, as he recorded 33 doubles and seven triples, as well as seven long balls. Hayes also stole 12 bases, clearly presenting solid speed for his position. Hayes is 22 and should start this season in Triple-A Indianapolis so I will be scouting him live at some games. I am interested in seeing how he adjusts to Triple-A pitching and how much stronger he's gotten. I think Hayes could easily be a mid-season or September call-up for the Pirates if he adjusts well, but if not, next year is his year.
#3 Cole Tucker, SS
Tucker had a solid season last year in Altoona, slashing .259/.333/.356. Tucker doesn't have much of a power bat at all, recording five home runs in 517 at-bats. He did have a total of 33 extra-base-hits and stole an astounding 35 bases, so he has good tools for a shortstop. In the Arizona Fall League, Tucker hit .370 with six extra-base-hits in 81 at-bats and stole six bases. Tucker had 14 errors last year which isn't fantastic, but he is still a young player with much room to grow. I don't think 14 errors is an issue. Tucker has fantastic tools at 22 years old, and I expect him to contend for the Opening Day starter at shortstop but I doubt he gets the job. I think he could either start in Triple-A or be a backup in the MLB to start the season. The Pirates are in a bit of a rebuild right now, so we'll see what they do.
#4 Calvin Mitchell, OF
Calvin Mitchell will play the whole 2019 season at just 20 years old. He had a fantastic season last year in Low-A West Virginia, slashing .280/.344/.427 with 10 home runs and 65 runs batted in. Mitchell has tremendous upside, including raw power, the ability to hit for average, and a good arm in the field. I am high on Mitchell and I can see him in the MLB in two or three years and becoming a future all-star. I think he should start this season in High-A ball and most likely end the season in Double-A maybe even Triple-A if he can play consistently all year.
#5 Oneil Cruz, SS
Cruz will also play the entire 2019 season at 20 years old. He was very impressive in Low-A West Virginia last year, hitting .286/.343/.488. He also had 14 home runs, 59 RBIs, and 11 stolen bases. Cruz will easily be a 20/20 player if his talent translates to the upper levels. Like Mitchell, I'd say give him two or three years and he will be starting somewhere on the diamond for the Pirates. The reason Cruz wasn't higher for me was that of the uncertainty as to where he would play on the field. He had 33 errors last season which is terrible. He can't expect to start at shortstop in the MLB with those numbers in the field, so the organization will probably experiment where else he can play this year.
HM: Travis Swaggerty, OF
First of all, amazing last name. Swaggerty played well in his Low-A ball debut, slashing .288/.365/.453 with four home runs, 15 RBIs, and nine stolen bases. He wasn't top five for me because once he had been promoted to full Season A ball, he struggled tremendously, hitting just .129/.225/.226 with a home run and five RBIs. This isn't something to worry about for Pirates fan, as it's just a growing pain for a rookie player playing in his first full season. He will grow and likely be way better than that this season. I don't expect him to crack the MLB roster for about three seasons, but I'm excited to see how he performs this season.
Check out the rest of our Top-5 Prospect Series | Toronto Blue Jays | Colorado Rockies | Minnesota Twins | Chicago Cubs | Texas Rangers | Atlanta Braves | Tampa Bay Rays | Arizona Diamondbacks | Cincinnati Reds | Kansas City Royals | Seattle Mariners | Miami Marlins | New York Yankees | Los Angeles Dodgers | Detroit Tigers | New York Mets | San Diego Padres | Cleveland Indians | Boston Red Sox |          St. Louis Cardinals | Philadelphia Phillies | Baltimore Orioles | LA Angels of Anaheim | Chicago White Sox |
Questions and comments?
thescorecrowsports@gmail.com
Follow Us on Twitter @thescorecrow
Follow Us on Reddit at u/TheScorecrow
Follow Givanni Damico on Twitter @giodamico15
Main Credit Image:"Embed from Getty Images