Andrew Harbaugh and Mike Fanelli | February 11th, 2019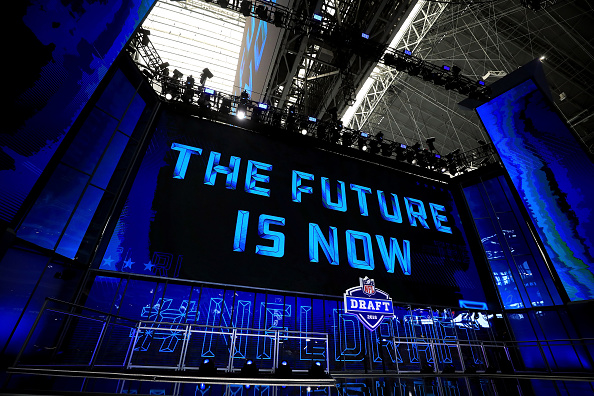 This is the Scorecrow Mock Draft 2.0 and boy is this a doozy. We have trades galore and plenty of hot takes with these picks that they will surely get a rise out of some of you.
Again Mike Fanelli will be picking with me, this time we split teams by conference. Mike has control of the NFC teams and I have control of the AFC teams so it should be easy to decide who you tweet your love or hate it.
Let's quit stalling though and get into the heart of this, shall we?
** Cardinals trade pick #1 to the Giants for picks #6, #37 and a 2020 second round pick **
1) New York Giants (via Cardinals)- Dwayne Haskins, QB, Ohio State
The Cardinals are switching back to a 3-4 defense and while adding Nick Bosa to play opposite of Chandler Jones would be great, the Cardinals get an offer they can't turn down. How the Giants can feel comfortable starting Eli Manning next season is mind-blowing. Haskins fits Pat Shurmur's offense perfectly and the Giants finally have their quarterback of the future.
2) San Francisco 49ers- Nick Bosa, EDGE, Ohio State
If there was any chance the 49ers would trade out of this spot, it went away with Bosa sitting on the board. The 49ers have a bunch of interior pass rushers but lack an elite guy on the edge. Adding Bosa to the trio of Solomon Thomas, DeForest Buckner, and Arik Armstead would make their young defensive line even more dangerous.
* Jets have made a trade with the Broncos sending #3 for #10, #41 and a 2020 first round pick
3) Denver Broncos- Drew Lock, QB, Missouri
All week down in mobile I heard how much John Elway loved Drew Lock. He has to nail this pick this year and while I don't think Lock is worth this type of draft capital, I can see Elway seeing it this way. Just makes too much sense to have Elway trade up for his guy.
4) Oakland Raiders- Josh Allen, EDGE, Kentucky
John Gruden wants more pass rush, so that is what he shall get. Allen had 17 sacks his Senior year and was a dominant force and a crucial figure in Kentucky's amazing season.
5) Tampa Bay Buccaneers- Quinnen Williams, DL, Alabama
Reportedly the Buccaneers will consider moving on from Gerald McCoy this offseason, opening up $13 million dollars in cap space. If they go down that road, pairing Williams next to last year's first-round pick Vita Vea would instantly improve a questionable run defense.
6) Arizona Cardinals (via Giants)- Jawaan Taylor, OT, Florida
The Cardinals' top priority this offseason is to do a better job protecting Josh Rosen. There isn't an offensive lineman worth the top pick so the Cardinals should look to move down, add picks to plug all their other holes and give Rosen arguably the best offensive lineman in the draft.
7) Jacksonville Jaguars- Kyler Murray, QB, Oklahoma
Jacksonville must move on from Blake Bortles and his inconsistent play. Murray is a playmaker and can make an immediate impact for the Jaguars and expand a very stagnant offense.
8) Detroit Lions- Rashan Gary, EDGE, Michigan
There is a split among draft personnel whether Gary is an interior defender or edge player. The Lions shouldn't care but Gary can rush the passer and they have no one under contract for next season who can consistently do that. Just put him on the field and let him figure out where to line up.
9) Buffalo Bills- Andre Dillard, OT, Washington State
The Bills may have found there best quarterback since Jim Kelly suited up for them. You have to protect that investment. Taking the top tackle in the draft does just that.
* Jets trade pick #10 to the Redskins for picks #15, #46 and a 2020 fourth round pick *
10) Washington Redskins (via Jets from Broncos)- Daniel Jones, QB, Duke
For the record, I am not a fan of the Redskins trading up for a quarterback, but since this is a mock draft I gave in and did it. Alex Smith isn't likely to play in 2019 and his career is in serious doubt. Even if Smith can return in 2020, he will be 36 years old. The Redskins need to find their long term franchise quarterback and maybe Jones can be it.
11) Cincinnati Bengals- Devin White, LB, LSU
This seems to be the 5th year in a row that it makes sense for the Bengals to have a top inside linebacker mocked to them. So far they haven't taken one, but when a top-five talent falls to you then you have to take him.
12) Green Bay Packers- Jachai Polite, EDGE, Florida
Entering the offseason there are two big holes the Packers need to fill; wide receiver and pass rusher. The depth at wide receiver in this draft class is very good so the Packers grab a pass rusher first. Polite is a perfect fit for the Packers 3-4 defense and with Clay Matthews not expected to be resigned, Polite will start from day one.
13) Miami Dolphins- Brian Burns, EDGE, Florida State
I expect Miami to address the quarterback position in free agency or via trade. With that said and new head coach Brian Flores in the building I expect this team to have a strong defensive presence. Charles Harris a first round pick in 2017 but he hasn't panned out so why not take a finesse pass rusher from the state of Florida.
14) Atlanta Falcons- Jonah Williams, OL, Alabama
Despite a disappointing season, the Falcons don't have a lot of holes on paper to fill. However, the Falcons can easily upgrade both starting guard spots. Reportedly, many NFL teams view Williams as a guard at the next level. Whether at guard or tackle, Williams is a day one starter.
15) New York Jets- Ed Oliver, DL, Houston
This has to be the best outcome for the Jets right? You trade back twice, get a ton of draft capital over the next two years, and you still get Ed Oliver who gets to play in a Gregg Williams defense? Your welcome Jets fans.
16) Carolina Panthers- Deionte Thompson, SAF, Alabama
Reportedly the Panthers are doing their homework on safeties and likely will target one in the first round. According to that report, Thompson is at the top of their list. While I think they have other more pressing needs, both starting safeties are free agents this summer and neither is all that good.
17) Cleveland Browns- Greedy Williams, CB, LSU
Pairing the top cornerback in the draft with standout rookie Denzel Ward means the Browns could have a top-five defense next year under new coordinator Steve Wilks. Also, in a division with AJ Green and JuJu, you can never have enough corner help.
*The Vikings trade #18 to the Colts for #26 and #59 this year.
18) Indianapolis Colts- D.K. Metcalf, WR, Ole Miss
The Colts finally have protected Andrew Luck with a very strong line in front of him, now let's give him some toys to play with. He has Hilton, Mack, and Ebron so why not give him a possession receiver to be physical across the middle but can also stretch the field. Metcalf will get lots of quality matchups opposite Hilton similar to JuJu.
19) Tennessee Titans- Clelin Ferrell, EDGE, Clemson
Mike Vrabel continues to add dawgs to his defense in the selection of Ferrell. Ferrell dominated Jonah Williams in the title game and can certainly fo that for the Titans who in a division with Luck, Watson and now Murray need more pass rush.
20) Pittsburgh Steelers- Byron Murphy, CB, Washington
I live in the Pittsburgh area so I'm subjected to constant Steeler games and highlights and let me tell you something, they have zero defensive backs who can cover anyone. Joe Haden is too old and should move to safety and Artie Burns was a first round pick in 2014 and has not lived up the billing a first round pick needs to do. Murphy brings an edge and can immediately contribute.
21) Seattle Seahawks- Cody Ford, OL, Oklahoma
The difference between the Seahawks' offensive line in 2017 and 2018 was like night and day. However, they still need to upgrade at several spots. Germain Ifedi and George Fant at right tackle aren't ideal while guards J.R. Sweezy and D.J. Fluker are free agents. Whether the Seahawks play Ford at right tackle or guard, he should start from day one.
22) Baltimore Ravens- Josh Jacobs, RB, Alabama
Baltimore may have found their franchise quarterback for now. If he wants to have continued success he needs better weapons than Buck Allen, Michael Crabtree and Willie Snead. Jacobs becomes a playmaker in an offense desperate for one.
23) Houston Texans- Nasir Adderley, DB, Delaware
The Texans have a pending free agent in Tyrann Mathieu who reminds me so much of Adderley. So you get the perfect replacement in a cheaper and healthier version. Can be all over the field on a dominant defense.
24) Oakland Raiders (via CHI)- Montez Sweat, EDGE, Mississippi State
When Jon Gruden went to Chicago to trade eh went to an Oprah taping and when she said "You get a pass rusher! You get a pass rusher! You get a pass rusher!" Gruden wants more pass rush and he needs to get it. Grabbing Sweat and pairing him with Allen is mind-boggling.
25) Philadelphia Eagles- Yodny Cajuste, OT, WVU
There are several holes the Eagles need to fill this offseason but an underrated one is left tackle. Jason Peters has dealt with injuries the last two seasons and at 37 years old, how much does he have in the tank? His contract expires after next season and the Eagles have a history of drafting players from WVU, so why not add another.
26) Minnesota Vikings (via Colts)- Greg Little, OT, Ole Miss
I expect the Vikings to spend a good amount of their cap space and draft picks on the offensive line this offseason. One of those moves should be to add an offensive tackle in the first round of the draft. Little is raw but offers great upside. The Vikings could let him be the swing tackle for a year and then start him in 2020 when Riley Reiff can be released, saving $8.8 million dollars against the cap.
27) Oakland Raiders (via DAL)- Devin Bush, LB, Michigan
This feels like an old school Raiders pick to me. Bush brings grit and attitude that they haven't had at linebacker since Bill Romanowski. He's a fast athletic linebacker and one that Gruden will absolutely love to have in his system.
28) Los Angeles Chargers- Dalton Risner, OL, Kansas State
Risner would be able to immediately fill in at right tackle to sure up the Chargers O-Line. He also has the flexibility and the history of playing all over the line to be able to be of service wherever the Chargers need to protect Rivers and make holes for Gordon.
29) Kansas City Chiefs- Jeffery Simmons, EDGE, Mississippi State
With Dee Ford becoming a free agent and Justin Houston always battling injuries this pick just makes sense to fill a need that is open for the week to week. Simmons may have some questions with his background but Reid has shown in the past to overlook issues a player has in there background.
** Packers trade pick #30 to the 49ers for picks #36, #104 **
30) San Francisco 49ers (via Packers from Saints)- Mack Wilson, LB, Alabama
Last year's third-round pick Fred Warner was a steal but he needs a running partner. Malcolm Smith is solid but not a game changer. Adding Wilson would make an already impressive 49ers front seven even more dangerous. Jumping in front of the division rival Rams, who desperately need a linebacker, just makes this pick all the sweeter.
31) Los Angeles Rams- Christian Wilkins, DL, Clemson
The Rams have plenty of upcoming free agents and not all of them will be resigned. If they decide not to resign Ndamukong Suh, they will need to add a big body in the middle of their defense. Wilkins played great the latter part of the season, especially in the college football playoffs, and would be a nice replacement next to Aaron Donald.
32) New England Patriots- TJ Hockenson, TE, Iowa
This pick almost makes too much sense for the Patriots to make it. I don't mean that in a disrespectful way but in a way that they always fill needs later in drafts or via a UDFA. If they take Hockenson though to replace Gronk that will be a nightmare for opposing teams.
33) Cardinals- N'Keal Harry, WR, Arizona State
While the Cardinals could add another offensive linemen with this pick, Josh Rosen needs more playmakers. Larry Fitzgerald and Christian Kirk are both slot receivers and the Cardinals need a big physical outside guy. Harry would give the Cardinals two good young wide receivers to develop with Rosen for the next decade.
34) Indianapolis Colts (via NYJ)- Trayvon Mullen, CB, Clemson
The Colts have Malik Hooker in there secondary who has been worth the draft capital they paid for him, add Mullen to the mix? You turn this Colts defense into one of the best young defensive units in the NFL right up there with the Browns and Jets.
** Steelers trade Antonio Brown to the Raiders for #35 and 2020 4th round pick **
35) Pittsburgh Steelers (via OAK)- DeAndre Baker, CB, Georgia
This trades makes all the sense in the world I feel for both teams. Raiders get a playmaker to immediately boost that whole offense and the Steelers get more help for there atrocious secondary and can have two of the top corners in this class to boot.
36) Green Bay Packers (via 49ers)- Marquise Brown, WR, Oklahoma
Davante Adams is a stud and one of the best wide receivers in the league. However, Aaron Rodgers' other weapons are average at best. Brown would give the Packers a DeSean Jackson-like playmaker on the outside that can draw double teams away from Adams.
37) Arizona Cardinals (via Giants)- Rock Ya-Sin, CB, Temple
The entire draft class can't be devoted to helping Josh Rosen out, especially when the Cardinals have holes to fill on defense. They recently signed former Falcons cornerback Robert Alford to a three-year deal but he will turn 31 years old this season and can't be relied on long term. The Cardinals have ignored the cornerback spot opposite of Patrick Peterson for years, it's finally time they took it seriously.
38) Jacksonville Jaguars- Kelvin Harmon, WR, NC State
Last year they took DJ Chark in the second round and this year I am giving them Harmon. He is a better receiver in every possible way from Chark in my opinion and can be this teams WR1.
** Buccaneers trade pick #39 to the Vikings for picks #50, #120, #192 **
39) Minnesota Vikings (via Buccaneers)- Chris Lindstrom, IOL, Boston College
Back-to-back picks for the Vikings on the offensive line and that still might not be enough. Kirk Cousins struggles when under pressure, especially when it's up the middle in his face. Pairing Lindstrom with Greg Little would give the Vikings two future starters as they rebuild their offensive line.
40) Buffalo Bills- Elgton Jenkins, IOL, Mississippi State
Buffalo has addressed the tackle position earlier in this mock and now by taking Jenkins they have a flexible option for the inside part of the line. Teams like Seattle have never protected Russell Wilson and they have paid for that, Buffalo cannot make the same mistake.
41) New York Jets (via DEN)- Garrett Bradbury, IOL, NC State
Connor Rogers talked about this week on twitter, interior offensive line help has to be a top priority of the Jets this offseason. Bradbury is an amazing talent and a steal of a pick this late in the draft. Can immediately start for the Jets and provide quality play at a position or positions of need.
42) Cincinnati Bengals- Chauncey Gardner-Johnson, DB, Florida
Gardner-Johnson is a playmaker and has been his whole college career. The Bengals are in need of playmakers on both side of the ball so this only makes sense. He can be a nickel or safety for this defense if they give him any sort of freedom he will wreak havoc on opposing offenses.
43) Detroit Lions- A.J. Brown, WR, Ole Miss
When the Lions traded away Golden Tate, they did it because they wanted to get younger and cheaper at wide receiver. Brown is viewed by many as the top slot receiver in the draft class and the Lions need to give Matthew Stafford more weapons besides Kenny Golladay.
44) Green Bay Packers- Taylor Rapp, SAF, Washington
Last year the Packers spent their first two picks on cornerbacks after using their top pick on Kevin King the year before. The Packers need to continue to build up their secondary. Rapp is viewed by some as the best safety in the class and could start from day one.
45) Atlanta Falcons- Jaylon Ferguson, EDGE, LA Tech
After the Falcons released Brooks Reed the only pass rushers left on the roster are Vic Beasley and Takkarist McKinley. When facing Drew Brees, Jameis Winston, and Cam Newton six times a year, you can never have enough pass rushers. Beasley is a free agent after 2019, making pass rusher an even bigger need for the Falcons.
46) New York Jets (via WAS)- Julian Love, CB, Notre Dame
Last year the Jets spent big money on Trumaine Johnson and that did not pan out, it may in year two but the Jets can't bank on that. Even if he does drafting Julian Love just adds more depth to a position of need for the Jets.
** Panthers trade #47 to the Cowboys for picks #58, #129, #166 **
47) Dallas Cowboys (via CAR)- Noah Fant, TE, Iowa
The Cowboys have four solid tight ends on their roster but none offer the upside Fant does. While his Iowa teammate, T.J. Hockenson, gets a lot of love, Fant is equally impressive. The Cowboys need to keep adding to Dak Prescott's weapons and Fant would be a great addition for that offense.
48) Miami Dolphins- Jarrett Stidham, QB, Auburn
The Dolphins are said to be moving on from Ryan Tannehill and this point in the second round I don't think they can have a better selection than Stidham. He was a two-year starter at Auburn, battled against amazing defenses, and he is pro-ready and can start from day one for Miami.
49) Cleveland Browns- Hakeem Butler, WR, Iowa State
With weapons like Landry and Callaway at the receiver position, the Browns lack someone with a big body and can be a great red zone target outside Njoku. Butler could come in and become one of Bakers favorite red zone targets.
50) Tampa Bay Buccaneers (via Vikings)- Johnathan Abram, SAF, Mississippi State
Justin Evans has been solid for the Buccaneers but the other starting safety, Chris Conte, is a free agent. The Buccaneers spent two second-round picks last year on cornerbacks and need to keep improving their secondary. Abram's physical style of play would complement Evans very well.
51) Tennessee Titans- Irv Smith Jr., TE, Alabama
Delanie Walker has battled a truckload of injuries in his career and is now 34 years old, drafting Smith Jr. would be a perfect complement to Walker. It would allow him to step in should Walker ever depart or retire from the Titans.
52) Pittsburgh Steelers- Deebo Samuel, WR, South Carolina
They traded away Antonio Brown earlier in this mock and they draft the perfect replacement for him now in Samuel. I talked about it last week and I said that I see a lot of Brown in Samuel so it just makes sense here for them to select him.
53) Eagles (via Ravens)- David Montgomery, RB, Iowa State
Many things didn't go according to plan for the Eagles this season, but the one thing that wasn't talked about enough was their lack of run game. The Eagles are at their best when they can power run the football and use play action. When Jay Ajayi, who is a free agent, torn his ACL the Eagles were never able to consistently run the ball. Montgomery's excellent contact balance and power would fit perfectly in Philadelphia.
54) Houston Texans (via SEA)- Kaden Smith, TE, Stanford
Smith is a better tight end option than both Ryan Griffin and Jordan Thomas, bottom line. He also is a legit receiving threat and fantastic athlete who can immediately help Watson and become a security blanket option for him on offense.
55) Houston Texans- Dre'Mont Jones, DL, Ohio State
Jones is a dominant presence the Texans need in the middle of there defensive line. He can be a run stopper or even apply pressure to the quarterback and put him between Watt and Clowney on opposite ends that would allow for Jones to be free up the middle.
56) New England Patriots (via CHI)- Will Grier, QB, West Virginia
Will Grier to New England is a fit that I have been calling for all year. It just makes sense for him to sit and develop his arm and sharpen his mental decision-making skills behind Brady. He would eventually be worthy of having the reigns given to him.
57) Philadelphia Eagles- Amani Oruwariye, CB, Penn State
There were so many injuries in the secondary for the Eagles this season that there were some games where they had just three healthy cornerbacks. Starter Ronald Darby is a free agent and isn't likely to be resigned, making cornerback one of the Eagles top needs this offseason. – Mike
58) Carolina Panthers (via Cowboys)- Dennis Daley, OT, South Carolina
When will the Panthers realize they need to do a better job protecting Cam Newton? Matt Kalil has been a disaster signing at left tackle and starting right tackle Daryl Williams is a free agent. If the Panthers can't protect Newton and keep him healthy, they will soon be looking for a new franchise quarterback.
59) Minnesota Vikings (via Colts)- Damien Harris, RB, Alabama
Latavius Murray is a free agent and may not be resigned. If he isn't the Vikings must sign or draft another power back to avoid putting too much workload on Dalvin Cook. Harris was part of a great running back committee at Alabama and would allow the Vikings to have an excellent 1-2 punch in the backfield. If Mike Zimmer really wants to run the ball down their opponent's throat, Harris would be an excellent addition.
60) Los Angeles Chargers- Beau Benzschawel, IOL, Wisconsin
They don't have many years left with Phillip Rivers and they have to protect him to prolong what they have in him. Also, it won't hurt to clear the way for Gordon and Ekeler up the middle.
61) Kansas City Chiefs- Oshane Ximines, EDGE, Old Dominion
As mentioned earlier with Ford potentially leaving and them taking Simmons earlier why not load up on more edge help. The success by the Eagles two years ago and the Seahawks when they had the Legion of Boom it was fueled by one important thing, defensive line depth. That's what this pick does for the Chiefs.
62) Saints- Dawson Knox, TE, Ole Miss
Some people will feel this is a reach and I agree but the Saints have to figure out the tight end spot. Ben Watson retired and Dan Arnold shouldn't be the starter next season. Drew Brees had some of his best seasons when playing with Jimmy Graham, and while Knox isn't Graham, he's a huge upgrade over Arnold.
63) Kansas City Chiefs (via NE)- Rodney Anderson, RB, Oklahoma
You all probably thought I wasn't going to give them a new running back, didn't you? Well don't panic I think Anderson does more than fill that need the team has had after parting ways with Hunt this past year. He won't be rushed back with Williams in town so he can take and build up the workload becoming of an RB1.
** Patriots trade picks #64, #241 to the Cowboys for CB Jourdan Lewis and a 2020 fourth round pick **
64) Dallas Cowboys (via Patriots)- Andy Isabella, WR, UMass
Slot receiver Cole Beasley is a free agent and won't be resigned. If he isn't the Cowboys will need to find a replacement. Other than Amari Cooper and Michael Gallup, every other wide receiver's roster spot should be in jeopardy. I think this is too high for Isabella but Andrew convinced me to pull the trigger.
Questions and comments?
thescorecrowsports@gmail.com
Follow Us on Twitter @thescorecrow
Follow Us on Reddit at u/TheScorecrow
Follow Mike Fanelli on Twitter @mikesports22
Follow Andrew Harbaugh on Twitter @DHH_Mandrew 2
Main Credit Image: Embed from Getty Images